'White Supremacist Rhetoric' Linked to Suspect in Boston Suburb Shooting of Black Victims: DA
Police identified the suspect who allegedly crashed a stolen truck and fatally shot two bystanders on Saturday as 28-year-old Nathan Allen, who officials found had written "some very troubling white supremacist rhetoric," said Suffolk County District Attorney Rachael Rollins in a press conference on Sunday.
"We have found in this very preliminary stage of this investigation...that there is some very troubling white supremacist rhetoric," Rollins said. The writing was "in this individual Nathan Allen's own handwriting, writing antisemitic and racist statements against Black individuals."
Allen is suspected of stealing a tractor trailer from Rapid Flow Inc. around 2:45 p.m. on Saturday and then crashing the truck into a home on Veterans Road. Police said Allen climbed out of the truck and was armed with two guns, which he used to kill two bystanders, a man and a woman.
Winthrop Police exchanged gunfire with Allen, who was shot and killed by police after the shootings, CBS Boston reported.
The victims were identified as Ramona Cooper, a staff sergeant in the Air Force who was still active in the military, and retired Massachusetts State Police Trooper Dave Green.
After climbing out of the passenger window of the truck, Allen unsuccessfully attempted to carjack another driver, CBS Boston reported. Sources say Allen then saw Cooper walking and fatally shot her, and a bit later he allegedly shot and killed Green.
Cooper was shot three times in the back and Green was shot four times in the head and three times in the torso. Both victims were Black.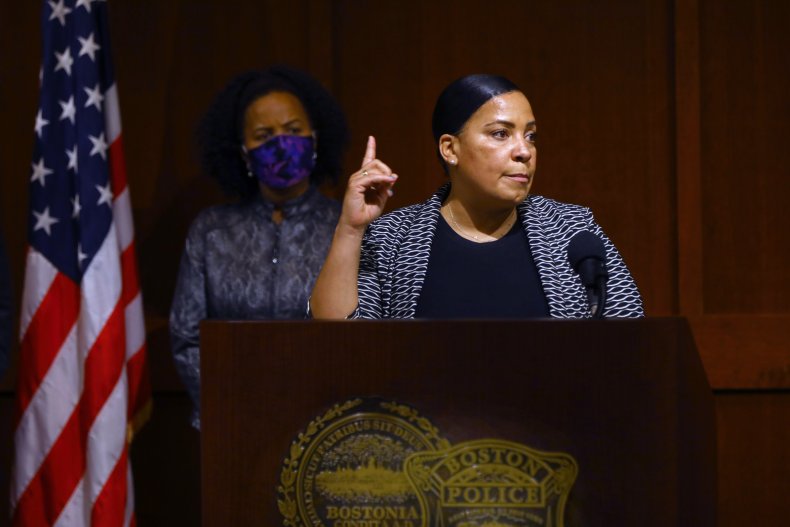 Rollins did not confirm if the victims were targeted for their race, but she did say that Allen walked past several people who were not Black, and none of them were injured or killed.
In addition to his antisemitic rhetoric, Rollins said the neighborhood Allen crashed the truck in is home to several Jewish places of worship. She said police are unsure of where Allen was going, and if any of the temples were his potential target.
During the press conference, Rollins also stated that Allen had legally acquired his firearms and had a gun permit from a different town that he had transferred.
"He had nothing in his background check, but this person yesterday killed two people," Rollins said, adding that law enforcement would continue to investigate Allen's background.
Police currently believe that Allen was working alone. State and local law enforcement are continuing to investigate the incident.