White Supremacist YouTube Channel Gives Tips on Avoiding Homeland Security
YouTube has been strongly criticized for continuing to platform videos by white supremacist Robert Rundo, including one where he offers advice about how neo-Nazis can avoid no-fly lists.
Rundo, previously of Huntington Beach, California and now living in Eastern Europe, is using the popular video-sharing website to spread neo-Nazi messages in videos that have been viewed tens of thousands of times since the channel was created in June 2019.
Rundo, a convicted criminal and founder of the white supremacist Rise Above Movement (R.A.M), hopes to radicalize new followers on YouTube on his channel and promote his fashion website that provides an income stream to the fascist group.
While the channel has only amassed a total of 410 subscribers it has managed to register more than 27,000 views since it was created.
In the videos, Rundo attempts to explain cases of street thuggery and violence, his connections with the Ukrainian white supremacist Azov Battalion and also shows him networking with Serbian ultra-nationalists.
Other clips show Rundo and his associates offering advice to white nationalists, one of which goes into detail about how to avoid Homeland Security and promote neo-Nazi messages locally.
In a July 1, 2020, video that still remains on the website, Rundo said he would give "real-world tips for nationalists" that would save his followers "headaches" when dealing with Homeland Security.
As the clip continued, Rundo went into detail about avoiding no-fly lists and which routes to use to reach Europe without being sent back to the U.S.
He offered further guidance about what items to take to Eastern Europe, a region where Rundo has actively networked with neo-Nazi and white supremacist groups, and how to securely send items back to the U.S.
Other videos on the channel give instructions about how to promote white nationalist propaganda via postering and graffiti.
The YouTube account also directs viewers to a created playlist titled "motivation", which features white supremacist and neo-Nazi videos.
Clips in the playlist include speeches by American neo-Nazi William Luther Pierce and British white supremacist Jonathan Bowden.
YouTube placed disclaimers on each video and flagged them as being "inappropriate for some users", although the content could be viewed easily by simply clicking "I understand and wish to proceed."
Rundo has shared instances where supporters have taken cues from his content and promoted the organization via graffiti tags on his 5,480 subscriber-strong Telegram channel.
His channel on the app also promotes violent imagery, including street fights and cross promotes white supremacist groups in Australia, the U.S. and Europe, which potentially exposes tens of thousands of followers to various online stores that then fund neo-Nazis across the globe.
Newsweek has seen a list of more than 30 online stores, shared on Rundo's Telegram channel, which includes his own site that he has promoted on his YouTube channel.
The Anti-Defamation League has strongly criticized YouTube for continuing to provide Rundo with a platform to air his vile racist views.
Oren Segal, Vice President of the ADL's Center on Extremism told Newsweek: "Robert Rundo is the head of R.A.M. (Rise Above Movement), a white supremacist group whose members advocate (and often engage in) violence against the "destructive cultural influences" of liberals, Jews, Muslims and non-white immigrants.
"The group, which styles itself as a "mixed martial arts" club, relies on YouTube to disseminate its hateful message. It's incredibly disturbing that YouTube continues to provide Rundo with an outlet for his bigotry."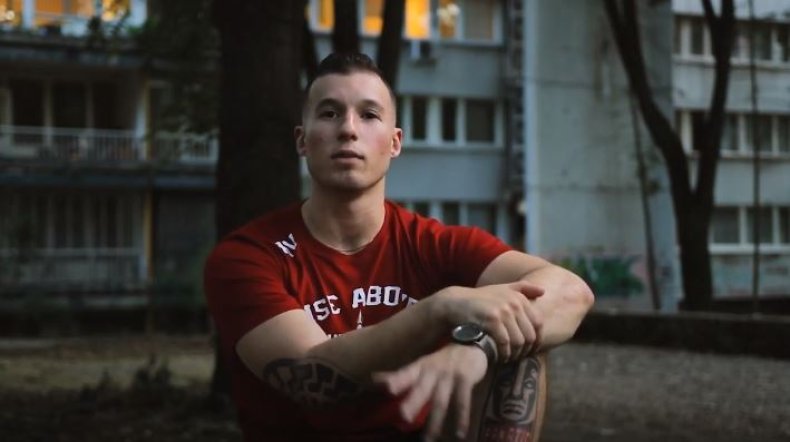 YouTube last year banned high-profile white supremacists and far-right accounts on its platform, including former Ku Klux Klan leader David Duke, scientific racism promoter Stefan Molyneux and neo-Nazi Richard Spencer.
Earlier this month, the San Francisco Chronicle (SFC) reported a federal court had reinstated rioting charges against Rundo and three R.A.M members over clashes at Huntington Beach and Berkley in 2017.
The outlet said the court ruled that a federal ban on inciting an imminent riot "does not violate free speech."
It means Rundo and others could face upwards of 10 years in prison if they are found guilty of conspiracy to commit riot and travel with intent to riot.
The SFC said the charges had been dismissed in 2019 by the U.S. District Judge Cormac Carney of Los Angeles, who said the Anti-Riot Act of 1968, punished communication and not violence, which in turn went against freedom of speech.
Newsweek has contacted YouTube and Telegram for comment.