Michigan's Gretchen Whitmer Says COVID Surging Back Despite State Having Some of 'Strongest Protocols' in U.S.
During a television appearance on Thursday, Michigan Governor Gretchen Whitmer said that despite her state having "some of the strongest protocols in the country," COVID-19 "has come raging back."
Whitmer, a Democrat, made the comments on the MSNBC program All In With Chris Hayes. She also said, "We are seeing a resurgence of COVID all across our state, and I think some of it is because we as a nation did not rally to beat this virus. We have turned on one another, and this virus has taken an incredible toll on us. We in Michigan still have smart policies in place. I don't currently have all the same powers I did a year ago. But we do still have a mask mandate. We do still have our capacity requirements."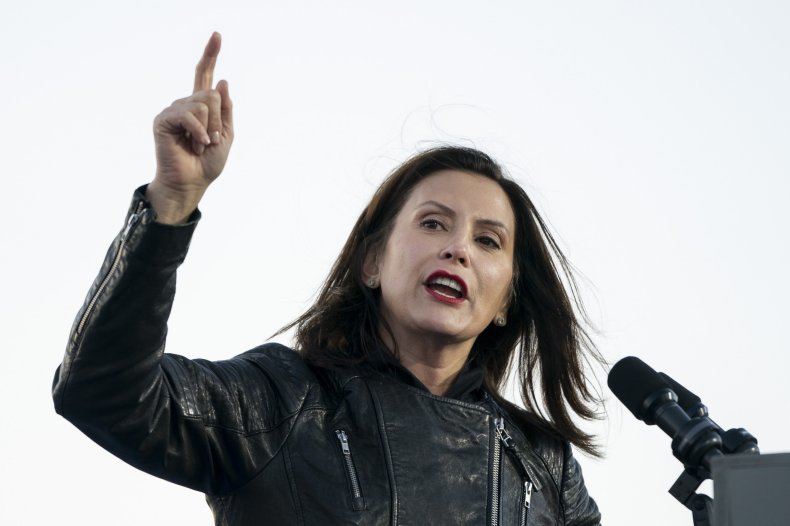 The interview came after public health experts have called on the governor to enact more safety protocols and lockdowns in the state. Earlier in the week, CDC Director Rochelle Walensky called on the governor's administration to issue new restrictions on public gatherings. Whitmer has maintained that Michigan—which throughout the pandemic had some of strictest lockdowns in the country—is already doing enough to prevent the spread, and thus far she has resisted implementing new mandates.
Currently, 24 percent of the Michigan's residents are fully vaccinated against the virus, with another 36 percent of residents having received at least one dose. Yet the seven-day average of cases is at 7,656 as of April 15. This is a 31 percent increase in the last 14 days.
According to the CDC, Michigan currently ranks third in the country in COVID-19 test positivity rates as of April 16, and the state has led the nation in new coronavirus cases per population for two weeks. The number of adults hospitalized with COVID-19 did see a small decrease on Thursday to 3,960 after reaching a record high of 4,011 on Tuesday.
Whitmer acknowledged this slight decline in numbers during another television appearance on April 15, this time on ABC News Live.
"We're starting to see things look as though they're slowing down a bit," Whitmer told anchor Linsey Davis. "I don't want to, by any stretch, say that this isn't serious and that we don't all have to take this very seriously, but we're making progress and it's incumbent on everyone in this state to do their part."
Newsweek contacted Governor Whitmer for further comment, but it has not heard back as of press time.