Michigan's Gretchen Whitmer's Approval Rating Drops After Series of COVID Controversies
Michigan Gov. Gretchen Whitmer's approval rating dropped eight percentage points following recent controversies related to the COVID-19 pandemic, but half of Michigan voters still gave her favorable reviews in a Detroit Regional Chamber poll released on Monday.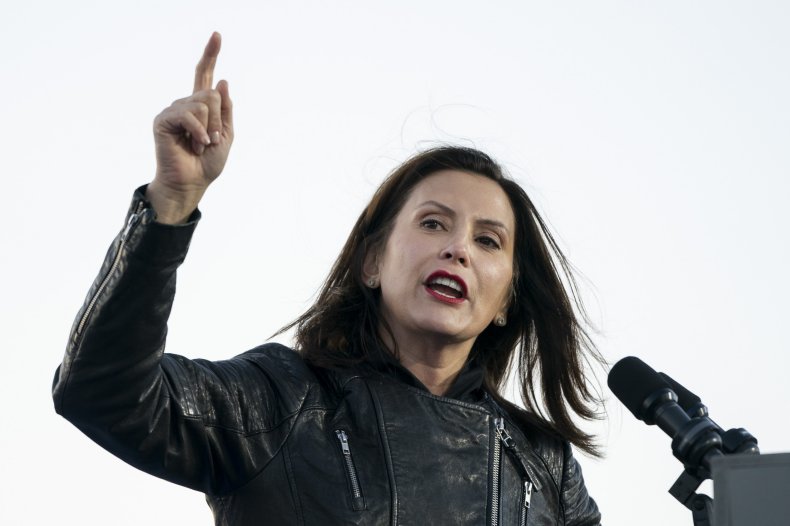 In the poll, 44 percent of respondents said they currently disapprove of the job the Democratic governor is doing, compared to 50 percent who said they approve of her job performance. That approval rating is eight percentage points lower than a similar survey taken in February. The recent Detroit Regional Chamber poll was conducted with 600 registered voters in May and had a margin of error of plus or minus four percentage points.
Not only did Whitmer's approval rating fall from 58 percent to 50 percent from February to May, but the rate of respondents that disapprove of the governor's job performance rose from 38 percent to 44 percent.
The decrease comes following a string of recent and highly-publicized events.
In early March, Whitmer's administration agreed to pay former state health department director Robert Gordon $155,500 in a separation deal. Gordon, a key official in Michigan's COVID-19 response who is often credited with much of the state's response to the pandemic, was given taxpayer funds for nine months of salary and health benefits. Gordon's replacement, Elizabeth Hertel, said during a Senate hearing there had been a possible conflict regarding the state's COVID response between Whitmer and Gordon.
On March 12, Whitmer took an unannounced trip to Florida to visit her father. She acknowledged the trip later, saying she was there to discuss her father's care as he is suffering from a chronic illness. GOP lawmakers criticized the trip, saying it was inappropriate for her to leave the state while the pandemic is ongoing. On June 4, the Michigan Republican Party filed a complaint to the state Bureau of Elections arguing the cost of the flight falls outside of an "incidental office expense" that could be covered by Whitmer's campaign committee because it was a personal trip.
More recently, photos of her were posted on May 22 on Facebook in which she is seen at a restaurant with 12 other people gathered around tables pushed together. The closeness of the group violated a May 15 order from Michigan's Department of Health and Human Services that stated no more than six people can be seated together and groups of patrons must be six feet apart.
She apologized for the photo incident, saying that she regretted her actions, even though everyone present in the photos were vaccinated. In a statement, she said, "In retrospect, I should have thought about it. I am human. I made a mistake, and I apologize."
While Whitmer's declining poll numbers could indicate a sign of vulnerability for the governor's popularity come next year's state election, the Republican Party does not have a frontrunner for its gubernatorial nomination, although six individuals have formed candidate committees to seek the role.
Newsweek, in partnership with NewsGuard, is dedicated to providing accurate and verifiable vaccine and health information. With NewsGuard's HealthGuard browser extension, users can verify if a website is a trustworthy source of health information. Visit the Newsweek VaxFacts website to learn more and to download the HealthGuard browser extension.