Whitmer's Chances of Defeating Republicans After Michigan GOP Convention
Michigan's Democratic Governor Gretchen Whitmer leads in recent polls as the state's Republican Party moved to confirm its candidates for statewide office on the November midterm ballot during a convention on Saturday.
Whitmer and her Lieutenant Governor Garlin Gilchrist will face off against GOP gubernatorial candidate Tudor Dixon and her running mate Shane Hernandez. Hernandez's nomination on Saturday came as he faced several challenges from former Republican gubernatorial candidates, who were previously defeated by Dixon during a statewide primary earlier this month. Hernandez was Dixon's pick to run on the GOP ticket. Both Republicans were endorsed by former President Donald Trump.
MLive reported that Hernandez fended off his challengers during the convention, receiving the votes needed from delegates to lock up the nomination.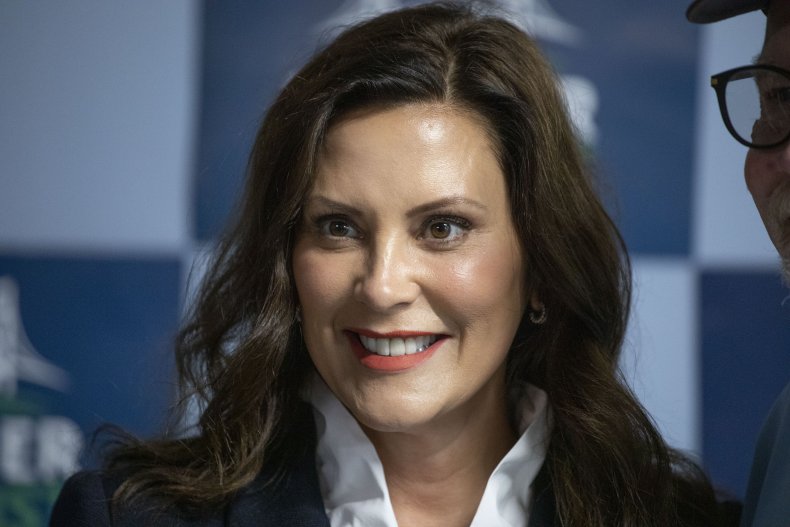 In a statement on Saturday, Michigan Republican Party chair Ron Weiser said the weekend's convention "proves we have a strong, united Republican ticket, with our gubernatorial candidate Tudor Dixon and her running mate, Shane Hernandez, leading the way to victory."
"Republicans continue to have momentum going into Election Day as voters embrace the family and business friendly policies of our Republican candidates while rejecting the radical leftward shift of Democrats," Weiser continued, adding that Whitmer has "left Michiganders in the dust time and time again."
However, recent polling has shown Whitmer ahead of Dixon in the governor's race. A poll conducted between August 22 and August 25 by the Trafalgar Group found that 49.4 percent of voters back Whitmer while 45.3 percent support Dixon.
A poll from the Lansing-based research firm EPIC-MRA, conducted between August 18 and August 23, found Whitmer with an 11-point lead over Dixon. The incumbent governor had 50 percent of support while her Republican challenger had 39 percent.
Meanwhile, a survey commissioned by AARP that went out between August 8 and August 14, showed Whitmer with a 5 percent lead over Dixon. The Democrat had 51 percent of the vote, while Dixon had 46 percent.
"There is a sizable gender gap among voters, with Gov. Whitmer leading by 17% among both women overall [and] women 50 plus, while Dixon leads by 7% among men overall and 10% among men 50 plus," the AARP stated in press release this month.
Newsweek reached out to Whitmer's office and the Michigan Republican Party for comment.
Recent polling has also shown Democrats catching up with Republicans ahead of the congressional midterm elections. As of Saturday, a polling average analysis by news and polling site FiveThirtyEight showed Democrats have the support of 44.3 percent of voters in the midterms, while 43.6 percent of voters back Republicans.
In an interview published Sunday, Representative Fred Upton, a Michigan Republican, said he expects his part will only win a "narrow majority" in the House of Representatives this November.