Whitney Houston's Friend Reveals Regret Over Not Speaking to Star About Her Struggles
Whitney Houston fans the world over will be remembering the star in various ways on February 11, the 10-year anniversary of her sudden passing at the age of 48.
For Winston Virgo, whom the tragic star counted as a close friend for decades, the day will be a moment of reflection and a time to revel in the warmth of fond memories. He will also continue to be consumed with a gnawing guilt and regret for the things he didn't say.
When Houston was found unresponsive and submerged in a bathtub at Beverly Hills' upscale Beverly Hilton Hotel—hours before Clive Davis' annual pre-Grammy party was due to be held at the same venue, Virgo was over 2,000 miles away in Philadelphia.
As news of Houston's death hit the airwaves, Virgo was blissfully unaware that his friend, affectionately called Nippy by those close to her, had passed away—until he got a phone call from one of the star's devastated background singers.
"It really turned my world upside down," Virgo told Newsweek. "I honestly thought I'd be visiting her as an older lady in Vegas doing big residency shows." While her career had waned in the years preceding her death, Virgo said he felt she had "so much more to give" as a performer.
Observers from the outside may have had a different take, following years of reports that the superstar singer's career had been negatively impacted by heavy cocaine use. Her cause of death was ruled as drowning due to coronary artery disease and cocaine intoxication.
That was one of very view moments that Virgo was forced to accept that the woman he had embraced as something of a big sister was actually abusing drugs—and he has gone on to regret that his blissful denial stopped him from attempting to intervene.
"I really regret not speaking to her about her [drug issues]," he said. "I feel like it may have made a difference. I really wish I said something, but part of me was in denial. I also felt like I would've been overstepping the mark if I said something."
Part of that feeling is due to the fact that Houston herself made an effort for Virgo never to see her taking drugs or intoxicated.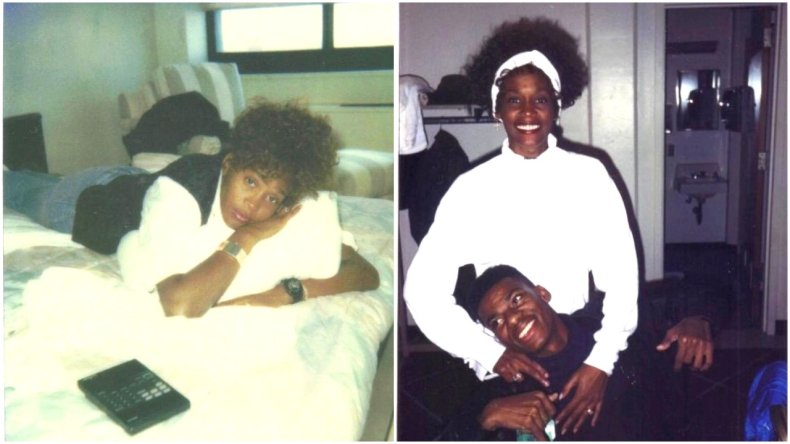 "She never let me see her do drugs," he said of Houston. "She would never let allow me to be around her when she was doing that, you know? Because she thought so highly of me... It meant that I could sort of live in denial, I could dismiss drug reports as rumors."
The first instance of having to accept the dark reality of his friend's life was when she sat down for a 2002 interview with Diane Sawyer, during which she discussed her drug use, among other topics.
"It came out of her mouth, and that's when I was like, 'Oh, wow,'" Virgo recalled of watching the televised interview. "I never mentioned to her when I found that out either, because I didn't want to let her feel as if I was judging her."
An Unlikely Friendship
Virgo's friendship with Houston was an unlikely one.
As a teenager in the mid-1980s, he was informed by a schoolfriend that "the Whitney Houston"—the powerhouse singer whose eponymous debut album was soaring up the charts—lived across the street from him in East Orange, New Jersey.
Being the precocious youngster that he was, Virgo ditched school one day to knock on Houston's door to verify this information for himself—not expecting in his wildest dreams that he would come to face with the then-rising star herself.
"This statuesque lady opened the door and I said, 'Oh my God! You're Whitney Houston!'" Virgo recalled. "She smiled and said, 'Yes, I am. And I have one question for you: aren't you supposed to be at school?' I told her that they gave us the day off. She said she didn't believe me, but I cracked jokes and soon got her laughing."
As Virgo was an aspiring comedian at the time, Houston unwittingly became his sounding board for stand-up jokes. Laughter became the foundation of a friendship that would continue for the rest of her life. Noting their shared sense of humor and his outgoing personality, Houston put him on payroll years later as a comedian who would open select shows for her.
He traveled domestically and internationally with the star in a role that evolved into working for her charity, the Whitney Houston Foundation for Children, and taking on road management duties for Sunday, the girl group that Houston had taken under her wing.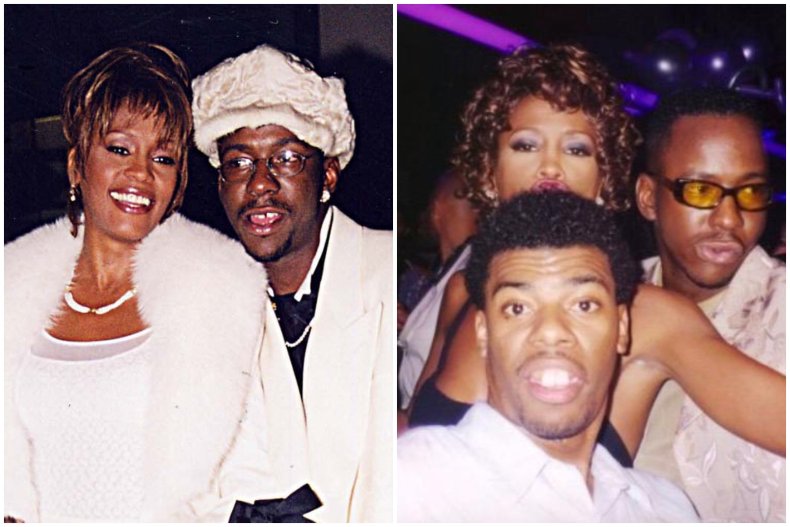 Becoming something of a right hand man for the Grammy-winning star also allowed Virgo to rub shoulders with a host of notable names in the entertainment industry, including Beyoncé, Mariah Carey, Julia Roberts, Matthew McConaughey, Penny Marshall, Regina King and Houston's The Bodyguard co-star Kevin Costner.
As the person who Houston would often allow to answer her phone, Virgo was one day stunned to find that it was Michael Jackson on the other end of the line asking to speak with Nippy. "Tell Michael I'm busy!" Virgo recalled of her reaction. "He's not talking my ears off today!"
Yet somehow, as Houston and her then-husband Bobby Brown embraced a young Virgo, taking him on this otherworldly ride, he was never made to feel as though he was out of his depth.
"Outside of the this iconic person, she just knew how to make you feel comfortable and just, you know, let it be about you," Virgo said of his late friend. "Every time I would see her, her face would illuminate as though I was the star in the room, not her."
Losing Her Spark
By 2001, Virgo started to spend less time in Houston's company as the issues she had kept hidden from him became the focus of countless tabloid headlines. What she couldn't obscure from his vision, however, was her waning spark.
"When I would see her on TV, I could tell she wasn't, like, the Whitney that I knew. She looked like she felt that her star had dimmed, you know? I mean, she she was once loved all around the world. It felt like her peak was The Bodyguard [in 1992].
"Even though she was just as loving and full of energy when we spoke on the phone, the fact that she was all alone in that hotel room on the day she died really says a lot to me. She was the constant life of the party and always had at least one other person with her."
The last time Virgo spoke with his friend was in November 2011, when she excitedly called from the Detroit set of Sparkle to tell him how proud she was of her performance in the movie. "I can't wait for you to see it," she said of the film, which was released months after her death.
"She cared so much about her friends," Virgo told Newsweek. "It didn't matter what was going on in her life, she always wanted to know that you were good. Even friends she fell out with, she would still ask me how they were if she knew I was in touch with them."
"Nippy changed my life in so many ways," he went on. "She was so giving of herself and her selfless qualities have definitely left a mark on me."
All these years later, what does he miss about her the most? "That's easy—her laughter. Oh my gosh, man! When you told her a good joke, and she laughed uncontrollably it was the best. Or when she was telling a joke. Yeah. I miss her laughter. No doubt about it."