Who Were the 23 Republicans Who Voted Against Resolution Condemning Anti-Semitism and Anti-Muslim Hatred?
The House of Representatives overwhelmingly passed a resolution condemning hatred and intolerance, including anti-Semitism and anti-Muslim discrimination, in the wake of comments made by Representative Ilhan Omar, a Minnesota Democrat.
The resolution (H.Res. 183) passed by a vote of 407-23, with only Republicans voting against the measure.
The text was originally going to mention only anti-Semitism, which was seen as a direct rebuke of Omar's recent comments. It was later amended to include anti-Muslim discrimination and "bigotry against minorities as hateful expressions."
Nearly two dozen Republicans voted against the measure, with many criticizing the text for being "watered down" and for failing to mention Omar by name.
"If a Republican member was pushing the anti-Semitism that Omar keeps peddling, this resolution would name names, and be solely, emphatically focused on anti-Semitism, and that member would be removed from their committee assignments," Representative Lee Zeldin said in a statement explaining why he voted against the resolution.
"The double standard motivating this decision by the speaker and the moral equivalency filling this watered down text is spineless and disgusting," Zeldin said.
Representative Andy Biggs of Arizona also criticized the House Democrats for producing a "watered-down resolution that said virtually nothing.
"Americans should be disgusted by this charade. Burying this pattern is inexcusable, and I call on Democrat leadership to stop rationalizing and protecting this behavior," Biggs added. "We should never resort to anti-Semitic rhetoric that is inflammatory and frankly, hateful."
Representative Louie Gohmert of Texas said he voted against the resolution, because not fully condemning anti-Semitic remarks "is the way a Holocaust begins.
"It needed to be condemned immediately before it starts us much further toward more widespread anti-Semitic hatred that leads to another attempted genocide," he continued.
In a tweet, Chris Collis of New York explained: "After reading the final resolution I did not feel it was strong enough in support of Israel, the only true democracy in the Middle East, and that is why I voted no."
In a joint statement following the vote, Omar and fellow Democrat Representatives Rashida Tlaib and Andre Carson praised the passing of the resolution.
"Today is historic on many fronts," they wrote. "It's the first time we have voted on a resolution condemning Anti-Muslim bigotry in our nation's history.
"We are tremendously proud to be part of a body that has put forth a condemnation of all forms of bigotry, including anti-Semitism, racism and white supremacy. At a time when extremism is on the rise, we must explicitly denounce religious intolerance of all kinds and acknowledge the pain felt by all communities."
Representative Steve King of Iowa, who was stripped of his committee assignments following his comments defending white supremacy, voted "present."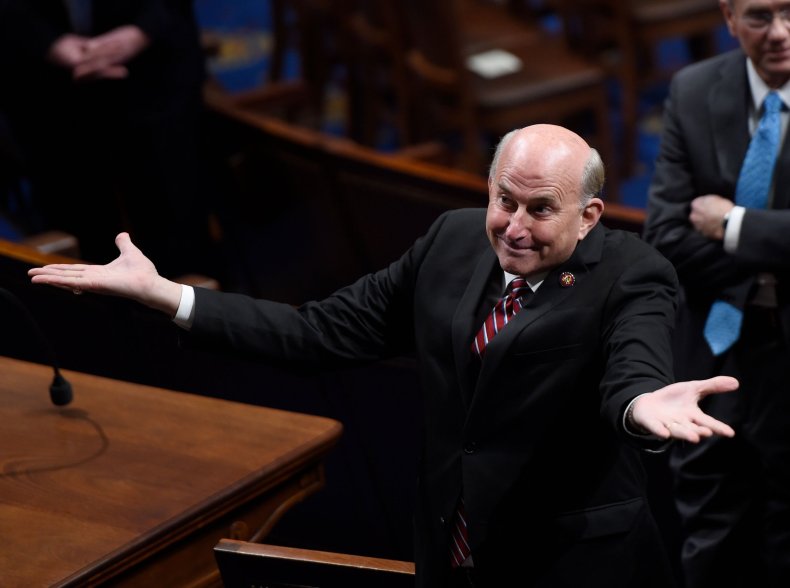 Full List of 23 Republicans Who Voted Against Hatred Resolution
Andy Biggs of Arizona
Mo Brooks of Alabama
Ken Buck of Colorado
Ted Budd of North Carolina
Michael C. Burgess of Texas
Liz Cheney of Wyoming
Chris Collins of New York
Mike Conaway of Texas
Rick Crawford of Arizona
Jeff Duncan of South Carolina
Louie Gohmert of Texas
Paul Gosar of Arizona
Tom Graves of Georgia
Pete King of New York
Doug LaMalfa of California
Thomas Massie of Kentucky
Steven Palazzo of Mississippi
Mike Rogers of Alabama
Chip Roy of Texas
Greg Steube of Florida
Mark Walker of North Carolina
Ted Yoho of Florida
Lee Zeldin of New York
This article was corrected to reflect that Tom Graves of Georgia voted against the resolution, not Sam Graves of Missouri.