Who is Alfonso Calderon? Florida Shooting Survivor Gives Passionate Speech in Tallahassee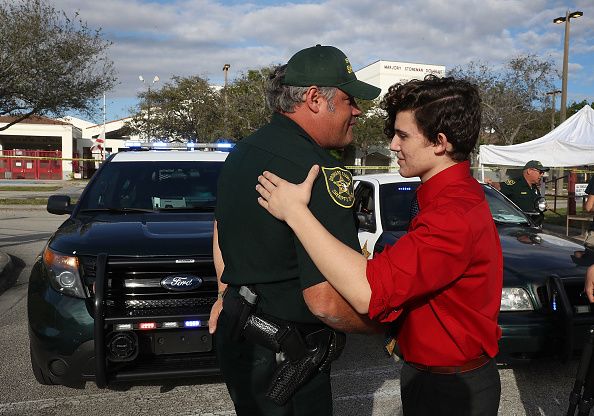 As a slew of school shooting survivors descended on Florida's state capital to engage legislators and urge gun control and reform, Alfonso Calderon had social media's attention.
The 16-year-old junior attends Marjory Stoneman Douglas High School in Parkland, where 17 people died in a February 14 massacre. He gave a roughly six-minute speech at the Wednesday rally in Tallahassee, condemning adults who aren't taking student activism seriously and promising action "as soon as possible."
Calderon had joined busloads of fellow students and parent chaperones who traveled about seven hours from Parkland to the capital the day before.
The junior recalled being locked in a closet for four hours on February 14, surrounded by peers who were "crying and weeping on me, begging for their lives." He added he knew what it was like "to text my parents goodbye."
"We will not be silenced," he told the crowd. "I am prepared to drop out of school, I am prepared to not worry about anything else besides this."
Twitter users were buzzing Wednesday about Calderon's speech, with one user saying his words were "shaking my world to its core."
Calderon is a co-founder of the Never Again movement, which is demanding changes such as stricter background checks for gun buyers and is spearheading the March for Our Lives protest, slated for March 24. Other major players include senior Emma González, junior Cameron Kasky and junior Lorenzo Prado, who also spoke in Tallahassee.
Protests have popped up in other parts of the country as well, including in Washington, D.C., where 50 to 75 students staged a "lie-in" on Monday to symbolize the "atrocities" caused by gun violence. The movement utilizes the #NeverAgain hashtag.
Calderon is expected to speak at a CNN nationally televised town hall Wednesday night along with other peers. Florida Representative Ted Deutch, Senator Bill Nelson and Senator Marco Rubio have accepted invitations to participate, while Florida Governor Rick Scott and President Donald Trump declined.
Student activism has attracted the president's attention, however. Trump held a "listening session" with Marjory Stoneman Douglas High School students late Wednesday afternoon, and on Tuesday he announced he'd signed an executive order directing the Justice Department to look into a ban on bump stocks.
"School safety is a top priority for my administration," Trump said.