Who Is Anatoliy Chepiga? 'Hero of Russian Federation' Unmasked as Real Suspect of U.K. Salisbury Spy Poisoning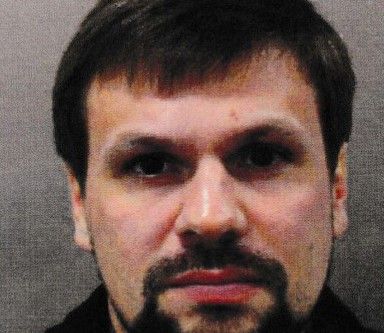 The Kremlin has dismissed a report by an investigative website that said a suspect in the poisoning of a Russian spy was a decorated intelligence officer.
"Ruslan Boshirov" was identified by British investigators as one of the two suspects wanted for the novichok poisoning of Sergei Skripal and his daughter Yulia on March 4.
But the website Bellingcat said Boshirov was in fact Anatoliy Chepiga, and he was a colonel who was honored as a hero of the Russian Federation in 2014. It said that Chepiga was born in the Amur region near the Chinese border, was 39 years old and had trained at the elite Far-Eastern Military Command Academy in Blagoveschensk.
After graduating with honors, he served in the second Chechen war, as well as in the conflict in Ukraine.
The married father of one has received more than 20 military awards and, in December 2014, was given Russia's highest state award, Hero of the Russian Federation, which is personally bestowed upon a handful of people by the president.
The fact that there was no explanation as to why he received the award on his military school website suggested that the award was for a secret mission, according to Bellingcat.
Earlier this month, Chepiga told the Kremlin-funded channel RT that he was Ruslan Boshirov, a fitness instructor. He was interviewed with a man who claimed he was Alexander Petrov, and they said they had visited Salisbury to see its cathedral.
Both are wanted for the poisoning, which inadvertently killed Dawn Sturgess, a local woman. The pair is believed to have traveled to the U.K. on false passports.
Bellingcat said it had contacted a former Russian military officer, who said it was surprising that someone with as high a rank as colonel had carried out the Salisbury operation, as it would have normally been done by a field operative.
The fact that a colonel had been sent to a field job suggested it "was ordered at the highest level," the source said.
But Russia's foreign ministry spokeswoman, Maria Zakharova, dismissed the claims and wrote on Facebook: "There is no evidence so they continue this information campaign whose main goal is to distract attention from the main question, what happened in Salisbury?"
Meanwhile, the Russian pro-Kremlin newspaper Kosomolskaya Pravda disputed the timeline of events, citing an unnamed source in the Russian Ministry of Defense who also pointed out it was unlikely that such a highly trained officer would be sent to fight.
"The Academy prepares military diplomats and military attaches. After graduating from the conservatory, graduates do not go to war. Officers who graduated from the academy are high-value resources who would not be sent to work with the special forces and especially near the border with Ukraine," the newspaper said.