Andrew Wheeler, the man replacing scandal-struck Scott Pruitt as head of the Environmental Protection Agency (EPA), may not be much better than his predecessor, according to green groups that have dubbed Pruitt the agency's worst-ever chief.
Pruitt, who faced 14 investigations into his ethics and practices while EPA administrator, resigned Thursday. Among the scandals during his tenure was an accusation that he used his political position to secure his wife a six-figure job.
After heaping praise on Pruitt, President Donald Trump announced that Wheeler, the EPA's deputy administrator since April, would succeed him.
And the reason that promotion is raising eyebrows? Wheeler is a former energy industry lobbyist who worked on behalf of Murray Energy, owned by Robert Murray, a Trump supporter who donated $300,000 to the president's inauguration.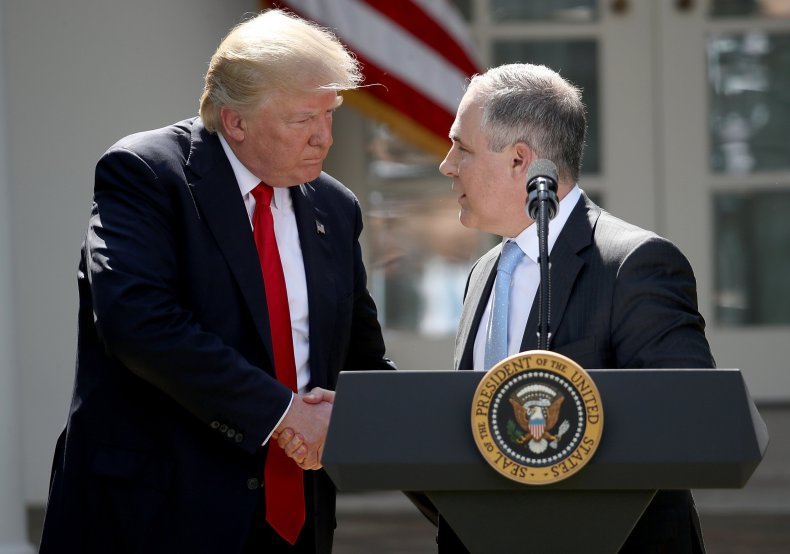 Just after Trump's inauguration, Murray handed the president an "Action Plan" for "getting America's coal miners back to work," including the rollback of environmental rules and regulations designed to curb emissions and tackle climate change. Murray also suggested slashing the number of EPA staffers in half.
Now, in Wheeler, Murray not only has one of his former lobbyists inside the EPA but someone who will be running it as well.
Wheeler is no stranger to the EPA. He worked for the agency for several years in the '90s. He then left to work as an adviser to Republican Senator Jim Inhofe, a notorious climate change denier who published a book calling global warming a "conspiracy" and "the greatest hoax."
Inhofe was chair of the Senate's Environment and Public Works Committee. Wheeler was majority staff director, minority staff director and chief counsel to the committee, according to a now-deleted press release from Faegre Baker Daniels, an energy lobbying company.
Faegre Baker Daniels hired Wheeler from the Senate committee in 2009, and he lobbied on behalf of clients to slash environmental regulations and push for greater federal support for the fossil fuels industry. Among Wheeler's clients were utility giant Xcel Energy and uranium miner Energy Fuels Resources Inc., NPR reported.
"Andrew has served our firm with distinction. His extensive experience has benefited our clients, and we wish him well as he returns to government," said Dave Zook, Faegre Baker Daniels Consulting chair and head of the company's Washington, D.C., office, in a statement after Wheeler left for the EPA in April. Trump nominated Wheeler for deputy administrator the previous October.
Environmentalists issued warnings about Wheeler when he joined the EPA. "Wheeler is ethically compromised," said Michael Brune, executive director of the Sierra Club, in a statement in April.
"In addition to spending a decade getting paid to push corporate polluter interests in Washington, Wheeler has made clear he will do everything in his power to roll back essential safeguards that protect our air, water and families from harmful toxins like mercury, arsenic, lead and other pollution," Brune said.
And, according to his own words, Wheeler is unsure about the extent of human impact on climate change, despite the overwhelming consensus in the scientific community that humans are largely responsible for the temperature increases.
"I believe man has an impact on the climate, but what's not completely understood is what the impact is," Wheeler said at his EPA confirmation hearing. He was reluctant then to be drawn out too much by senators on his views of what is driving climate change.
The EPA did not immediately respond to a request for comment.