Who is April Bloomfield? The Spotted Pig Chef Is A Longtime Partner With Accused Sexual Harasser Ken Friedman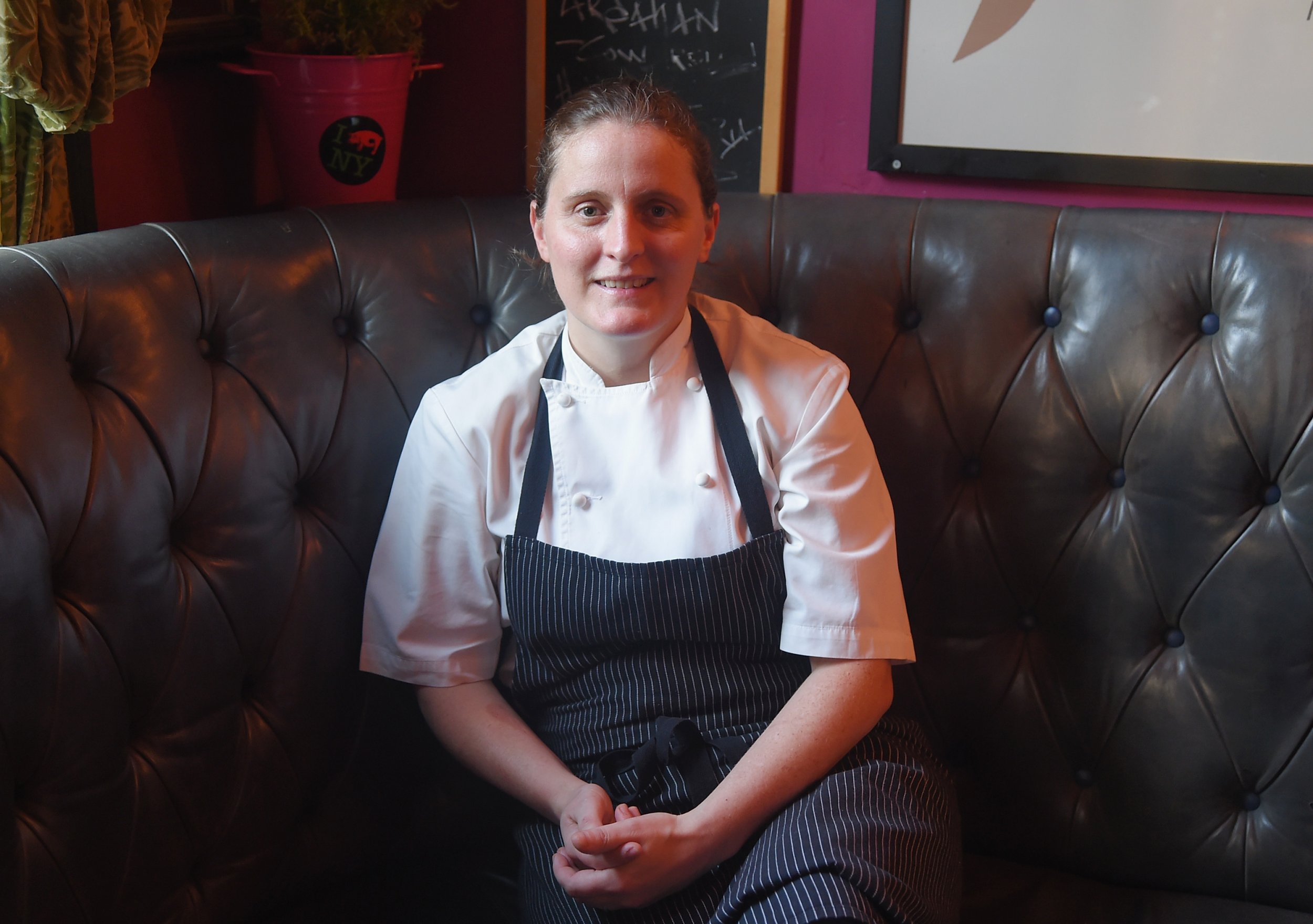 Restaurateur Ken Friedman was considered one of the most powerful men in the food industry. On Tuesday, however, he was accused by multiple former employees of sexual misconduct in a New York Times report.
So it might be surprising to some that his longtime partner is celebrated chef April Bloomfield, one the most influential women in the culinary world. The two broke onto the scene in 2004 with The Spotted Pig, a chic Manhattan gastropub that has become a favorite among celebrities and earned a coveted Michelin star.
They went on to open numerous restaurants: in New York, the Breslin, John Dory Oyster Bar, White Gold and Salvation Taco. On the West Coast they opened Tosca in San Francisco and, most recently, Hearth and Hound in Los Angeles. Bloomfield earned acclaim for straightforward but tasty food.
But along the way, Friedman acted inappropriately, at times lavishing employees with gifts, at times harassing them.
Wrote the Times:
"Ten women said that Mr. Friedman, 56, had subjected them to unwanted sexual advances: groping them in public, demanding sex or making text requests for nude pictures or group sex."
Employees were subjected to unwanted kisses and touches, catcalls, nudity and gropes from guests who were friends of Friedman. The full story about the allegations is certainly worth reading, but one accuser, former server Trish Nelson, specifically said Bloomfield would respond to complaints about Friedman with, "'That's who he is. Get used to it. Or go work for someone else," according to the Times. Nelson alleged Friedman kissed her, uninvited, in a car and pulled her head toward his crotch in front of a hero of hers, comedian Amy Poehler.
Bloomfield did not immediately respond to Newsweek's attempts to reach her, but the chef did give a statement to the Times denying that she ignored issues raised by employees.
It read, in full:
"As partner and creative director, my energies are directed to the kitchen, food preparation and menu development. Over the fifteen years, we have employed thousands of men and women, many of whom have gone on to prominent careers in the business and others who have worked with us for more than a decade. In the two matters involving uninvited approaches that were brought to my attention over the years, I immediately referred both to our outside labor counsel and they were addressed internally. I have spoken to Ken about professional boundaries and relied on him to uphold our policies. Nonetheless I feel we have let down our employees and for that I sincerely apologize."
Bloomfield is a regular nominee or winner for coveted James Beard awards and was once called the "Burger Queen" by the New Yorker magazine in a 2010 feature profiling the rise of the chef behind The Spotted Pig. The story showed the precision and effort behind her seemingly simple food, her chefs dubbing Bloomfield's style as "anal rustic."
That style seemingly stems from her roots: She grew up working class in Birmingham in the U.K. The New Yorker story detailed her working her way from being a cook at her local Holiday Inn, to the chef at an Italian restaurant, to being plucked to lead the Spotted Pig by Friedman and early investor Mario Batali, who has been accused of sexual harassment, some of which allegedly occurred at the Spotted Pig.
Since then Bloomfield has become a star, her food almost universally praised. She has also written two cookbooks, A Girl and Her Pig as well as A Girl and Her Greens.
Who is April Bloomfield? The Spotted Pig Chef Is A Longtime Partner With Accused Sexual Harasser Ken Friedman | Culture