Who Are the House Impeachment Managers for Trump's Second Trial and What Do They Do?
As Congress prepares for Donald Trump's second impeachment trial this week, House impeachment managers are getting ready to take center stage and present their case against the former president.
House Speaker Nancy Pelosi has selected nine Democrats to serve as the impeachment managers and make the case against Trump. The ex-president is accused of inciting a violent mob of his supporters to storm the Capitol on January 6. The attack left five dead, including one Capitol Police officer.
"President Trump incited a violent mob to attack the United States Capitol during the Joint Session, thus impeding Congress's confirmation of Joseph R. Biden, Jr. as the winner of the presidential election," a brief filed by the managers reads.
Representative Jamie Raskin of Maryland, who drafted the single article of impeachment, will lead the team of managers, who are all lawyers with expertise in constitutional law, civil rights and law enforcement.
Joining Raskin are Representatives Diana DeGette of Colorado, David Cicilline of Rhode Island, Joaquin Castro of Texas, Eric Swalwell of California, Ted Lieu of California, Stacey Plaskett of the Virgin Islands, Madeleine Dean of Pennsylvania and Joe Neguse of Colorado. Of the nine, seven are people of color, LGBTQ or women.
Swalwell, Lieu and Plaskett are all former prosecutors, and Cicilline is a former public defender. Castro, Neguse, Dean and DeGette are all lawyers.
None of the Democrat lawmakers who served as impeachment managers during Trump's first impeachment will be returning to the Senate floor this time.
Those picked by Pelosi will work as the prosecutors at the trial. Their aim is to convince the senators, who will act as jurors, that Trump deserves to be convicted in connection with the Capitol riot—a challenge that may be even tougher than Trump's first impeachment, now that he has left office.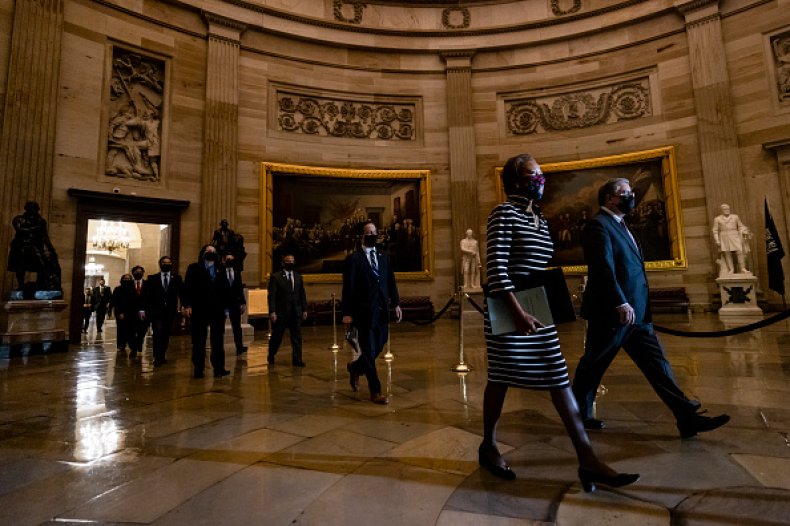 Trump's legal team has argued that the trial is unconstitutional because he is now a private citizen, but the attorneys will have to make their case while facing a professor of constitutional law. Raskin, who lost his 25-year-old son to suicide on New Year's Eve and then survived the attack on the Capitol, teaches at American University's Washington College of Law.
In the extensive pretrial brief filed by the impeachment managers last week, the nine Democrats argued that Trump is responsible for the Capitol riot because he promoted unsubstantiated claims of election fraud, told the rally-goers to "fight like hell," and publicly condemned former Vice President Mike Pence for refusing to block the certification of Biden's electoral votes.
The nine managers are also expected respond to arguments presented by Trump's defense team, composed of lawyers Bruce Castor and David Schoen, and answer any written questions from senators.
Last week, Raskin called on Trump to testify, but his legal team quickly rejected the request.
The opportunity to act as an impeachment manager will put the Democrats in the spotlight, as it did for Representatives Adam Schiff and Jerry Nadler during the 2019 impeachment trial.
Many are preparing for an acquittal, as it will take a two-thirds majority, or 67 votes, to convict Trump. Also, a procedural vote last month, forced by Senator Rand Paul, ended with only five Senate Republicans agreeing hold the trial.
The majority of Republicans affirmed Paul's view that the trial is unconstitutional, and the impeachment managers will need to convince at least 17 Republicans in order to find Trump guilty.