President Joe Biden is getting the opportunity to pick the next Supreme Court justice, paving the way for four women to possibly sit on the bench for the first time in history.
On Wednesday, news outlets reported that Justice Stephen Breyer plans to retire at the end of this term, a move Democrats are sure to praise because it helps ensure his replacement will be another liberal.
Biden appears to be committed to making good on his campaign promise to appoint an African-American woman to the Court, and her confirmation would make history in more than one way. Besides having four women on the bench, it would be the first time an African-American woman has served as a justice.
Black women are significantly underrepresented as judges on every level of the judiciary, and of those women, only some will have the background, age and credentials to be a nominee. That makes Biden's short list automatically shorter, and at present, two names seem to stand above the rest: Ketanji Brown Jackson and Leondra Kruger.
Working in Jackson's favor is that the White House knows it's possible to get Republicans on her side. Last June, the Senate confirmed her to fill a vacancy on the U.S. Court of Appeals for the D.C. Circuit, and three Republicans—Senators Lindsey Graham, Susan Collins and Lisa Murkowski—voted in her favor.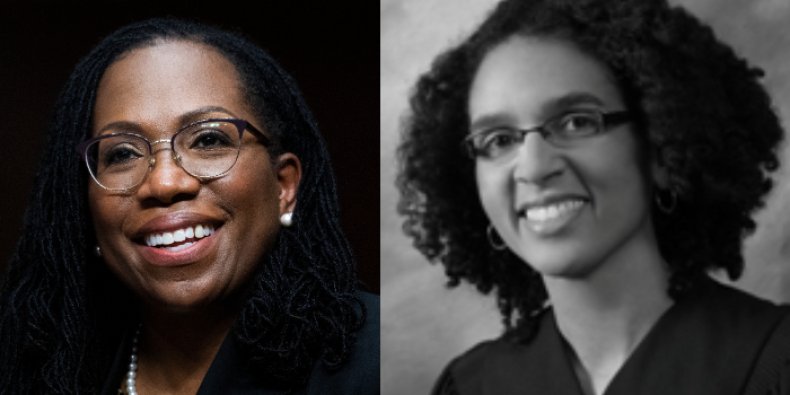 Newsweek reached out to Graham, Collins and Murkowski to ask if they would support Jackson for the Court opening but did not hear back before publication.
Their support isn't guaranteed in a confirmation hearing because of the high stakes. Deepak Gupta, founder of the law firm Gupta Wessler and a lecturer at Harvard, told Newsweek in July amid rumors Breyer may be retiring that he could see Kruger getting as much or more Republican support as Jackson.
"Most people think she has taken a pretty middle-of-the-road path on the California Supreme Court. She hasn't been sticking to a position as a progressive trailblazer in her opinions, so she'll be hard to attack," Gupta said.
Before serving on the California court, Kruger was the assistant to the solicitor general under President Barack Obama. As someone who had to argue before the Supreme Court, she understands the relationship between attorneys and Court. But since she wasn't solicitor general and the buck stops there, it could be difficult to attack the positions she took.
Having never been through a Senate confirmation process, the White House doesn't have a preview of what a hearing could look like for Kruger. That's an advantage it does have with Jackson.
Given that she was confirmed only a few weeks ago, Gupta said, Jackson's record won't be "materially different" if the Senate questions her for the Supreme Court position. While attacks would likely be heightened as the temperature turns up during the confirmation process, the White House has seen the process of confirming Jackson unfold.
Jackson, who clerked for Breyer, was grilled by Republicans about how race would factor into her decision-making as a judge. Although she defended her life experience as bringing a potentially different perspective to the D.C. appellate court, she stood by her ability to be impartial, according to the duty of a judge, and not inject race into her evaluation of cases.
"I think she's qualified. I think I try to be somewhat consistent here. I think she's qualified for the job. She has a different philosophy than I do," Graham said when asked about his vote to confirm Jackson.
While Jackson and Kruger are considered the front-runners, it's possible Biden won't choose either as his nominee. In that case, Gupta said, if he were in the White House, he'd likely assemble a list of lesser-known, talented Black women who are on state courts. They're likely to have handled less contentious cases than judges who serve on the federal circuit, thereby potentially limiting the paper trail of controversial opinions they may have issued.
One name that's been floated by progressives is Leslie Abrams Gardner, a U.S. District Court judge in Georgia, who is also voting rights activist Stacey Abrams' sister. U.S. Representative Jim Clyburn has also pushed for Michelle Childs, a U.S. District Court judge in South Carolina, to fill any vacancy. Clyburn told The Post and Courier last year that he's "made it very clear" to Biden that he feels "very strongly" about the judicial system having judges with diverse experiences.
It's become commonplace for Supreme Court justices to have served as a judge before joining the highest court in America, but that wasn't always the case. So Biden may not even opt for a judge as his nominee.