Who Are the Kardashians Dating?
Week by week, The Kardashians on Hulu just gets all the more interesting. For example, Episode 4, titled "We're Celebrating Sex" centers around Kourtney Kardashian's engagement to Blink-182 drummer Travis Barker.
As expected, the entire Kardashian-Jenner clan was all there to celebrate and, of course, Kris Jenner was there with a glass of wine and tears in her eyes. Also in attendance were some of the Kardashian and Jenner partners, but a lot has changed in their love lives since Kourtney's engagement back in October 2021.
So, who are the Kardashians dating? Newsweek has everything you need to know.
Who Are the Kardashians Dating?
From whirlwind marriages, numerous pregnancies, and divorce after just 72 days of marriage—the Kardashian-Jenner sisters have been through it all.
But today, for the sisters who aren't single, they seem pretty content in their relationships if The Kardashians on Hulu is anything to go by. When we see Khloe Kardashian in the reality series, she is working on her relationship with her on-and-off boyfriend Tristan Thomson, who is the father to Khloe's daughter, True.
At the time of filming, Kylie is also pregnant with her second child with her partner, Travis Scott. Here's who the Kardashian sisters are dating.
Kourtney Kardashian
Kourtney Kardashian is head-over-heels in love with her fiancé, Travis Barker.
The pair recently attended the Met Gala 2022 on May 2, walking hand in hand, and tongue in tongue wearing Thom Browne.
Kourtney and Travis dated for a year before Travis proposed on Sunday, October 16, at a beach in Montecito, California.
They had a fake wedding in Vegas in April 2022 and are set to officially tie the knot very soon, but just when exactly that highly-anticipated ceremony will take place, we don't yet know.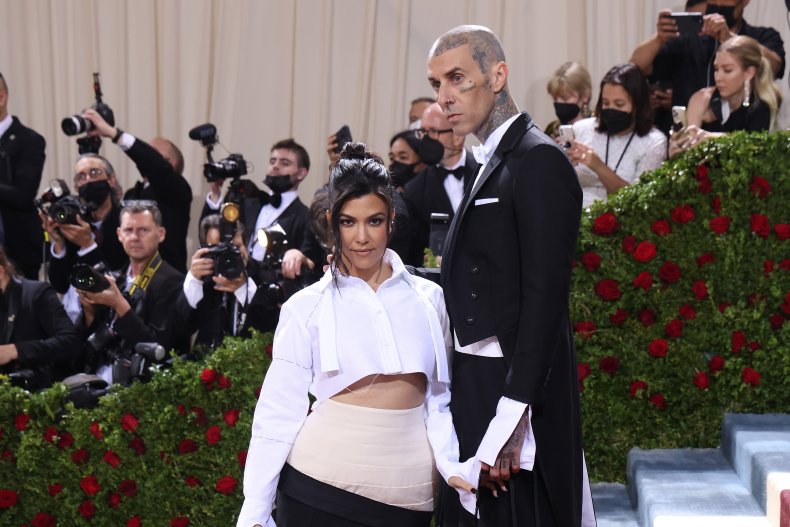 Kim Kardashian
If you didn't already know, Kim Kardashian is officially dating SNL comedian Pete Davidson.
Like her older sister, Kim and Pete made their Met Gala debut, with Kim wearing Marilyn Monroe's famous 1962 dress that she wore to sing "Happy Birthday" for then-President John F. Kennedy.
Kim and Pete struck up a romance after she hosted SNL back in October 2021.
After months of speculation, Kim and Pete went Instagram official in March 2022, shortly after Kim was declared legally single from her ex-husband, Kanye "Ye" West. Kim and Pete have been going strong ever since.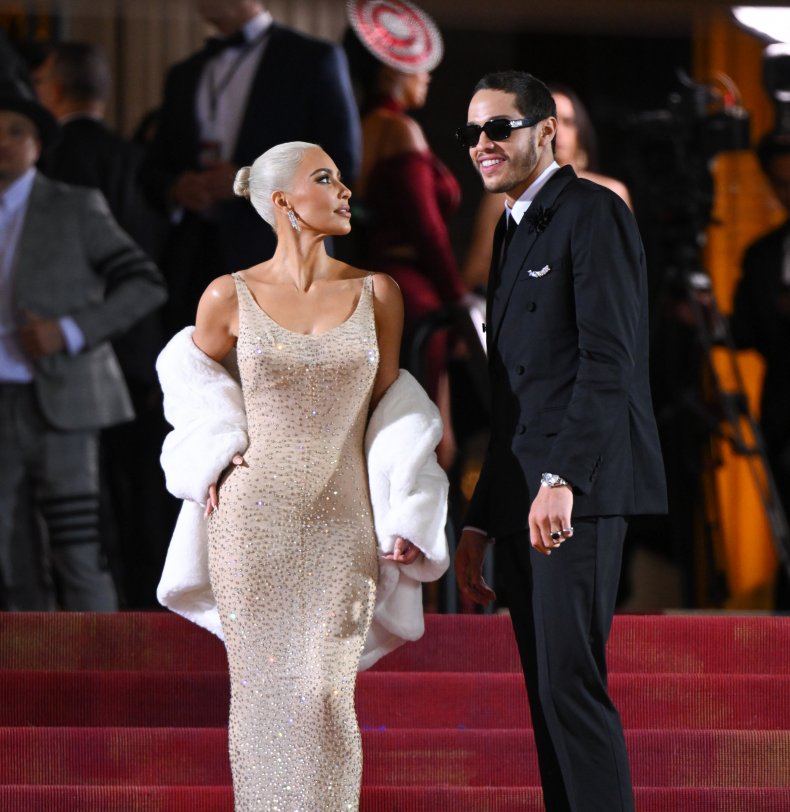 Khloe Kardashian
Khloe and Tristan's relationship has been in and out of the media spotlight for years, amid allegations, backed up by footage and images, of Thompson reportedly cheating on Kardashian. The allegations also involved a kiss with Khloe's younger half-sister's former best friend, Jordyn Woods, who confirmed their kiss happened during her appearance on Jada Pinkett Smith's Red Table Talk.
As seen in Hulu's The Kardashians, at the time of Kourtney's engagement in October 2021, they were back together, but as of May 2022 that's no longer the case. They continue to co-parent daughter True.
Thompson began 2022 with a public apology to Khloe via his personal Instagram account. Thompson, 30, shared the results of a recent paternity test, which confirmed he had fathered a child with Maralee Nichols, a 31-year-old fitness instructor in 2021.
In his apology, Thompson vowed to take "full responsibility" for his son with Nichols and said he plans to raise their child "amicably." He also stated he has the "utmost respect and love" for Kardashian.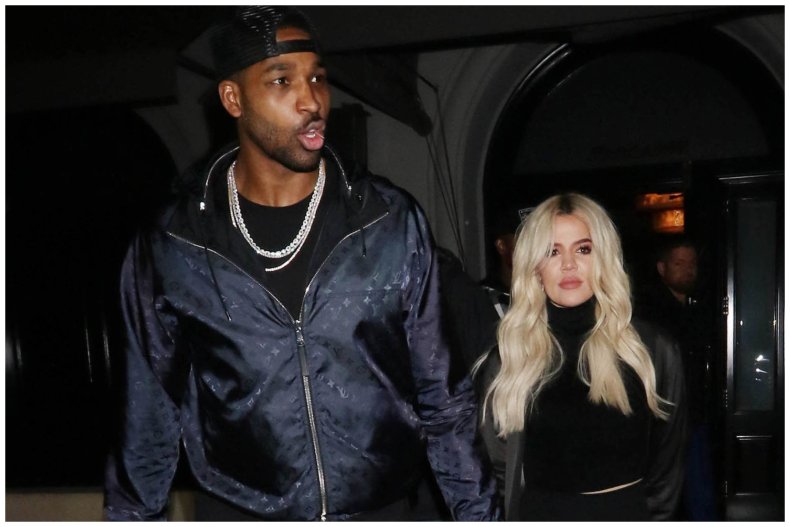 Kendall Jenner
Kendall Jenner is in a relationship with basketball star Devin Booker. They have been dating since 2020, but have managed to keep their relationship very private.
Over the past two years, the pair has sprinkled some wholesome posts about one another on Instagram, but other than that, very little is known about their relationship.
In an interview in March 2022 with the Wall Street Journal, Booker was asked whether he found it hard to have his life in the public domain due to his career and relationship with Jenner, to which he answered: "I wouldn't say hard."
He continued: "Honestly, I'm enjoying life to the fullest, and that came off my tongue so easily because it wasn't always this way, but I feel like I'm in a good place right now.
"I love my family, I love the people around me, and I love the impact that I get to have on this world, the younger generation under me, and the kids who look up to me."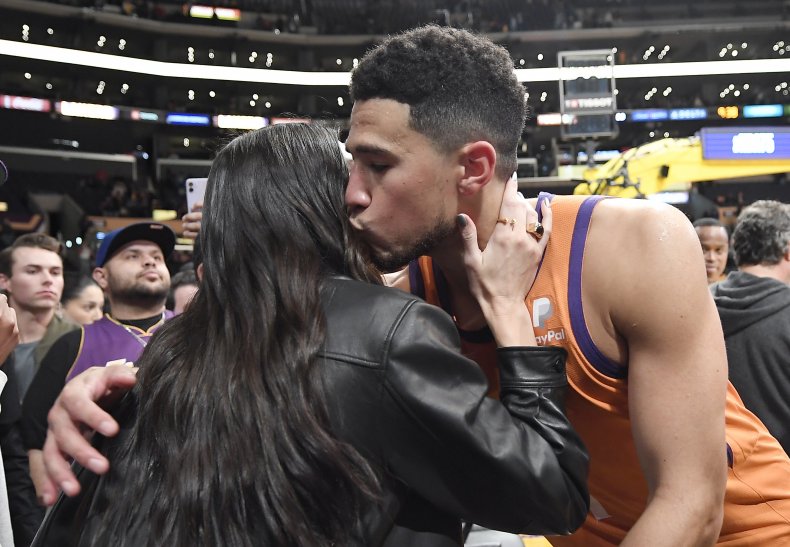 Speaking on The Keeping Up With the Kardashians reunion in summer 2021, Kendall confirmed she and Devin were in a relationship and explained why she opted to keep her relationship out of the spotlight.
She explained: "Kylie and I have had the opportunity to watch our older sisters go through marriages and relationships and breakups and all these things, and do them pretty publicly," she said. "And no offense to you guys at all, but I think it was personal preference from a really young age that I didn't want to [do that]. I think it makes my life a lot easier and our relationship a lot better, to be completely honest. I just feel like it's a private matter, it's not really for anybody else to judge or know."
Kylie Jenner
At the moment, it is thought Kylie Jenner and Travis Scott are still in a relationship.
The pair have had their ups and downs since they began dating in 2017, including a brief split in 2019, but if Instagram is anything to go by, they seem to be back on track.
In February 2022, Kylie welcomed their second child, a son. Together, they share a daughter, Stormi, who is four years old.
On April 30, 2022, Kylie called Travis her "Best Friend" in an Instagram birthday tribute.
She wished Travis a happy 31st birthday with a picture of her holding his chin as he leaned in towards her.
She captioned the post: "Happy birthday my love my best friend [three white heart emojis] the most special person and father to our babies. @travisscott."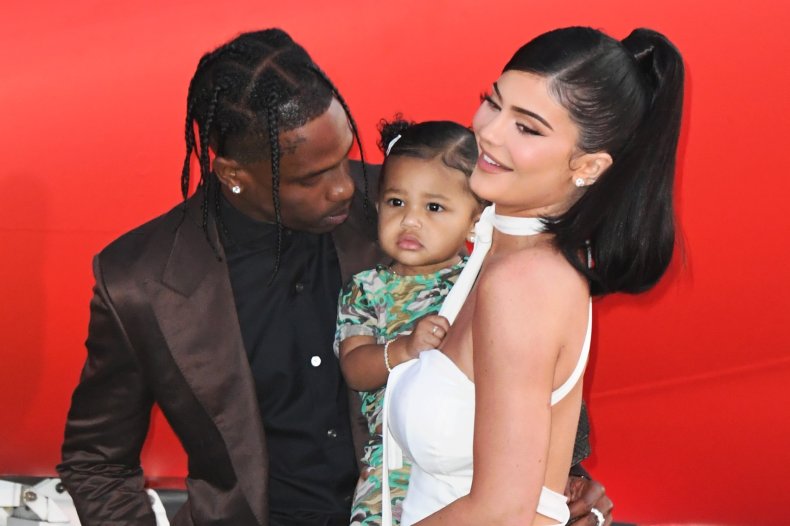 Kris Jenner
Kardashian momager Kris Jenner is dating business executive and talent manager Corey Gamble.
They have been together for over six years after meeting at Riccardo Tisci's 40th birthday party in Ibiza.
In 2015, they became Instagram official and he has appeared throughout Keeping Up With the Kardashians and The Kardashians on Hulu ever since, cracking some serious dad jokes along the way.
The Kardashians airs Thursdays on Hulu and Disney+.