Who Are Putin's New Members of Parliament?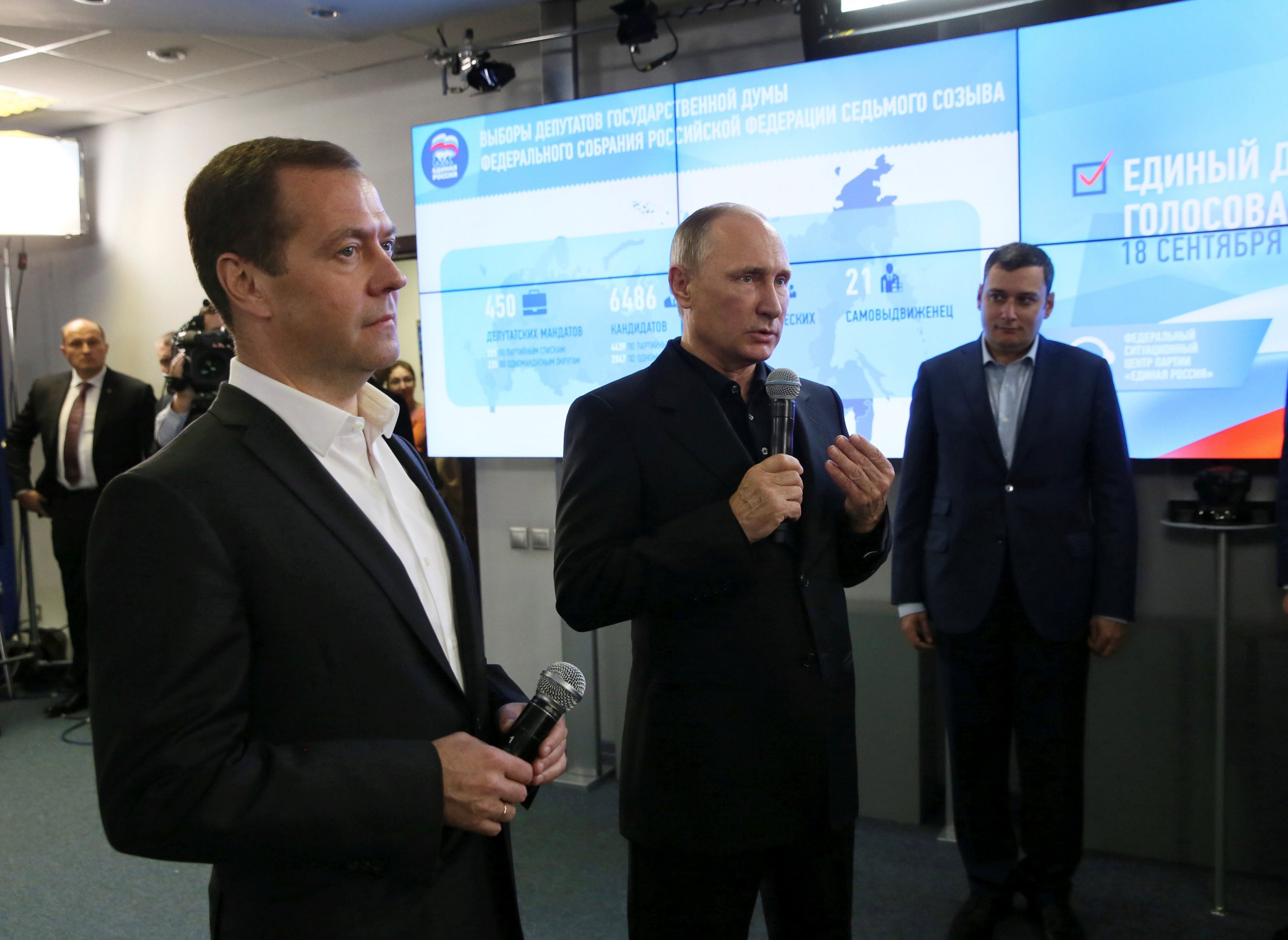 Russia's parliamentary election seemed like business as usual as President Vladimir Putin's ruling United Russia party hailed a record victory, despite plummeting approval ratings.
While the election failed to give the opposition a foothold beyond the margins of Russian politics, the result means a tide of new pro-Kremlin faces entered parliament.
A few of the party's 343 lawmakers may well be prospects for United Russia's future.
Natalya Poklonskaya
Very few figures in Russia's government command adulation like that enjoyed by Putin from his supporters. Natalya Poklonskaya is one of the few to come close.
She was appointed prosecutor of Crimea after Russia annexed the region in 2014 and has since been feted almost daily by pro-government media, fixating as much on her vehement criticism of Ukraine's pro-EU ambitions as on her personal life and appearance. She even has her own subreddit.
The 36-year-old was included in United Russia's electoral list before the election and has since been announced as one of the four representatives in Russian parliament from Crimea. The prosecutor has already said she is interested in joining the Russian Commonwealth committee, which oversees ties with other former Soviet states, or the law enforcement committee in parliament.
Poklonskaya was born in Ukraine's Luhansk region and her arrival at the center of Russian politics would likely help the Kremlin's narrative of the conflict in Ukraine, which frequently treats the crisis as a case of Western manipulations, turning Kiev against Russia. On Monday, she told pro-government tabloid Komsomolskaya Pravda she would be happy to be seen as a "symbol of the Russian spring," which is the Russian nationalist term for the conflict in Ukraine.
Vitaly Milonov
The state of LGBT+ rights in Russia is ranked among the very worst in Europe and the ruling party has been responsible for laws and initiatives, treating non-heterosexual partnerships with stigma.
St. Petersburg local council representative Vitaly Milonov has been among the most outspoken advocates for ramping up pressure on LGBT+ rights further, urging authorities to ban Apple products for their use of gay-friendly emojis and outlaw any public LGBT+ symbolism.
Now Milonov will join the ranks of United Russia in Russia's lower house of parliament. Speaking to pro-government news website Life, the 42-year-old politician said he would stay in St. Petersburg but felt local concerns on the "defense of traditional values" often required federal approval.
Vladimir Shamanov
Colonel General Vladimir Shamanov's career has been strongly shaped by Putin's presidency and he has the blend of service and political experience that many of the president's trusted allies do. Now he joins the ranks of United Russia lawmakers in parliament.
Shamanov was recently highly involved in the Ukraine conflict, as he commanded Russia's airborne troops, deployments of which were integral to Russia's annexation in Crimea.
The 59-year-old also served as a commanding officer in another marquee conflict of Putin's presidency—the war in Chechnya. He has worked as governor, advisor to the minister of defense and, like Putin himself, has a passion for martial arts. While Putin is a student of judo and karate, Shamanov headed Russia's Taekwondo union in 2008.
Shamanov represented United Russia in a televized debate during the campaign, though mainly spoke about security and defense spending, which will probably be his remit in parliament.
Pyotr Tolstoy
Several figures from Russia's state-run media industry entered parliament on the United Russia ballot—one of the most ubiquitous is presenter Pyotr Tolstoy.
Tolstoy is the great-grandson of Russian literary great Leo Tolstoy, one of many prominent descendants who include Vladimir Tolstoy, another great-grandson who is Putin's cultural advisor.
Pyotr Tolstoy's television programmes have been accused of favoring the Russian government heavily and he is under sanctions by Ukraine, whose government has deemed his and 49 other TV personalities' statements about the country to undermine its sovereignty.
Tolstoy began his career in parliament with an international scandal, after telling Bulgarian state TV that Russia "will simply buy the whole" of Bulgaria, to ensure friendly relations. "We have already bought half of the coastline anyway," he added.
The Bulgarian foreign minister declared Tolstoy's "arrogant" words a threat and expressed hope that his views do not reflect those of the Russian government.
Anna Snatkina
The extent of United Russia's win gave the ruling party not only a chance to bring together potential leading members, but also a handful of figures who could change the party's image. Actor and Dancing With the Stars winner Anna Snatkina is a break from the image of the middle aged, male, bureaucrat that most would associate with the Russian power vertical.
The 33-year-old, who said that children's rights and "veterans" of the entertainment industry are her main concerns, possibly has more name recognition among readers of gossip magazines than political journals.
She was made head of the campaign of another United Russia politician, 65-year-old sanitation chief Gennady Onishchenko, as the two defeated a leading member of the Russian opposition, Dmitry Gudkov, in Moscow.