Who Is Barry Berke? Dems' Lead Counsel Named For Trump's Second Impeachment Trial
The House Judiciary Committee announced Friday that lawyer Barry Berke will be serving as lead counsel for Democrats during President Donald Trump's second impeachment trial.
Berke previously served as special counsel during Trump's first impeachment. For Trump's historic second impeachment trial, House Judiciary Committee Chairman Jerrold Nadler (D-N.Y.) and Lead Impeachment Manager Jamie Raskin (D-Md.) said that Berke had once again been "retained on a consulting basis" to represent House Democrats.
"Barry Berke joins the House Judiciary Committee as Chief Impeachment Counsel," a Judiciary Committee news release states. "Barry Berke is a nationally prominent expert on federal criminal law, including public corruption, and is recognized as one of the leading trial lawyers in the country."
Outside of the Trump impeachments, Berke is known as a prominent white collar defense lawyer. In a 2019 New York Times profile ahead of the president's trial, Berke was described as "one of the nation's leading defense lawyers." He was named a finalist for Attorney of the Year 2020 by the New York Law Journal, which called him the "breakout star of President Donald Trump's impeachment proceedings."
Berke is currently taking a leave of absence from Kramer Levin, the New York City law firm where he is a partner. In addition to Congressional Democrats, his clients have included famed sports gambler Billy Walters, former international soccer official Jérôme Valcke and New York City Mayor Bill de Blasio. Notably, he has also represented Deutsche Bank, the financial institution that has reportedly moved to cut ties with Trump after decades of business and billions of dollars in loans to the outgoing president.
"Barry is an extraordinary trial lawyer, and he showed those skills in the first impeachment proceeding," a Kramer Levin spokesperson said in a statement to Newsweek. "We fully support his decision to take on another historic assignment and look forward to his return to the firm."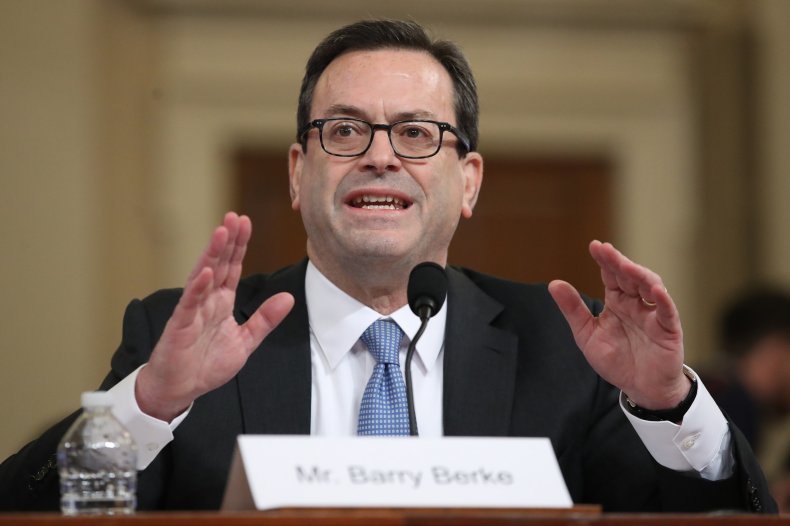 The legal team that will make the case for the Senate to convict Trump also includes Impeachment Counsel Joshua Matz, another member of the legal team prosecuting Trump during the first trial. The Judiciary Committee describes Matz as "a leading constitutional scholar who has written extensively about impeachment and whose practice includes civil rights, commercial, and Supreme Court and appellate litigation."
"I am proud to welcome back Barry Berke and Joshua Matz to the House Judiciary Committee staff to join our counsels as they gear up for President Trump's impeachment trial," Nadler said. "Our counsels are some of the brightest legal minds in this country who will work to help ensure a conviction in the Senate."
Trump's legal defense team has not yet been announced. At least some figures from the first trial, including Trump lawyer Jay Sekulow and White House counsel Pat Cipollone, are not expected to take part, while the president is said to be considering former Chapman University law professor John Eastman, according to a Reuters article citing people familiar with the matter.
Eastman has been involved in legal challenges aimed at overturning President-elect Joe Biden's election win and spoke in support of unsubstantiated claims concerning the election during the Washington, D.C. Trump rally held just before last week's Capitol insurrection. He resigned from Chapman University on Thursday following backlash over his remarks. Eastman was also the author of a controversial Newsweek opinion article last summer that questioned the eligibility of Vice President-elect Kamala Harris to hold the office.
Trump was impeached by the House on Wednesday for allegedly inciting the Capitol insurrection. At least five deaths occurred as a result of the riot, in which angry Trump supporters, fueled by conspiracy theories and false claims that the president's loss to Biden was due to a "stolen" election, violently stormed the Capitol building. Trump is the only president in U.S. history to be impeached twice.