Who Is Ben Crump, High-Profile Attorney for Families Following Police Shootings?
Valentina Orellana-Peralta, 14, was killed just days before Christmas by a police officer's stray bullet, and in the aftermath of her death, her family has retained the services of Ben Crump, one of the nation's most high-profile civil rights attorneys.
In a series of tweets, Crump called out the actions of the Los Angeles Police Department (LAPD) officers who were shooting at a suspect outside of a mall dressing room when one of the bullets struck and killed Orellana-Peralta.
"This is 14yo Valentina Orellana-Peralta. A few months ago, her family moved to Los Angeles from Chile in search of a better life," one of the tweets mentioned. "Tragically, Valentina was killed just a few days before Christmas."
Orellana-Peralta's case is the latest in a long line of wrongful-death lawsuits that have been taken on by Crump.
With the rise of racially charged police shootings seen over the past few years, the call for Crump's services has also been on the rise.
Crump, 52, obtained his law degree at Florida State University. After a number of years of practicing, Crump's notoriety increased in 2012 when he represented the family of Trayvon Martin, who was killed by a neighborhood watch coordinator.
After continuing to take on more civil rights lawsuits throughout the decade, Crump cemented his place on the national stage in 2020, when he represented the families of numerous high-profile victims of police violence.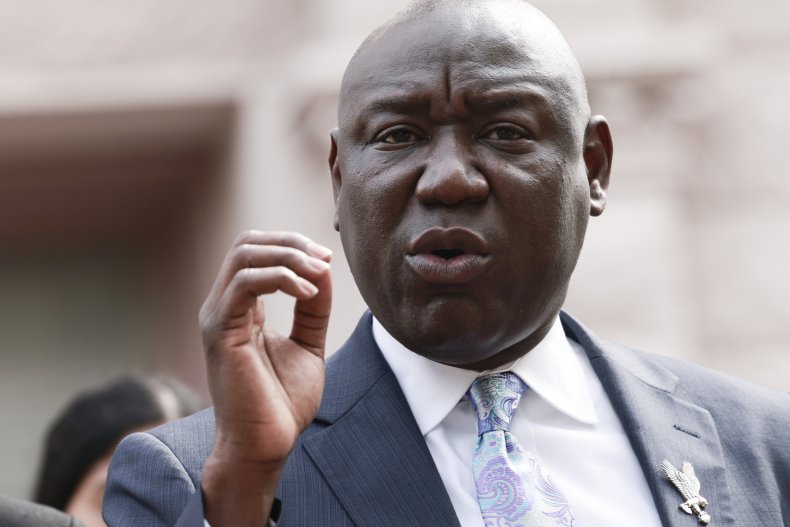 Most notable was George Floyd, who was murdered by Minneapolis police officer Derek Chauvin in May 2020 after he knelt on Floyd's neck for nearly nine minutes. Chauvin's murder conviction and subsequent sentencing became a catalyst for continuing racial justice reform across the U.S.
Beyond Floyd's case, Crump also represented the family of Breonna Taylor, who was shot and killed in her Kentucky apartment by Louisville police officers who forced entry into her residence during a drug investigation.
None of the officers involved in Taylor's death has been charged, a similar outcome to the shooting of Jacob Blake, another case that Crump represented. Blake was shot in the back by Kenosha police while attempting to climb into his girlfriend's car, and although Blake survived the shooting, the officer who shot him was not charged.
Despite any of their outcomes, these cases, along with significant exposure on network television throughout legal proceedings, have helped make Crump one of the most in-demand lawyers in the country. The Rev. Al Sharpton has even referred to Crump as "Black America's attorney general."
While some on social media have characterized Crump as an opportunist, simply taking high-profile cases whenever he can, the critics have not stopped the attorney from continuing to represent grieving families.
This includes his recent representation for the family of Daunte Wright, who was shot and killed by Minneapolis police officer Kim Potter after she said she mistook her gun for her taser. Potter was convicted of first- and second-degree manslaughter earlier in December.
Crump also has a number of other ongoing civil rights cases, and looks primed to remain one of America's most famous lawyers in the near future.
Newsweek has reached out to Crump's office for comment.