Who is Father Pat Conroy, the House Chaplain Paul Ryan Asked to Resign?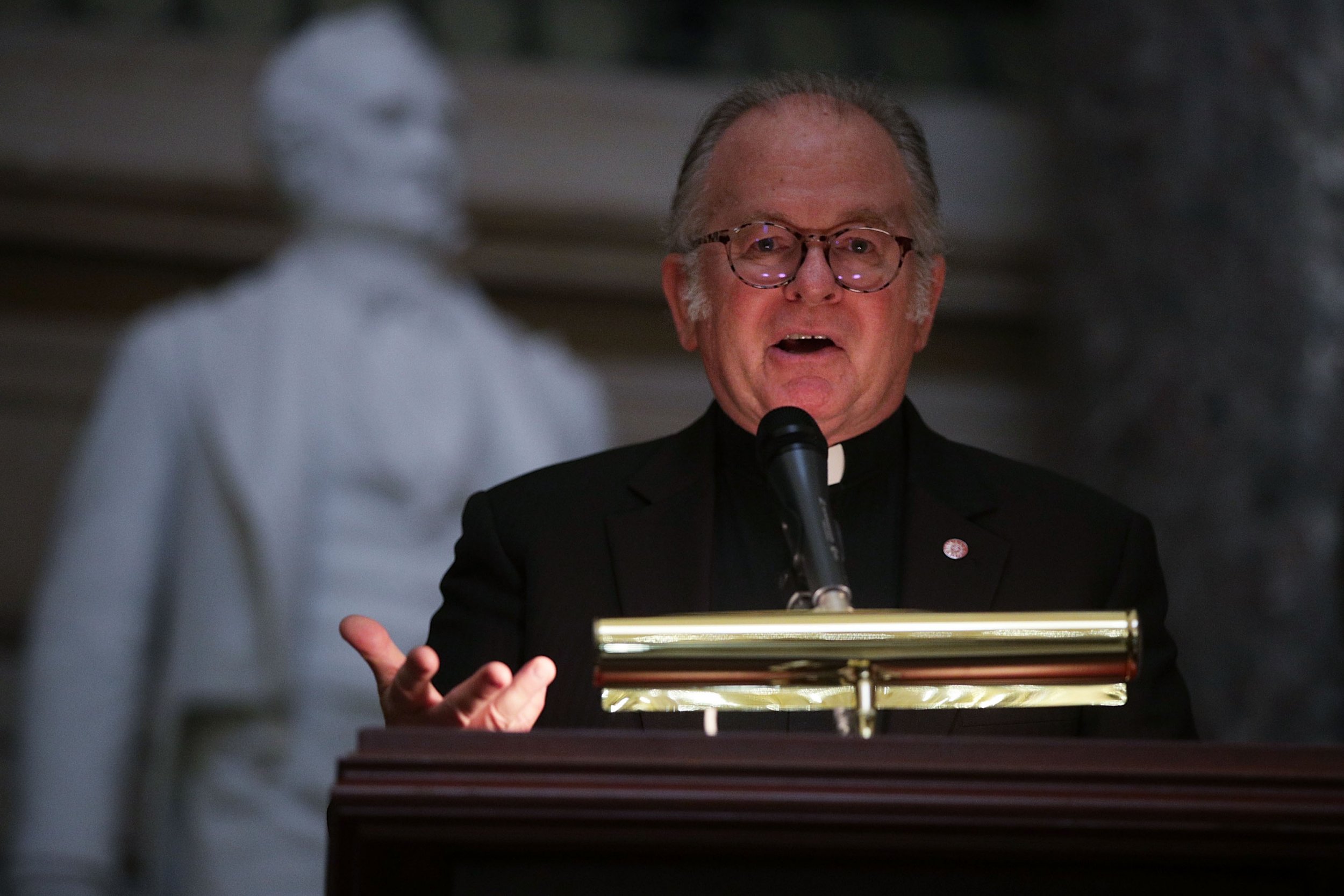 House lawmakers are asking questions about the apparent forced resignation of Father Pat Conroy, the outgoing chaplain of the House of Representatives.
Conroy submitted a letter of resignation on April 15 after Speaker of the House Paul Ryan asked him to do so. Conroy's last day in the role is May 24.
"I was asked to resign, that is clear," Conroy told The New York Times on Thursday. But he said the reason why "is unclear," and that he "certainly wasn't given anything in writing." He added, "Catholic members on both sides are furious."
Related: Opposing Trump from the Washington National Cathedral
Former Speaker of the House John Boehner, a Republican, nominated Conroy to the position in May 2011. He was elected and sworn in later that month. Conroy, a Jesuit priest of the Oregon Province of the Society of Jesus, was born in Washington state. He attended Claremont McKenna College, followed by a year at Gonzaga University Law School, and then entered the Jesuit order. He went on to earn master's degrees from Gonzaga University, the Jesuit School of Theology and Regis College, and a law degree from Saint Louis University.
After becoming a priest in 1983, he served Native American reservations and then worked for the Jesuit Office of Social Ministries in Washington, D.C. After that, he became a chaplain at Georgetown University and Seattle University, and later, he worked at Jesuit High School in Portland, Oregon.
His hobbies include running and playing guitar, according to the website of the office of the chaplain.
"With his guitar frequently in hand and his door always open, he aims to provide House members and staff with meaningful pastoral experiences and opportunities that enable them to grow spiritually and perform their duties to the best of their ability," says a chaplain's office brochure.
The House has had a chaplain since 1789, continuing a tradition from the Continental Congress. The chaplain is responsible for offering a prayer at the start of House proceedings and providing counseling to House members and staff. Chaplains also sometimes arrange memorial services, marriages and funerals. Conroy is the second Roman Catholic to serve.
The resignation is making waves in Congress. Conroy told the Times that Ryan's chief of staff simply told him, "The speaker would like your resignation."
Representative Marcy Kaptur, a Democrat, has called the imminent resignation "more than a little suspicious" and has questioned Ryan's authority to seek it because the chaplain is an officer of the House. Kaptur and other lawmakers were planning to send a letter to Ryan seeking more information.
At least two lawmakers, Representative Walter Jones, a Republican, and Joe Crowley, a Democrat, have said they believe a prayer Conroy gave related to the new tax plan is behind Conroy's ousting, according to Roll Call.
"As legislation on taxes continues to be debated this week and next, may all members be mindful that the institutions and structures of our great nation guarantee the opportunities that have allowed some to achieve great success, while others continue to struggle," Conroy said in the prayer on the House floor, on November 6. "May their efforts these days guarantee that there are not winners and losers under new tax laws, but benefits balanced and shared by all Americans."
Speaking with the Times, Conroy also pointed to that prayer as possibly having to do with his ousting. "A staffer came down and said, 'We are upset with this prayer. You are getting too political,'" he told the newspaper. Conroy added that when he saw Ryan, the speaker said to him, "Padre, you just got to stay out of politics." The chaplain said that was the first time anyone had accused him of being political in that role.
"The speaker consulted with the minority leader, but the decision was his. He remains grateful for Father Conroy's service," AshLee Strong, a spokesperson for Ryan, said in a statement to reporters on Thursday.
A spokesperson for House Minority Leader Nancy Pelosi told reporters that she "was given advance notice by Speaker Ryan" about seeking the resignation, but also that Pelosi "made it clear to Speaker Ryan that she disagreed with this decision."
At Ryan's request, Representative Doug Collins, a Republican who is a practicing military chaplain, will oversee the search for Conroy's successor, Roll Call reported. The search team will consist of lawmakers from both parties, and Representative Emanuel Cleaver will be the lead Democrat.