Who Could Bernie Sanders Pick to Be His Vice Presidential Running Mate?
As the race for the Democratic presidential nomination has narrowed to two viable candidates—former Vice President Joe Biden and Senator Bernie Sanders of Vermont—speculation has mounted about who the potential vice presidential candidate could be.
While Biden is the current front-runner, Sanders remains a strong second place contender. Although the Sanders campaign has been more tight-lipped about potential running mates, his surrogates and supporters have dropped some clues as to who his hypothetical running mate could be—if he managed to secure the nomination.
From what the progressive senator and his supporters have said, he would almost certainly choose a woman as his vice presidential hopeful. Sanders has also said that he will strongly consider an African American woman. At the same time, he has also stated that any running mate would necessarily need to be supportive of his signature policy proposal of single-payer health care, or Medicare for All.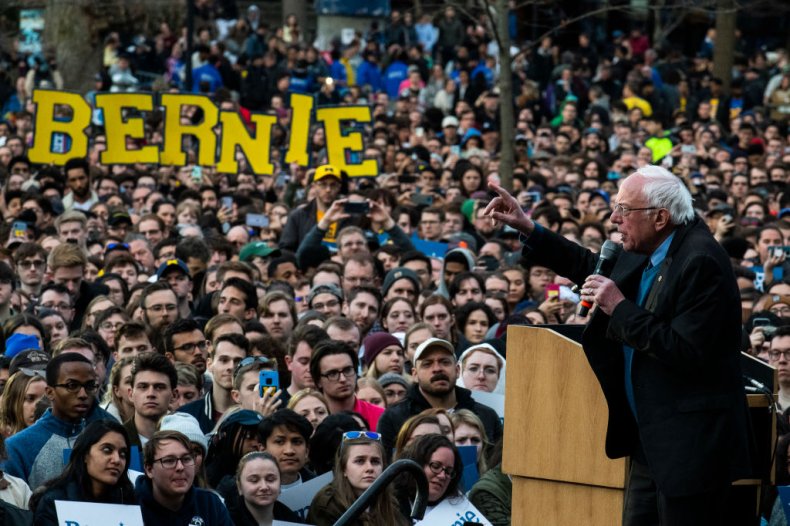 During a Fox News town hall in Michigan on Monday evening, Sanders re-asserted that he "would look to women first" when picking a potential vice president. "They would be women, by the way, who hold my political views," he added.
Sanders also told the San Francisco Chronicle earlier this month that any running mate he chose would need to support Medicare for All, and be a champion for working families.
"We will pick somebody who knows the experience of working families in this country, who has a history of fighting for those families, and somebody whose politics are similar to mine," he told the California newspaper.
The top name floated to be Sanders running mate has been former Democratic presidential candidate Senator Elizabeth Warren of Massachusetts. Like Sanders, Warren has been widely viewed as a progressive champion and put forward a Medicare for All plan very similar to that of her former left-wing rival.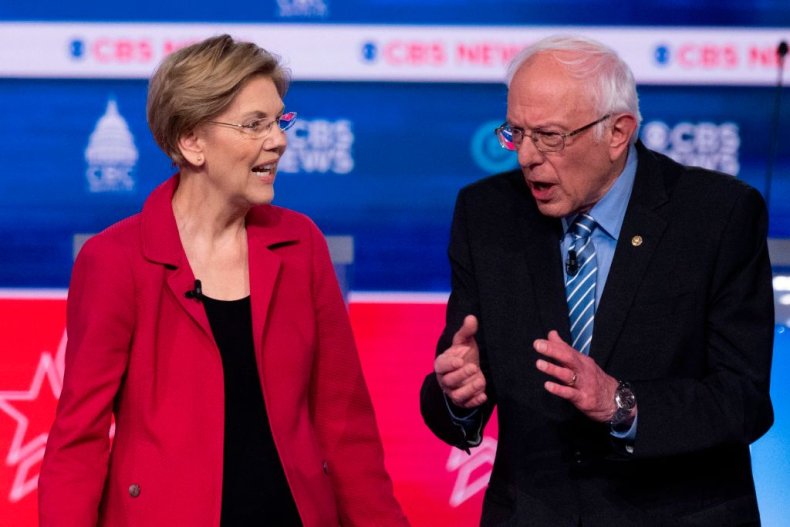 Progressive Democratic Representative Ro Khanna of California, who co-chairs Sanders' national campaign, suggested that Warren would be a strong running mate for the senator from Vermont after she suspended her presidential campaign last week.
"Maybe Senator Warren," Khanna said in an interview with MSNBC. "I mean, I've said Senator Warren would be an outstanding choice." But the congressman noted: "There will be other outstanding choices."
Khanna asserted that he'd "absolutely" advise Sanders to choose a woman as his vice presidential hopeful.
Newsweek has reached out to press representatives of the Sanders campaign and Khanna for comment.
Peter Daou, a political strategist who previously advised former Democratic presidential candidates Hillary Clinton and John Kerry, has suggested that a Sanders-Warren ticket would be the "dream team."
"Progressive values to overhaul America," Daou tweeted last week. "Just imagine #Bernie crushing Trump in a debate and #Warren destroying [Vice President Mike] #Pence."
But Warren, unlike many of her other former Democratic presidential rivals, did not immediately endorse either Sanders or Biden. While many of her supporters have quickly backed Sanders, Warren said last week that she didn't "have to decide that this minute," as she officially suspended her campaign.
While Warren has backed Medicare for All, Sanders has also promised to consider selecting an African American woman as his running mate. On Sunday, civil rights activist and former presidential candidate the Rev. Jesse Jackson said in statement, as he endorsed Sanders' presidential campaign, that the senator had committed to the strong possibility of an African American woman as his vice presidential hopeful.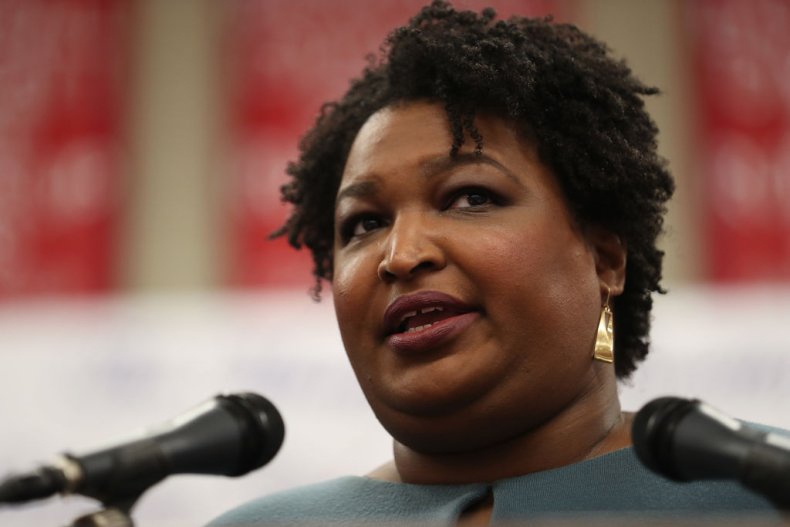 Although the Sanders campaign has not floated any potential names, former Georgia gubernatorial candidate Stacey Abrams has long been projected as a potential running mate for the winner of the Democratic nomination. Sanders endorsed Abrams, who is African American, in her 2018 bid to become her state's governor. Although Abrams narrowly lost that contest, she and her supporters argue, with significant evidence, that voter suppression played a role in her defeat.
"Of course I would be honored to run as vice president with the nominee," Abrams said during a mid-February appearance on ABC's The View.
"Of course I want it. Of course I want to serve America, of course I want to be a patriot," she added. Abrams also noted that she does not plan to endorse any candidate during the primary, saying she wants to remain in a "neutral space." However, she did assert that she has ambitions of her own presidential campaign some day, which a vice presidential nomination would certainly position her for.
"That's my plan, and I'm very pragmatic," she said when asked if she could be elected president within the next 20 years.
Another African American woman whose name has been floated by Sanders supporters is former Ohio state Senator Nina Turner, who is also a national co-chair of the senator's presidential campaign. Supporters of Turner have even launched a Change.org petition, calling on Sanders to nominate the former Ohio lawmaker. Turner did not respond to Newsweek's request for comment.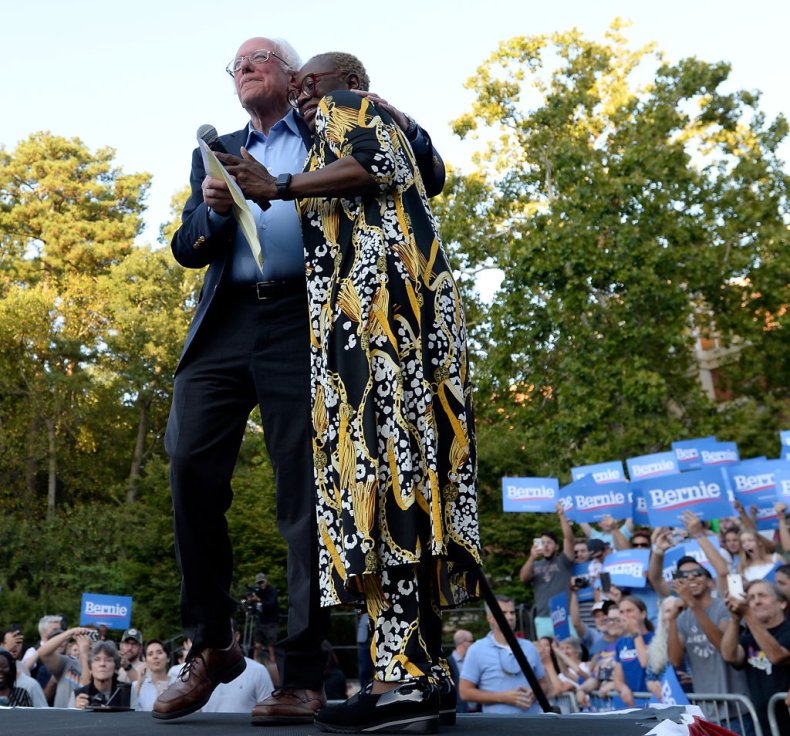 While some emphasis is placed on a presidential candidate's running mate, some experts think it's less important to winning in the general election than many people think.
"I don't think the VP matters much except for a small possible home state effect. I recommend that all candidates choose the VP nominees who they think would make the best president," Andrew Gelman, a professor of political science and director of the Applied Statistics Center at Columbia University, told Newsweek.
"I think that's more important than any small electoral benefit," Gelman said.