Who Created Memorial Day? Origin and Debate About Birthplace Explained
While Memorial Day is observed across the country in all 50 states and Washington D.C., the federal holiday actually has an official birthplace that Americans may not know about.
The day of commemoration for those who have died while serving in the U.S. military has been celebrated since 1868—three years after the Civil War ended. But it wasn't until nearly 100 years later that Congress and then-President Lyndon B. Johnson declared Waterloo, New York the "birthplace" of Memorial Day in 1966.
While Congress recognized Waterloo on May 17 that year and Johnson signed the Presidential Proclamation nine days later, it was New York Governor Nelson Rockefeller who first proclaimed the town as the "birthplace" on March 7, 1966.
It is believed that Waterloo was chosen because the town's celebration of Memorial Day, also known as Decoration Day, inspired many future observances across the U.S.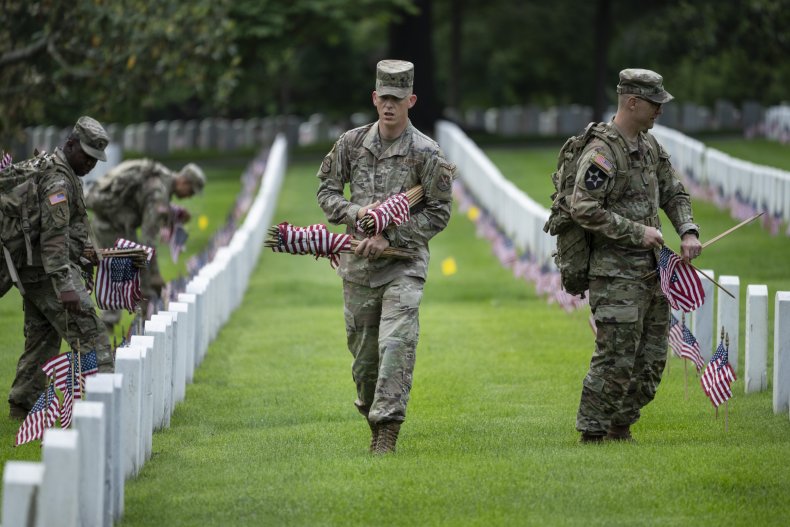 The first Memorial Day celebrated in the town was in 1866. General John Murray, who fought in the Civil War, formed a committee to devote a day to the fallen heroes of the war. Residents of the village quickly embraced the idea, lowering flags to half-mast, closing all businesses and preparing decorations for each veteran's grave.
While Waterloo holds the official title as the "birthplace" of Memorial Day, it has long been disputed which U.S. town held the first tribute to those who died in the Civil War.
According to the U.S. Department of Veterans Affairs (VA), one of the first observances was in Columbus, Mississippi when a group of women decorated the graves of both Confederate and Union soldiers in April 1866. Two cities in Georgia, Macon and Columbus, and two in Virginia, Richmond and Boalsburg, have also claimed to be the birthplace of Memorial Day.
The VA estimates there are approximately 25 places that have been named in connection with the origin of Memorial Day, which should not be confused with Veterans Day in November or Armed Forces Day, which took place last weekend.
The first large observation was held on May 30, 1868, at Arlington National Cemetery where various officials in Washington made speeches before children and members of the Grand Army of the Republic (GAR)—the organization of Union veterans that officially established Memorial Day—walked through the cemetery decorating graves with flowers while reciting prayers and hymns. It's estimated that 5,000 people attended the event.
Today, the National Moment of Remembrance encourages all Americans to respect a minute of silence at 3 p.m. local time on Memorial Day to honor those who have died while serving their country.