Who Is Daniel Lewis Lee? First Federal Inmate to Be Executed in 17 Years
Daniel Lewis Lee is set to die in the first federal execution in almost two decades on Monday.
The 47-year-old, of Yukon, Oklahoma, is scheduled to receive the lethal injection at the U.S. Penitentiary in Terre Haute, Indiana at 4 p.m. for the 1996 killings of gun dealer William Mueller, his wife Nancy Mueller and her 8-year-old daughter Sarah Powell.
Prosecutors said the killings were part of a plot to steal guns and cash to help establish a whites-only enclave in the Pacific Northwest. Chevie Kehoe, who was also convicted in the case, was handed a sentence of life in prison without parole, while Lee was condemned to death.
The execution—scheduled to be the first of a federal death row inmate since 2003—is going ahead after the U.S Court of Appeals for the Seventh Circuit lifted an injection stopping it on Sunday.
The injunction had been put in place after the relatives of Lee's victims filed a lawsuit last week, arguing that traveling to witness it would put them at risk of contracting coronavirus.
Earlene Peterson, Nancy Mueller's mother and Sarah's grandmother; Kimma Gurel, who is Nancy Mueller's sister and Sarah's aunt; and Monica Veillette, who is Nancy Mueller's niece and Sarah's cousin, are opposed to Lee's execution, but want to exercise their right to witness it.
They argued in the filing that traveling to the prison in Terre Haute from their homes in Arkansas and Washington puts them in an "untenable position because they cannot exercise their rights as witnesses without putting their own lives in danger."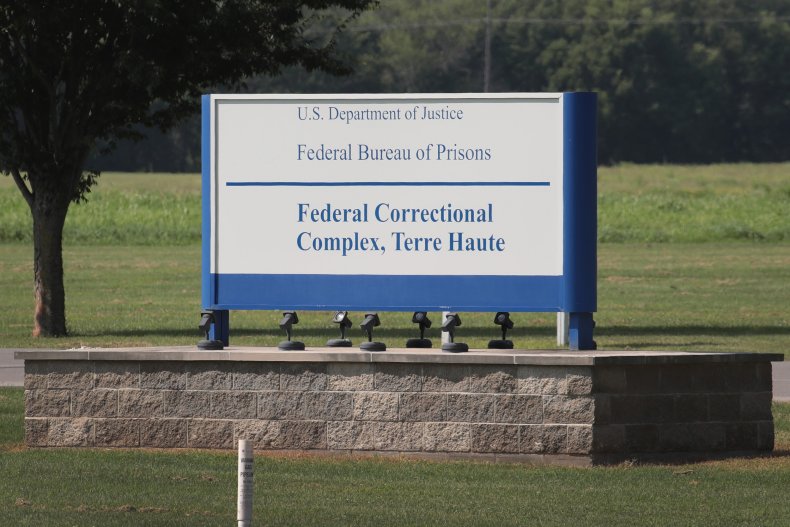 They also want to ensure they counter any notions that the execution is being carried out on their behalf. "For us it is a matter of being there and saying, 'This is not being done in our name; we do not want this,'" 43-year-old Veillette told The Associated Press.
Peterson, 81, previously urged President Donald Trump to halt Lee's execution, saying it would only bring her family "more pain," asking for his sentence to be commuted to life in prison.
In a statement last month, she said: "As a supporter of President Trump, I pray that he will hear my message: the scheduled execution of Danny Lee for the murder of my daughter and granddaughter is not what I want and would bring my family more pain. We don't want Danny Lee to be executed."
An attorney for the family members said they will appeal the lifting of the injunction with the U.S. Supreme Court.
In a statement to Newsweek, Baker Kurrus, an attorney representing the victims' family, said: "The federal government has put this family in the untenable position of choosing between their right to witness Danny Lee's execution and their own health and safety.
"Eighty-one-year-old Earlene Branch Peterson, the mother and grandmother of the victims, along with Ms. Peterson's surviving daughter and granddaughter, wanted to attend the execution and had planned to be there when it was scheduled for December 2019.
"Because the Government has scheduled the execution in the midst of a raging pandemic, these three women would have to put their lives at risk to travel cross-country at this time.
"They will now appeal the Seventh Circuit Court of Appeals' decision to the U.S. Supreme Court in an effort to seek reversal. My clients hope the Supreme Court and the federal government will respect their right to be present at the execution and delay it until travel is safe enough to make that possible."
In their lawsuit, the relatives accused the federal government of "egregiously violating" the Administrative Procedure Act by scheduling Lee's execution even though he "COVID-19 pandemic is worsening and currently ravaging the federal prison system, including USP Terre Haute."
Over the weekend, the Federal Bureau of Prisons (BOP) disclosed that a prison staffer who was involved in the preparations for the executions scheduled for this week had tested positive for COVID-19, the disease caused by the novel coronavirus.
In a court declaration, Rick Winter, the regional counsel for the BOP's North Central Region, said the employee had gone into self-quarantine on July 8 and got a positive test result for coronavirus on Saturday evening.
Winter said the employee had not been in the execution chamber or come into contact with anyone on the execution protocol team, who arrived at the prison after he left.
He added: "For the duration of the execution or until a negative test is obtained, BOP will ensure that those staff members identified as having had contact with the infected staff member do not have contact with the inmates scheduled for execution, ministers of record, witnesses of the execution, attorneys, or press."
There are also currently four confirmed cases of coronavirus among inmates at the Terre Haute prison, according to the BOP, while four others have recovered. One inmate has died.