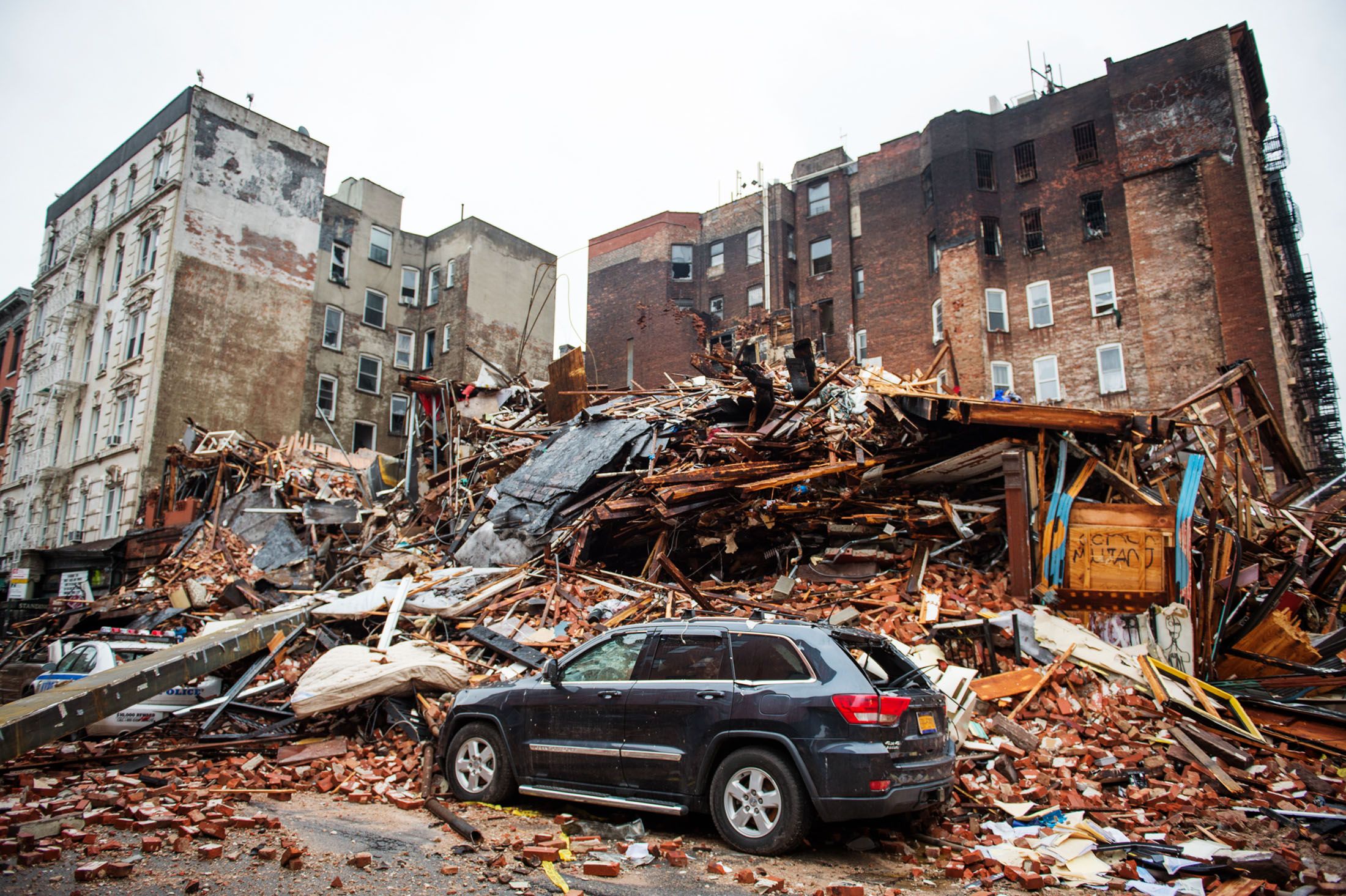 New York City's East Village was shaken on Thursday afternoon by an explosion at 121 Second Avenue that set the building on fire, with flames as high as 20 feet, and caused the building to collapse. Eight hours later, its neighbors, 123 and 119 Second Avenue, also fell. At least 25 people were injured and two people were missing on Friday.
Those who called the buildings home were displaced to a nearby elementary school that is serving as an emergency shelter.
Tenants may choose to sue their landlords or whoever is responsible after such events. Real estate law firms "are often called in after the dust, literally and figuratively, settles," says Matthew S. Brett, a partner at a New York City firm.
First, though, they have to terminate their leases and find new homes, usually with help from the city.
If your building explodes, you can legally terminate your lease without penalty. You'll receive your security deposit, because technically you could not be said to have altered the apartment in any way. (Unless, of course, you caused the explosion--in which case there are other more pressing legal issues than a security deposit.) Tenants in rent-stabilized apartments can also opt to maintain their leases for $1 a month until the destroyed property is rebuilt--if it is rebuilt.
For tenants with renters insurance, the insurers are supposed to cover the losses quickly. "The insurance company then will try to recoup the payment from the party who is responsible for the damages," Petro Zinkovetsky, a real estate attorney in New York City, tells Newsweek. Who, exactly, that party is in Thursday's case is still to be determined.
Gas is suspected to have been a factor in the blast. A contractor working on 121 Second Avenue claimed the landlord knew that gas could be smelled in the building before the explosion, but ConEdison said in a statement it did not receive any calls about a gas leak.
A plumber was doing work in the building, ConEdison said. "There is a possibility here that the gas line was inappropriately accessed internally by people in the building," Mayor Bill de Blasio said.
ConEdison workers actually inspected a meter at the property that day, and did not approve it.
The murkiness surrounding the explosion's cause could create problems for tenants seeking damages, Brett explains: "This will be a very complex case because of the timeline of events and different factors. It is incredible that ConEd was there; that will raise a lot of eyebrows as to what they observed, why they were there and what they did afterwards."
That a contractor was on site adds to the potential for a legal mess. "[Just] because work was done in the basement of the building does not mean that it was done by the landlord," Zinkovetsky says. "You have the construction company who was performing the job, the manufacturer of the pipe itself, prior tenants, every single construction company that has done any work on that pipe in the past 25 years. There will be a lot of finger pointing and counterclaim lawsuits."
Tenants could choose to settle with whoever is deemed responsible for the blast. (Or, more likely, their insurance company.) "This kind of thing can go on for several years, unless the cases are settled," Brett said. "Litigation is time consuming and costly, and oftentimes emotionally draining. Every tenant will have to evaluate if they want to settle or litigate to the end."
Steve Herrick, executive director of the Cooper Square Committee, a tenant advocacy group in the area near the incident, said his organization will work with tenants to be sure they know their rights. "It is likely to take at least a couple of years to rebuild on the sites," Herrick added.
After evaluating reports of the damage, Alen Gershkovich, principal of Inspiron Construction in New York City, said he expects the construction to take at least two and a half years and cost "millions, unclear how many, but millions" of dollars.
The person or entity deemed responsible for the blast that brought down 121 Second Avenue could also be found responsible for the collapses of 123 and 119. "The buildings are tied to one another. When one building collapses, it disrupts the structural engrity...and affects the building next door," Gershkovich explains. "It is the equivalent of overstacking your closet--it might not collapse right away, but it's still falling down." Indeed, 119 and 123 fell almost eight hours after their neighbor.
Although rent-stabilized tenants could secure their homes with the $1 a month leases, planning to return after the landlord rebuilds, the landlord might never rebuild. "The landlord cannot be compelled to rebuild a premises if its economically infeasible to do so," Brett explains.
This, too, could be debated in court, if the rent-stabilized tenants were to choose to pursue the matter. It is unclear if 119 had rent-stabilized tenants; 121 and 123 did not, but 125, which sustained damage though it did not collapse, is a rent-regulated building with 26 apartments, according to Herrick.
While rental insurance covers only as much as the policy stipulates, settlements and damages pursued through litigation can bring large dollar amounts to the tenants. Tenants who pursue legal action can sue for property damage and pain and suffering, if they were injured. Pets can factor into this as well (at least two cats were lost by tenants on Thursday). "Domesticated animals are considered the personal property of the owner. New York courts, however, do express a willingness to accept claims in such circumstances for emotional distress, loss of companionship and the 'intrinsic value' of the pet. So yes, it may impact settlements," Zinkovetsky explained.
In total, 11 buildings with 144 residential units were evacuated, according to the mayor. He encouraged people who want to help to make donations to the Mayor's Fund.
Charities will assist the tenants in the near future, but the road to a legal settlement is likely to be long.