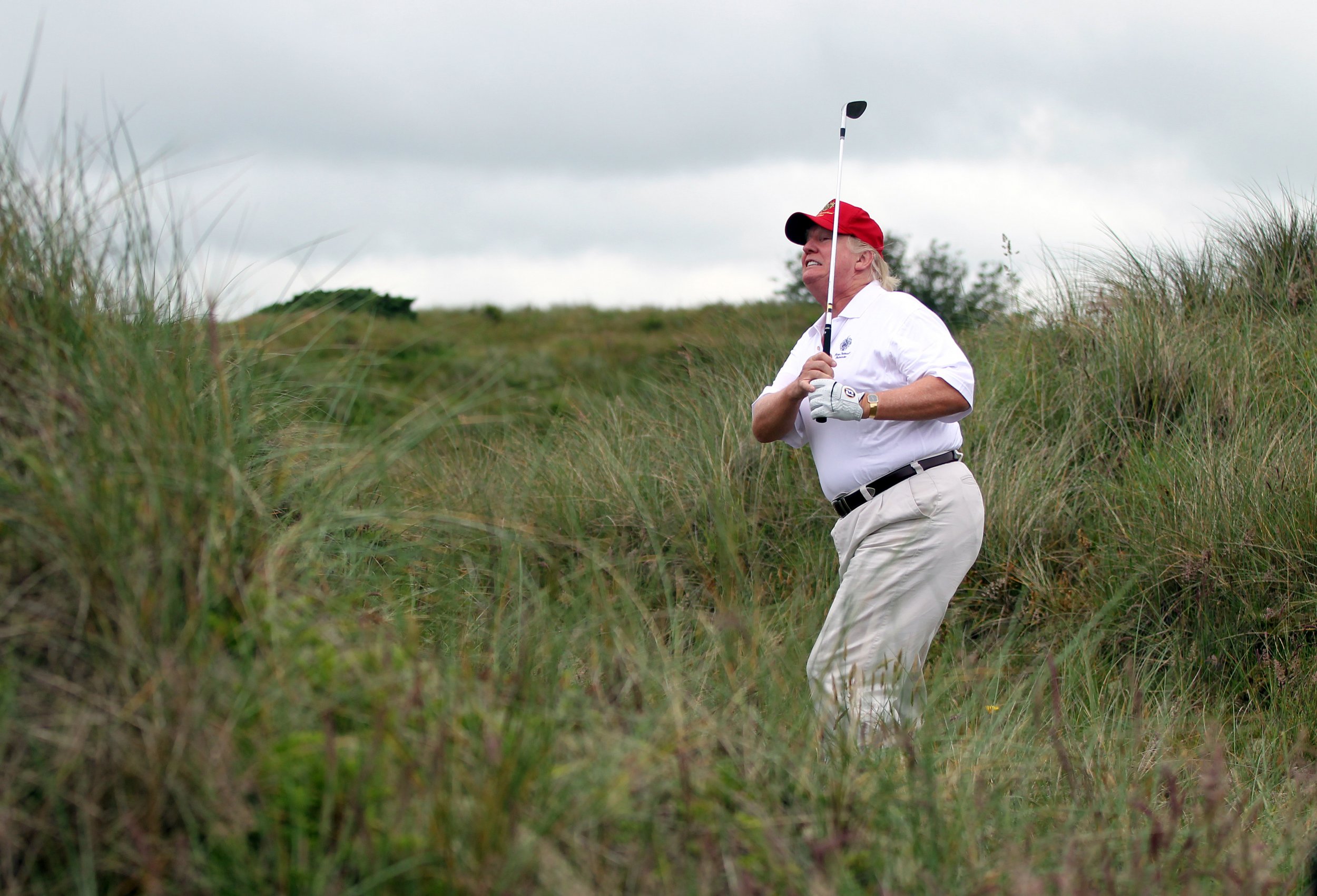 Who exactly has President Donald Trump played golf with?
For 81 of the roughly 110 rounds of golf Trump is believed to have played since taking office, we don't know who his playing partners were. Though the White House has public visitor logs, there is no public record of who hits the links for an hours-long private round of golf with the president, often at one of the exclusive clubs bearing the Trump name.
The Washington Post highlighted the issue on Saturday, asking for the public's help in identifying the president's unknown playing partners.
The paper has created an online chart of each round of golf, listing all his known playing partners. On days that it's a mystery who Trump played with, there is a direct link to provide The Post a tip as to who the unknown players might be.
Most of the president's known playing partners have been famous athletes, including people like Tiger Woods, Jack Nicklaus and Rory McIlroy. A number of them have also been business executives, like Richard Levine of the New York Real Estate Institute, who told Bloomberg Businessweek he's donated thousands of dollars to Trump's foundation out of gratitude for free flights on his private jets.
Before he ran for President, Trump vocally and frequently criticized President Barack Obama for playing too much golf. He tweeted at least 27 times on the topic before taking office.
On the campaign trail, then-candidate Trump repeatedly said, if elected president, he wouldn't "have time to go play golf," and said he would never see his private Turnberry golf resort in Scotland or his Doral golf resort in south Florida while in office. He bashed Obama for "playing more golf than professional players on the PGA Tour."
But Trumpgolfcount.com points out that Trump has far exceeded Obama's golfing frequency. At the same point in his presidency, Obama had golfed 44 times compared with Trump's estimated 110 times. If the president golfs at the same rate for the remainder of his first term, he will have spent roughly 322 days on the course, more than the 306 Obama spent during his entire eight years in the Oval Office. Each visit to Trump's exclusive Mar-a-Lago golf resort in Florida costs taxpayers an estimated $3 million.
Mar-a-Lago, dubbed the "Winter White House," has recently come under scrutiny for continuing to hire temporary foreign workers instead of Americans.