Who Is Eric Nelson? Derek Chauvin's Attorney Leads Defense in George Floyd Murder Trial
Derek Chauvin, the former Minneapolis police officer charged in the killing of George Floyd, is being represented by Eric Nelson, an attorney who's exclusively practiced criminal defense.
Chauvin faces multiple charges in Floyd's death last May. If he is found guilty, a jury can choose between second- and third-degree murder. Being found guilty of second-degree murder could put Chauvin in jail for an additional 20 years, compared with the lesser charge.
Nelson is well versed in defending clients in Hennepin County, where Chauvin is being tried. A member of the Minnesota Police and Peace Officers Association, he is listed as an attorney other members can turn to for advice through the Legal Defense Fund. He joined the panel in 2015 and has represented "numerous" members in "critical incidents and job-related investigations," according to the MPPOA's website.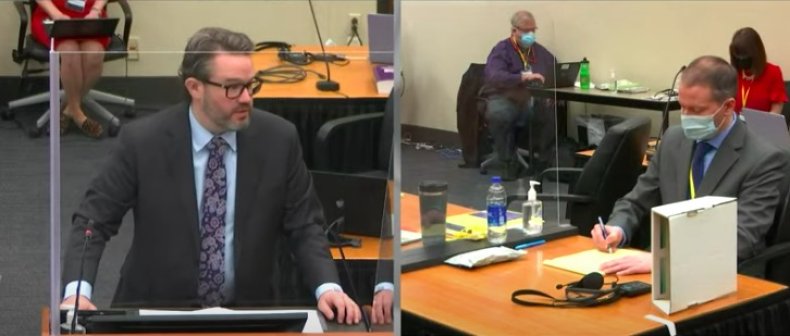 MPPOA Executive Director Brian Peters told the Associated Press that becoming one of the 12 attorneys on the panel is "not very easy."
"You are vetted very aggressively," he said. "That's why we have 12 of the best defense attorneys on our panel.
One of Nelson's most famous clients was Amy Senser, the wife of former Minnesota Vikings player Joe Senser. Amy was charged with vehicular homicide in a 2011 hit-and-run that resulted in a fatality. Amy, who admitted to driving the car that hit Anousone Phanthavong, was found guilty of two of the three felony counts she faced and was sentenced to 41 months in prison. She was released in 2014.
Nelson often appears in the courtroom with his assistant, Amy Voss. The legal team of two is significantly outnumbered by the prosecution in Chauvin's trial. However, The New York Times reported that Nelson has received help from other lawyers behind the scenes, including the attorneys for the three other officers charged in Floyd's death.
Nelson, 46, wasn't Chauvin's original attorney but took over the case in June. The original lawyer, Tom Kelly, dropped the case for a medical-related reason. The case, according to Reuters, was assigned to Nelson because he was the on-call attorney for the MPPOA.
Nelson received his law degree from the Mitchell Hamline University School of Law in St. Paul, Minnesota, and is a founding partner of the law firm Halberg Criminal Defense. In the past, he was included in a Top 40 Under 40 list by the National Trial Lawyers and named a Top Ten Trial Attorney by the National Academy of Criminal Defense Attorneys.
Along with his own legal work, Nelson serves as a judge in moot court and mock trial contributions, according to Halberg's website.
Newsweek reached out to the MPPOA for comment but did not hear back before publication.