Who Is Eugene Goodman? Capitol Police Officer Who Led Rioters Away Escorts Kamala Harris to Inauguration
Eugene Goodman, the U.S. Capitol police officer who was seen holding rioters back as a mob stormed the Capitol, will escort Vice President-elect Kamala Harris to the inauguration on Wednesday.
Norah O'Donnell of CBS News said that Harris "will actually be escorted up those stairs by [Goodman,] the acting deputy House Sergeant at Arms."
"The officer who helped save the lives perhaps of not only the Vice President Mike Pence but others, he is going to be on the presidential platform," O'Donnell said.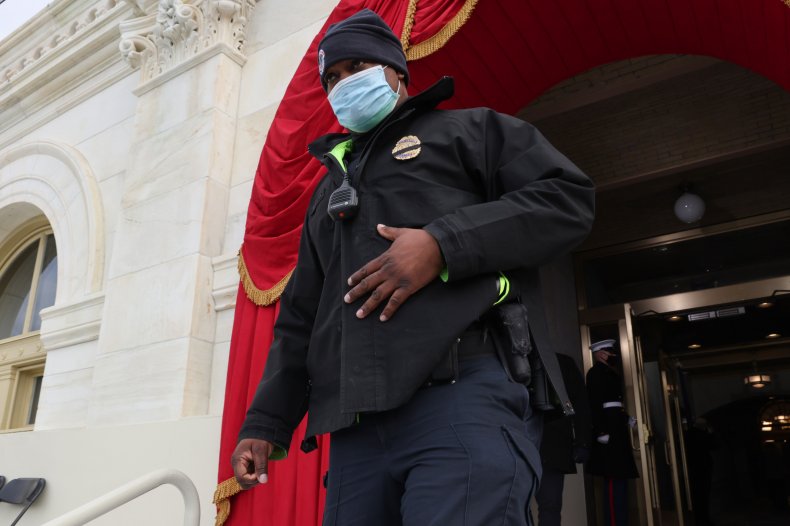 The news of Goodman comes shortly after he was praised by many for his actions during the January 6 riot at the Capitol, when supporters of President Donald Trump breached the building to protest Congress certification of states' Electoral College votes.
Photos and videos showed Goodman holding back a crowd of rioters and leading them away from an area where a number of lawmakers were hiding in the Capitol. The images resonated with many as Goodman, who is Black, was seen defending the building from a crowd of predominantly white rioters, with some even holding Confederate flags and other racially charged symbols.
While speaking with The Washington Post, one of Goodman's colleagues said, "He was diverting people from getting on the Senate floor and getting hostages. It was the smartest thing that he could have ever done," adding that "His quick thinking enabled those senators to get to safety."
Shortly after the photos and videos circulated across social media, a number of lawmakers called for Goodman to receive the Congressional Gold Medal.
Representatives Nancy Mace, Emanuel Cleaver II, and Charlie Crist released a statement last week, announcing the introduction of a bipartisan bill "to award United States Capitol Police Officer Eugene Goodman the Congressional Gold Medal for his bravery and quick thinking during last week's insurrection at the United States Capitol."
"The actions of Officer Goodman were heroic and represent the best of law enforcement," Mace said in the statement. "From the bottom of my heart, I cannot thank him enough for his bravery and for his dedication to the call of duty."
Goodman was called a "hero" by Crist, and Cleaver added: "If not for the quick, decisive, and heroic actions from Officer Goodman, the tragedy of last week's insurrection could have multiplied in magnitude to levels never before seen in American history. With this prestigious award, we can show our gratitude to Officer Goodman for saving countless lives and defending our democracy."
In addition to the calls for Goodman to receive the award, he was also praised by the XVIII Airborne Corps.
"Capitol police officer Eugene Goodman is rightfully being hailed as a hero after singlehandedly holding back rioters from entering the Senate chambers last week," Goodman's former airborne corps wrote in a tweet. "An Iraq combat vet and member of this Corps, Eugene was a hero long before last Wednesday. We celebrate his valor."
Newsweek reached out to the Capitol Police for comment, but did not receive a response in time for publication.