Who Is the Infamous Vegan Teacher TikToker Behind Gordon Ramsay's Video?
After trolling Gordon Ramsay, a controversial TikTok user known as Miss Kadie—or That Vegan Teacher—got an unlikely response from the world-famous chef.
Kadie, an elementary school teacher, had criticized Ramsay in a number of TikTok videos for the meat-filled dishes he showcases on social media. Her latest effort to get the British cooking celebrity's attention came by way of a song, in which she sang, "Eating animals is wrong, Gordon Ramsay. Hurting animals is wrong, Gordon Ramsay. Share this song, Gordon Ramsay."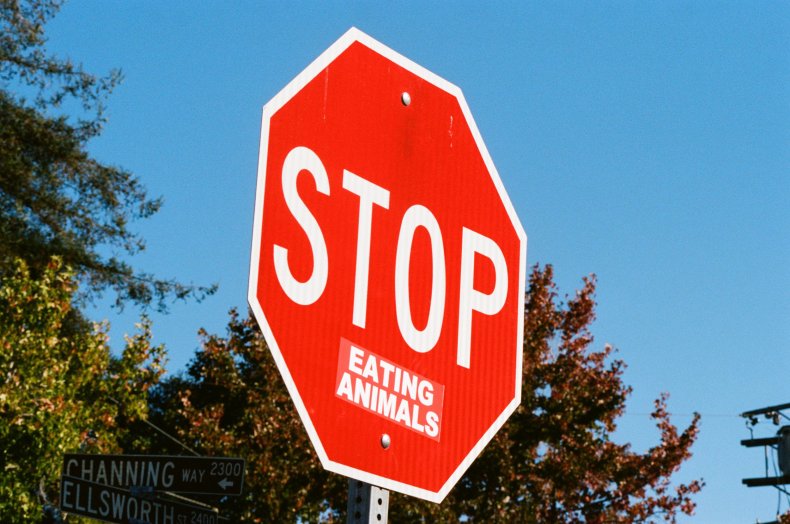 Surprisingly, Ramsay replied to the video with a TikTok message of his own. In a duet-style video shared on Tuesday, Kadie's song played while Ramsay nibbled on a piece of bib lettuce, seemingly abiding by her vegan message before he spits it out, refers to her as a "vegan doughnut" and then chows down on a burger. The video's caption read: "Beef #burgers were consumed while making this TikTok."
Kadie issued a response to Ramsay's video with another TikTok, in which she gave him a lesson on the difference between food and animals. The video shows Kadie pretending to receive a call on a sweet potato, and then accepting a hypothetical promotional deal with the two of them for Beyond Burger, a brand of vegetarian sandwich patties.
On her TikTok channel, Kadie shares original songs advocating for animal rights and encouraging people to discontinue eating meat in exchange for a vegan lifestyle. She also answers her more than 1.5 million followers' questions about veganism and shares videos about veganism on her YouTube channel.
Despite her messaging on showing kindness towards animals and adopting a vegan lifestyle, she has been at the epicenter of backlash for some of her posts, particularly one TikTok video she shared in September 2020, in which she claimed she was no longer willing to donate her organs because it would allow non-vegan to "continue to live and keep murdering animals."
"Before becoming a school teacher I worked as a nurse for 25 years and I always talked about the importance of signing our organ donor cards. But this year for the first time in my life I have decided not to sign it. And here's why. I realize how despicable society is, how many evil people are out there, especially since coming to TikTok, even more so. And I've decided that there's no way on earth that I want any of you to ever get my organs if I die," Kadie explained.
"The only people I would ever want would be vegan animal rights activists because I will give those organs to those people and I know that they will not be murdering animals to put into that body that would have been saved," she continued, adding, "The rest of you will just continue to live and keep murdering animals. So I just wanted to let you know that it's really disappointing that it's come to this."
Kadie's comments outraged some of Kadie's followers, who reminded her that children are among the many people whose lives depend on organ donations.
Correction: The headline of this article has been changed as it misspelled Gordon Ramsay's name.