Who Is Jackie Hill-Perry? Lecture by 'Ex-Gay' Christian Poet Sparks LGBT Protest at Harvard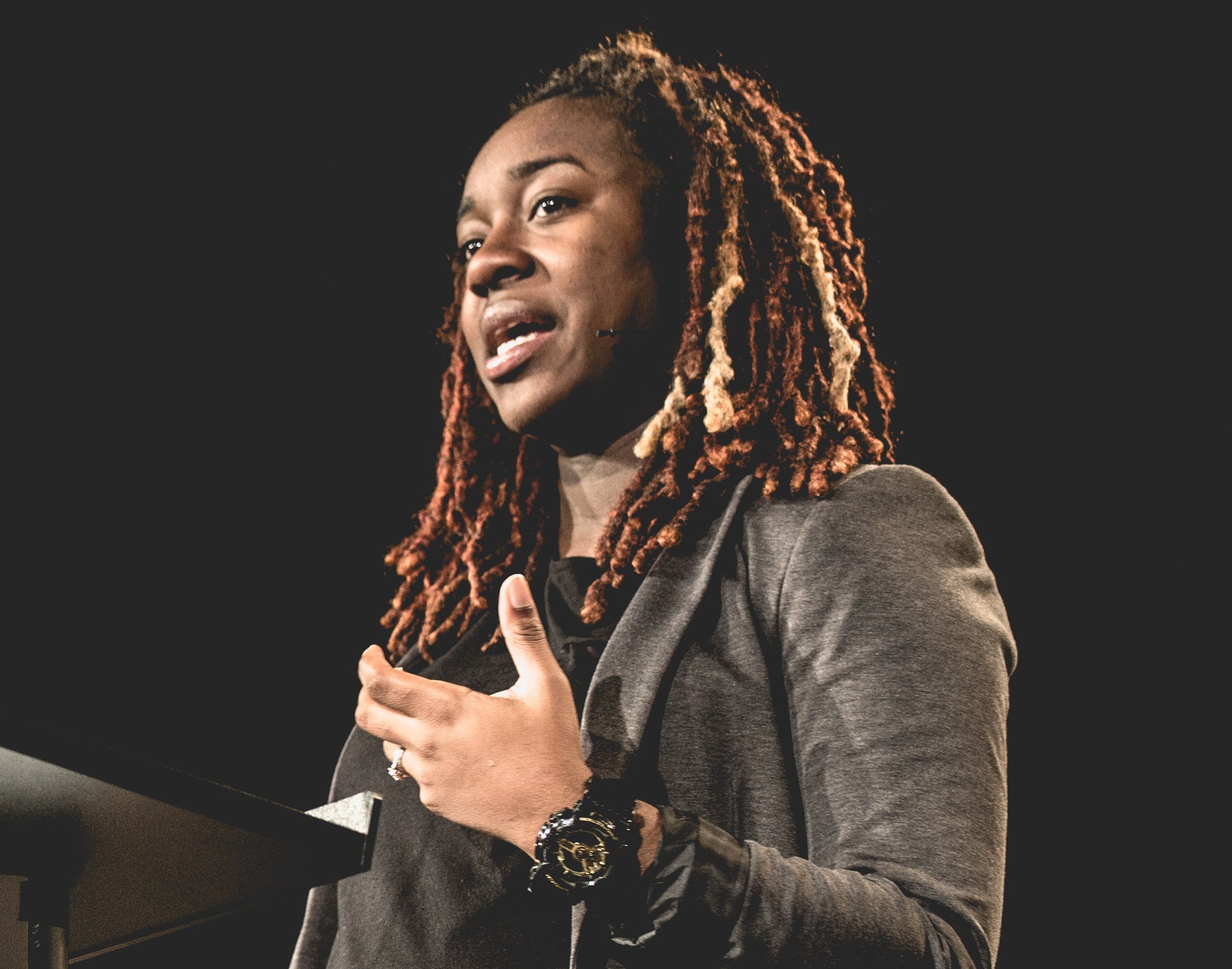 Updated | LGBT rights campaigners wrapped in rainbow flags have protested against a Harvard lecture by Jackie Hill-Perry, a Christian activist and poet who claims God stopped her being gay.
Speaking at an event on Friday hosted by the religious student group Harvard College Faith and Action (HCFA), Hill-Perry told the audience there is "not such a thing as being born gay, but there is such a thing as being born broken, broken by sin," The Harvard Crimson reported.
The poet was met by around two dozen students and faculty staff, including members of the Harvard LGBT group BGLTQ Student Life. One held up a sign at the back of the lecture hall reading: "Gay It's in My DNA."
"Jesus Christ is the model for how we are to deny ourselves, whether that applies to our greed, to our lust, self-denial is not optional for the Christian," Hill-Perry said.
A protester challenged her by responding from the crowd, "That doesn't sound like self-denial to me; it sounds like self-immolation," according to a Harvard Crimson reporter at the event.
Sophia Roosth, a history of science professor at Harvard, told the outlet she protested at the lecture because she wanted students to know they can have a "life that is both queer and religiously fulfilling."
Prior to the talk, around 200 people signed a petition calling for it to be canceled. Signatories accused Hill-Perry of carving out a career based in "homophobia and ignorance under the guise of a journey to faith," and spreading "hateful beliefs."
Describing Hill-Perry's story as "compelling," HCFA co-presidents Scott C. Ely and Molly L. Richmond told The Harvard Crimson that they had not intended to "promote controversy" with the event.
Hill-Perry, 28, from St. Louis, is outspoken about claims her religious beliefs stopped her from acting on her sexual attraction to women. Hill-Perry's website states that she was "saved from a lifestyle of homosexual sin."
Hill-Perry is not believed to have undergone so-called "conversion therapy," the idea that a person can be "cured" of homosexuality, which is promoted by certain religious groups.
"Conversion therapy" has been widely discredited by mainstream medical and mental health organizations. A 2009 review of 83 studies on "conversion therapy" between 1960 and 2007 by the American Psychological Association concluded that there was insufficient evidence to prove that such methods work. But it warned they could be harmful.
In an interview with the Washington Times, Hill-Perry revealed she was sexually abused at the age of 5. She suggested this was linked to her feelings of gender dysphoria and her attraction to women.
Read more: Gay aversion therapy and "cures" for homosexuality: British psychiatrists respond to decades of abuse​
Hill-Perry began dating women at 17, and later regularly attended gay clubs as well as the Pride parade in her home city.
In 2008 she claimed God spoke to her, prompting her to leave her girlfriend at the time. A year later she met her husband, fellow Christian spoken word poet Preston Perry. The couple have one daughter named Eden. Poems including "My Life As a Stud" recount her experiences with her faith and sexual identity.
Commenting on Caitlyn Jenner's transition in 2015, Hill-Perry told online Christian hip-hop magazine Rapzilla: "The transgender, the lesbian, the homosexuality—all of this makes sense when God is not involved."
Correction: This article has been updated to reflect that Jackie Hill-Perry and Preston Perry have a daughter named Eden. An earlier version stated that Eden was the couple's son. The quote in the fourth paragraph has also been expanded to include the full sentence.