Who Is James Tate Grant? Capitol Riot Suspect Faces Jail Over Rifle Found in Car
James Tate Grant, a North Carolina man charged with assaulting police officers during the January 6 Capitol riots, could be placed in pretrial detention after an assault rifle and ammunition were found in his car during a drunk driving arrest.
Justice Department prosecutors on Thursday submitted a request for a federal judge in Washington, D.C. to revoke the pretrial release of 29-year-old Grant, who is awaiting trial over his documented involvement in the Capitol attack.
The rioter was arrested on December 7 by a police officer in Garner, North Carolina who was responding to a report of a suicide threat. Grant was found pulling out of a restaurant's parking area and appeared intoxicated.
Grant told the officer about his role in the "January 6th incident" and tried to flee as he was placed under arrest. Prosecutors wrote in court filings that he "dropped to the ground" and said things along the lines of "Just kill me now" and "It's over."
Police found an AR-15 assault rifle, 60 rounds of ammunition, weapon accessories and combat fatigues in Grant's car. Prosecutors wrote Grant's statements are "of such a concerning nature that there is reason to believe he is a danger not only to the community, but also to himself."
The judge did not yet rule on the request. Newsweek has contacted Grant's attorney for comment.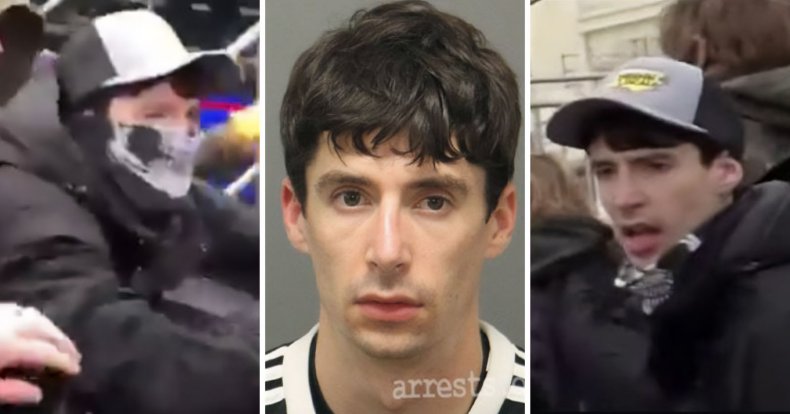 Following his involvement in the Capitol riots, Grant is charged with—among other things—assaulting, resisting or impeding police officers using a dangerous weapon and inflicting bodily injury, engaging in physical violence on Capitol grounds, and entering Senate offices.
According to court documents, Grant was found to have used a metal crowd control barrier to "forcibly assault, resist, oppose, impede, intimidate, and interfere with" police.
Documents filed by the Federal Bureau of Investigation (FBI) stated Grant's acts were captured in an Instagram video of the attack on the Capitol.
The footage showed Grant and Ryan Samsel, a fellow rioter and co-defendant, leading a crowd of Donald Trump supporters past a first barricade towards the second. Grant was dressed in black, his face covered with a skull mask.
Some of the footage in question was reuploaded to YouTube by independent media outlet ABQ RAW. Standing before the metal fence lined with Capitol police officers, Grant can be seen lifting up the barricade and pushing the officers back with it, causing other rioters to join in on the attack. One officer fell onto the steps behind her as a result.
According to the FBI, Grant's act caused another rioter to jump over the fence and attack two Capitol police officers. As police moved to arrest the attacking man, Grant "interfered with their attempts to apprehend the rioter by pulling the rioter back away from the officers."
After another officer attempted to help his colleagues and punched Grant, the rioter got up and tried to "step over the fallen barricade towards the officers." In the footage shared to YouTube, Grant can be seen pulling the rioter away from officers, then attempting to lunge at police over the barricade.
"The officers make a brief attempt to lift the barricade back up, but the rioters, including GRANT, overwhelm the officers and move forward towards the Capitol Building, forcing the officers to retreat from their position," the document read.
Subsequent footage—both from Capitol security cameras and rioters' social media videos—depicted Grant inside the Capitol. Screenshots of an apparent livestream, as well as a selfie taken by Grant himself, proved he also breached the Senate offices.
The Capitol attack and subsequent drunk driving incident were not Grant's only brushes with the law.
The Holly Springs resident was previously arrested for driving while impaired and carrying a concealed weapon in October. Grant was also arrested for breaking or entering a motor vehicle and marijuana possession in May 2018 and obtaining property under false pretense in September 2017.
In September 2014, Grant was arrested twice: once for breaking or entering a motor vehicle, drug possession, and possession of stolen goods; and again the following day for breaking or entering a vehicle.