President Joe Biden on Thursday reiterated his campaign promise of nominating a Black woman to the Supreme Court, leading some conservative pundits to bring up his past opposition to Janice Rogers Brown.
As Laura Ingraham noted on the Wednesday edition of her Fox News show, then-Senator Biden opposed and then filibustered the nomination of Brown to the federal bench in 2003 and 2005.
Then-President George W. Bush had nominated Brown both times for the U.S. Court of Appeals for the D.C. Circuit, but many Democrats tried to block her from the position for her perceived libertarian views.
Brown was born to Alabama sharecroppers and grew up in the segregated South. During her college years, Brown was a single mother with views so left-wing that she later said they were almost Maoist.
Her views grew decidedly more conservative over the years, and she has defended using electric stun guns on criminals who act inappropriately in courtrooms. Brown also wrote opinions that opposed affirmative action and supported a state law that required girls younger than 18 to notify their parents before getting an abortion.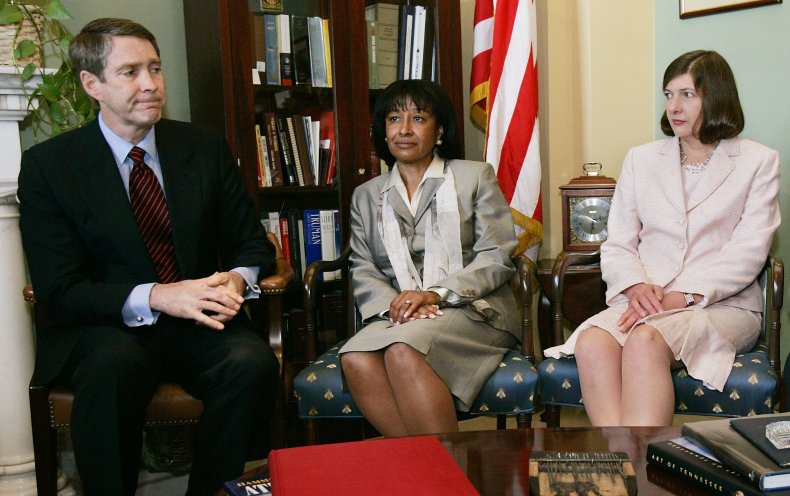 Before her nomination and eventual confirmation to the federal bench, Brown amassed a long resume that included being Deputy Legislative Counsel for the California Legislative Counsel from 1977 to 1979, then the California Deputy Attorney General for the Criminal and Civil Divisions from 1979 until 1987. From 1987 until 1989, she was Deputy Secretary and General Counsel for the California Business, Transportation, and Housing Agency before working a couple of years in private practice.
She soon returned to public work in 1991, serving as Legal Affairs Secretary for California Governor Pete Wilson until 1994. She held that position until she was appointed to California's Court of Appeal, Third Appellate District, on November 4, 1994.
Her next promotion was to the California Supreme Court on May 3, 1996. She served there until June 8, 2005, when she moved to the U.S. Court of Appeals for the District of Columbia Circuit.
In 2005, The Washington Post reported that Brown was considered as a possible nominee to replace the retiring Sandra Day O'Connor on the United States Supreme Court. However, Bush chose Samuel Alito.
Biden wasn't the only member of the Senate who opposed Brown's appointment to the federal bench, nor was he the first person to do so before later becoming president.
In 2005, then-Senator Barack Obama, fresh to the Senate floor, also strongly came out against her nomination. In a speech before Senate, he said: "The test of a qualified judicial nominee is also not whether that person has their own political views. Every jurist surely does. The test is whether he or she can effectively subordinate their views in order to decide each case on the facts and the merits alone. That is what keeps our judiciary independent in America. That is what our Founders intended."
Obama continued, "Unfortunately, as has been stated repeatedly on this floor, in almost every legal decision that she has made and every political speech that she has given, Justice Brown has shown she is not simply a judge with very strong political views, she is a political activist who happens to be a judge."
Brown retired from the U.S. Court of Appeals for the D.C. Circuit on August 31, 2017, and has since maintained a low profile, though she was recently Berkeley Law's Jurist-in-Residence.