Who Is Jennifer Howell? Controversial Depp Trial Declaration Goes Viral
As the penultimate week of Johnny Depp and Amber Heard's defamation trial draws to a close, a court declaration allegedly from Jennifer Howell has resurfaced on social media. Depp fans are circulating the declaration, which alleges that Heard was violent toward her sister and her ex-husband.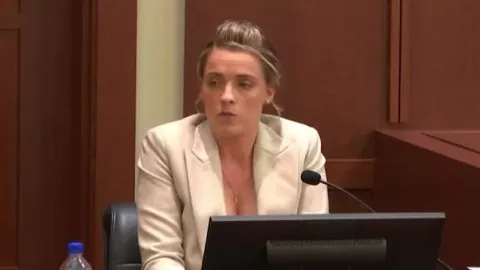 Although some versions of the document bear a Fairfax County Government letterhead, it has not been admitted as a piece of evidence in the trial. Heard's lawyers have argued that it was falsely procured and passed off as evidence to mislead the public. The document's claims have not been verified and the declaration has not been admitted as trial evidence.
Depp, 58, filed a $50 million lawsuit against Heard, 36, accusing her of defamation over an op-ed published by The Washington Post, in which she declared that she was a domestic abuse survivor.
While Depp was not named by Heard in the article, his lawyers argued it was obvious she was referring to the actor. Heard is countersuing for $100 million for nuisance.
During proceedings at the Fairfax County Circuit Courthouse, each star has accused the other of domestic abuse. Depp and Heard have each denied the other's allegations of violence during their relationship.
On Wednesday, Heard's sister, Whitney Henriquez, took the stand, where she alleged that Depp was controlling and violent during his and Heard's 15-month marriage, which ended in divorce at the start of 2017.
While on the stand, Henriquez was also asked about one of her former friends, Howell.
During the latter stages of the trial, Howell has become a talking point on social media due to the circulation of the court declaration dated July 26, 2020.
Who is Jennifer Howell?
Howell runs Art of Elysium, a non-profit organization that she founded more than two decades ago. The Los Angeles-based organization helps artists be of service to communities in need. It is said to serve over 30,000 individuals every year.
One of her former employees is Henriquez, who initially volunteered at The Art of Elysium for six months in 2014, before going on to become a full-time paid employee, working as Art Salon Manager/Director between 2015 and 2016.
In the declaration viewed by Newsweek, Howell allegedly called Henriquez her "chosen sister," a term which Henriquez confirmed in court that she also used to describe the philanthropist.
Henriquez also confirmed in court that she had moved from staying with Depp and Heard in their Los Angeles penthouse to live with Howell.
Howell's declaration was allegedly made in reaction to Henriquez's testimony in 2020 in a London court, where Depp had filed a libel lawsuit against British tabloid The Sun for referring to him as a "wife-beater," referencing Heard's allegations.
"I have learned that Whitney testified in court July 23 in London about a violent incident in March 2015 on the stars at Johnny Depp's penthouse," reads the declaration. "She testified that Johnny supposedly hit Amber and Whitney on the stars at Johnny's downtown penthouse.
"Then Whitney said she had to go live with her employer where she had to sleep on their floor. I am that employer. This is not what I was told to be true.
"First, Whitney came to live in the guest room of my apartment on Wilshire Boulevard, not on my floor but in my guest room," the declaration continues. "Second, when Whitney arrived, she was a mess. Whitney told me she tried to stop her sister Amber from hitting and attacking Johnny on the stairs.
"She Was Worried Amber Was 'Going to Kill Johnny'"
"Whitney said when she tried to intervene to stop Amber from going after Johnny, Amber nearly pushed Whitney down the stairs. She told me she was worried Amber 'was going to kill Johnny,'" the declaration continues.
While Heard has denied being violent in her relationships, the declaration asserts that Howell was told by Henriquez that the alleged violent scenes between the now-exes were a continuation of the abuse she had endured for several years.
"[Henriquez] told me she had endured that kind of abuse her entire life, first from her father, and then from Amber, who she said was extremely violent," Howell is quoted as saying. "She lived with me because she did not feel she could do back to live at [Depp and Heard's penthouse]. My father reminded me this morning that I told him that 'Whitney had moved in with me because she was terrified of her sister.'"
Allegations of Violence
The declaration lists a host of other allegations, including claims that Henriquez stated while at work that Heard had cut off Depp's finger. Heard has denied Depp's allegation that this occurred, accusing him of doing it himself.
Also, according to the document, Henriquez had determined her sister to the be the violent one in their tumultuous relationship.
"While Whitney was living with me, she told me Johnny kept checking in to see how she was doing and that he called her 'sis' and she called him 'brother,'" the declaration continued. "Whitney said to me on multiple occasions that she did not know why he was staying in the relationship not why he was putting up with Amber's abuse.
"Whitney shared with me the damage endured by both her and Amber as children and the injuries she had suffered from Amber both psychologically and physically. Whitney was devastated during this time, and my heart broke for her.
"When Whitney came back from New York (I believe it was for the Tribeca Film Festival, The Adderall Diaries premiere or both) she shared with me and everyone in the office that Amber freaked out, attacked Whitney and threw a wine glass full of red wine at her in the elevator.
She added: "While Amber and Johnny were in Australia, Whitney was in the office sitting in the black and white chairs near the kitchen and loudly proclaimed, 'Oh my God, she has done it now. She has cut off his f***ing finger.'"
As Heard faced legal trouble in Australia for illegally bringing her dogs into the country back in 2015, Howell's declaration states that the philanthropist wrote the Aquaman star a character reference, as she had volunteered for the charity and attended events.
The organization, Howell's declaration said, had also given Heard a humanitarian award.
"I am still grateful for that," Howell is quoted as saying. "I knew nothing about her life behind closed [doors] until I became close to Whitney."
However, according to the declaration, when Heard divorced Depp, Howell questioned why her non-profit had been overlooked for donations.
"Instead, I understood it would all go to ACLU and L.A. Children's Hospital," read the declaration. "I asked Amber's publicist why, when she and Amber had been so eager to use out name in the press during the divorce, and when the funds would mean so much to a small organization like ours, would Amber direct all the money to those other two huge charities that she had not been associated with?
"Amber's publicist told me that they were more prominent charities with a more significant press reach and got international press. Then, months later, a $250,000 donation came into our organization from an anonymous donor 'on behalf of Amber Heard.' The funds did not come from Amber. I believed this donation came from Elon [Musk, Heard's former boyfriend]."
Henriquez spoke out against the allegations made in the declaration in July 2020, telling The Mirror in a statement: "This is complete fiction. Jennifer Howell's statements do not bear any relationship to the truth and I have no idea why she is saying this."
Why Is Jennifer Howell's Declaration Controversial?
While the declaration is included in the more than 250 of court documents on Virginia's Fairfax County Circuit Courthouse's website, it is stated early on in the file that Heard's legal team want the declaration to be excluded.
The declaration, it says, "was never produced to Defendant and was procured by false subpoenas never served on Defendant's counsel. Instead, Plaintiff's counsel Adam Waldman 'leaked' this declaration created by him on his [Twitter] account.
"The Court Ordered Plaintiff to produce this document and all documents transmitted to the press or social media users, but consistent with his conduct in this case Plaintiff refused to produce it, so Defendant only possesses the screenshot from Mr. Waldman's tweet.
"Because of the violation of this Court's Order, the Declaration and all information included, should be excluded as a sanction."
Newsweek has contacted representatives of Heard and Howell for comment.
The Depp v. Heard trial continues on Thursday, and Newsweek will be covering all the breaking stories from the Fairfax County courtroom on our live blog.
{{#isDisplay}} {{/isDisplay}}