British Prime Minister Theresa May has selected Health Secretary Jeremy Hunt to replace Boris Johnson as foreign secretary on Monday evening.
Hunt, 51, a member of the British Conservative Party, has been the longest-serving health secretary in British history—holding the position from 2012 to date—and he was elected member of parliament in 2005 to represent South West Surrey. Now he will replace Johnson, whose shock resignation on Monday was seen to throw the future of May's government and Brexit negotiations into uncertainty.
At the beginning of the year, many believed Hunt's days in the Cabinet were numbered, as the U.K.'s National Health Service struggled under austerity measures. However, the secretary instead managed to expand his portfolio to also include social care and has since drawn praise from former critics.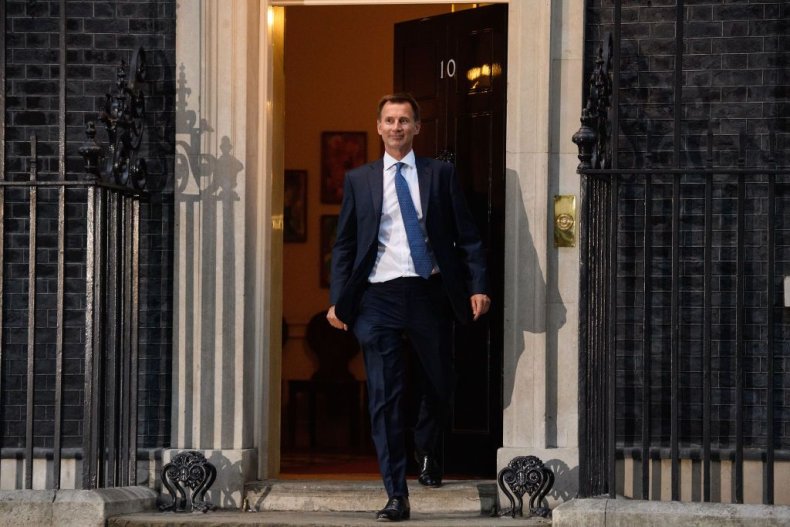 "I'm not usually Hunt's biggest fan but he's played a bit of a blinder, you have to say," a senior NHS official told The Guardian for a June profile on Hunt. "When May came into No. 10 [the prime minister's residence] in 2016, she was very hostile to the NHS, so for Hunt to win her round was remarkable."
Many in parliament saw him as an ambitious maneuverer, especially after his success in reviving the NHS earlier this year.
"Jeremy Hunt is in a very powerful position now, the only question is how much he chooses to deploy that power," his former Lib Dem junior minister Norman Lamb told The Guardian. "He is the great survivor. He has a skill for seeing off political disasters."
Hunt previously considered a bid to lead parliament in 2016, when Theresa May took charge. However, he took some heat at the time as junior doctors in the country went on strike. Instead, he went on to be seen as the savior of the NHS, securing £20 billion ($26.5 billion) in additional funding for the government health service earlier this year.
But Hunt will take up his new portfolio at a difficult moment for the British government, with at least four members of May's government submitting their resignation this week so far. Johnson's resignation followed that of Brexit Secretary David Davis. Brexit minister Steve Baker and two ministerial aides also resigned on Monday.
In his letter of resignation, Johnson said he saw May's "semi-Brexit" deal as a betrayal that would bring the country to the "status of a colony."
For Hunt's part, he was initially against Brexit altogether. But as negotiations continued, he told British media that he has become a supporter, after seeing the "arrogance" of the European Union Commission's approach.