Who Is Jim Bridenstine? Controversial New NASA Leader Is Republican Congressman and Climate Change Skeptic
Climate change denier Jim Bridenstine has been confirmed as NASA's 13th administrator, becoming the first member of Congress to hold the post.
The Senate narrowly confirmed the Republican Congressman for Oklahoma in a 50-49 vote on Thursday, amid concerns that he does not have the scientific knowledge to head the space agency. The vote came after President Donald Trump touted Bridenstine for the role last year.
"It is an honor to be confirmed by the United States Senate to serve as NASA administrator," Bridenstine said in a statement after the vote. "I am humbled by this opportunity, and I once again thank President Donald Trump and Vice President Mike Pence for their confidence. I look forward to working with the outstanding team at NASA to achieve the president's vision for American leadership in space."
Addressing the floor before the confirmation vote, Senator Marco Rubio said that he was "not enthused about the nomination," according to The Washington Post. "NASA is an organization that needs to be led by a space professional." However, Rubio followed fellow Republicans and voted for Bridenstine.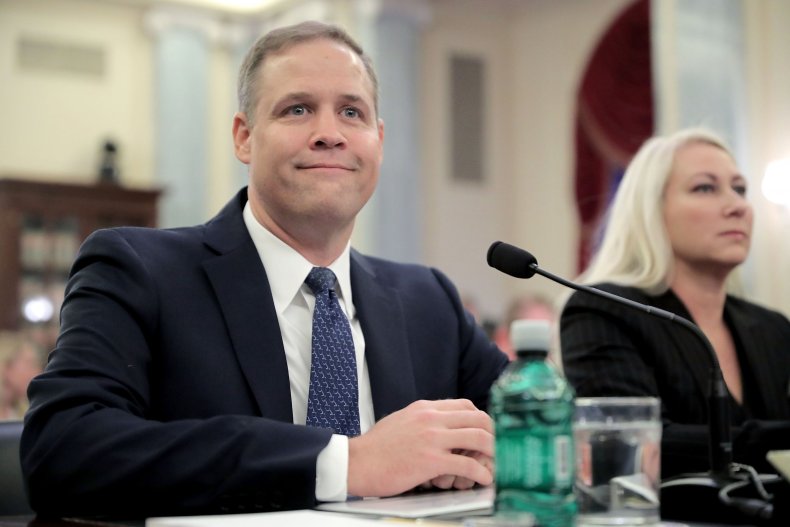 NASA has been without an official administrator since former astronaut Charles Bolden resigned on the day of President Donald Trump's inauguration. During this period, NASA's associate administrator Robert M. Lightfoot Jr. took up the post but is set to retire.
Before securing a seat in Congress to represent Oklahoma's First Congressional District in 2012, Bridenstine studied economics, business and psychology at Rice University in Houston, Texas. He went on to serve as a U.S. Navy pilot, and completed missions in Iraq and Afghanistan, as well as in Central and South America. Bridenstine later worked as executive director of the Tulsa Air and Space Museum and Planetarium. As a Congressman, he has served on the U.S. House Science, Space and Technology Committee.
The Congressman has been outspoken in his denial of climate change and is therefore a controversial choice for the agency that conducts research in the field, including by monitoring the Earth using satellites.
In a 2016 interview with Aerospace America, he countered the theory that human behavior has contributed to climate change, instead claiming "it has always changed. There were periods of time long before the internal combustion engine when the Earth was much warmer than it is today," he said. "Going back to the 1600s, we have had mini ice ages from then to now."
This is a stance that the overwhelming majority of climate change scientists disagree with, including the United Nations Intergovernmental Panel on Climate Change, which monitors human impact.
Those comments followed a speech to the House in 2013 in which Bridenstine accused President Barack Obama of "gross misallocation" of funds, accusing him of spending 30 times more on climate change research than on weather research—a claim that was later debunked.
NASA can also expect its new administrator to continue to advocate commercial space flights, and U.S. exploration of the moon, partly in order to mine the astronomical body.
Last year, Bridenstine told a lunar exploration group in a speech: "This is our Sputnik moment. From the discovery of water ice on the moon until this day, the American objective should have been a permanent outpost of rovers and machines at the poles with occasional manned missions for science and maintenance."
Arguing in favor of commercial space travel, he added: "The U.S. government understands that in the future, and even today, it will be a customer of routine space services, not a provider of routine space services."
In 2016, he presented legislation to the House stating that Mars should be NASA's "main human spaceflight priority" and the agency must continue to expand its support for "commercializing low Earth orbit endeavors, including the creation of a pilot program for commercial habitats. Space is critical to the American way of life."
Bridenstine's approach to heading the agency remains to be seen. During his stalled first confirmation hearing last year, Democrat Senator Bill Nelson led the opposition to Bridenstine's nomination.
"Frankly, Congressman Bridenstine, I cannot see how you meet these criteria," he said. "The NASA administrator should be a consummate professional who is technically and scientifically competent and a skilled executive.
"More importantly, the administrator must be a leader who has the ability to unite scientists, engineers, commercial space interests, policymakers and the public on a shared vision for future space exploration."
Bridenstine is not without supporters. John Logsdon, a space policy specialist at George Washington University, in Washington, D.C., told Nature: "Representative Bridenstine is certainly a 'different' choice for NASA administrator, but to me the difference is mainly positive."
"He has been refining his ideas with diverse audiences over the past months, and would bring to the NASA position a clearer and better-defined strategy for moving ahead than did most of his predecessors as they began their tenure."