Who Is Jonathan Pentland? Army Sergeant Charged With Assaulting Black Man in Viral Video
Soldier Jonathan Pentland has made headlines after he was seen aggressively shoving and harassing a Black man on a sidewalk in a South Carolina neighborhood on Monday.
Video of the encounter captured the U.S. Army Staff Sergeant Captain, 42, threatening and yelling at the man, repeatedly telling him to leave and, at one point, pushing him violently.
The clip, first posted to Facebook by Shirrell Johnson, has been watched more than two million times. Johnson named the other man only as Deandre.
An incident report shared with Newsweek said deputies arrived at the scene in the Summit Neighborhood of Columbia to a "physical dispute" and were informed by witnesses that Pentland "pushed [the victim] in the chest two times and slapped his cell phone out of his hands."
Pentland was arrested and charged with third-degree assault and battery on Wednesday morning.
At the time of his arrest, he was an active U.S. Army Sergeant assigned to Fort Jackson, the Richland County Sheriff's Department told Newsweek.
The force noted the viral video "provided additional evidence" in the case, adding that Pentland had been booked into the Alvin S. Glenn Detention Center.
Social media accounts connected to Pentland showed that he has been stationed as a drill sergeant at Fort Jackson since 2019, according to the Associated Press. Fort Jackson is the largest U.S. Army basic training base.
Video (detailed below) of the incident shows Pentland asking Deandre what he is doing in the neighborhood before repeatedly telling him to "go away." The footage does not capture what prompted the altercation.
Two other reports were also made against Pentland that alleged incidents of assault against the victim, Richland County Sheriff's Department told Newsweek. Those incidents are each being investigated independently.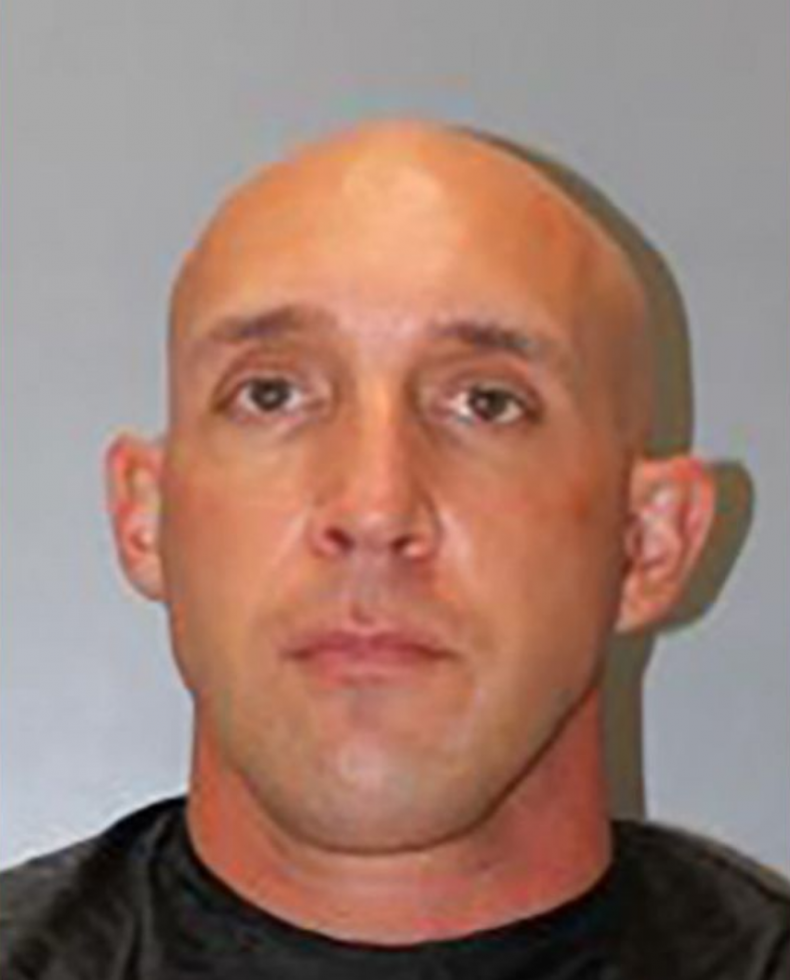 Richland County Sheriff Leon Lott confirmed Pentland's arrest on Wednesday, telling reporters, "The first time I saw the video, it was terrible. It was unnecessary." He added: "We're not going to let people be bullies in our community."
The Richland County Sheriff's Department described the video as "disturbing" in a tweet issued on Wednesday, promising they "have taken this incident seriously."
Officials at Fort Jackson also said they were looking into the incident, adding that U.S. Department of Justice authorities were investigating as well.
"This type of behavior is not consistent with our Army Values and will not be condoned," the official Fort Jackson Twitter account posted on Wednesday, noting that they are aware of the video and "will work closely with each law enforcement agency as investigations move forward."
Richland County Sheriff Leon Lott said in a news conference Wednesday, "The first time I saw the video, it was terrible. It was unnecessary." He added: "We're not going to let people be bullies in our community."
After watching the video, Fort Jackson Commanding General Brig. Gen. Beagle, Jr. said the actions were "by no means condoned by any service member."
He later released a statement on Facebook, writing: "I remain deeply concerned for the members of our Army family, the young man and his family, and the tensions that activities like this amplify over time; please be patient as facts are determined."
On Facebook, Johnson said she and a friend had been walking in the neighborhood on Monday when they saw what was happening. Another woman filmed the video, Johnson said, and she posted it with her permission.
"She saw the young man in distress and knew he didn't do anything wrong so she started videoing for his safety!" Johnson wrote.
Johnson said the video did not capture the man slapping Deandre's hand, prompting his phone to fall to the ground and crack.
She added that she waited at the scene until an officer arrived, and repeatedly told them that Deandre had been assaulted. "The officer told us that his supervisor told him that he could only charge the white guy with malicious injury to property and not assault!" Johnson wrote.
She said she and a friend "circled back to get him out of that situation bc we refused to see D go to jail or lying there dead simply bc he was black. The only thing he did was be black while walking!!!"
Newsweek has contacted Fort Jackson, Johnson, the Richland County Sheriff's Office and the Columbia Police Department for comment.
What happened?
In the video, Deandre tells Johnson to call the police, and a woman—identified by Pentland as his wife—says that they have already been called. Then, Pentland is seen shoving Deandre.
The couple accuse Deandre of "picking fights" with people in the neighborhood.
"What is it that you are doing here?" Pentland asks Deandre.
"Walking," Deandre replies. "Then walk," Pentland says.
"Well you've been here like 15 minutes now," Pentland's wife interjects.
Pentland continues: "Walk away. Walk away right now. You need help?.. I'm happy to help."
He then denies hitting Deandre, adding that "there's a difference between pushing you."
He then accuses Deandre of "aggressing on the neighborhood" and, as Deandre moves a little closer to his wife, he shoves Deandre in the shoulder.
"You better walk away," he says. Raising his voice, he ads: "You walk away. You're talking to my wife right now."
He continues: "Check it out, you either walk away or I'm going to carry your a** out of here."
"You better not touch me," Deandre tells him, remaining calm throughout the video.
"Or what?" Pentland replies. "What are you going to do? Let's go, walk away... I'm about to do something to you. You better start walking... You're in the wrong neighborhood motherf*****. Get out."
"I live here, sir," Deandre tells him.
"Where? Where's your house? What's your address?" Pentland asks.
When Pentland again accuses Deandre of "harassing" the neighborhood, Deandre replies: "I'm not harassing anyone, I'm walking through the neighborhood, I live here, sir."
Pentland said that he lives in a "tight-knit community," adding: "We take care of each other... I have never seen you before in my life."
Getting up close to the Deandre's face, he adds: "Check it out motherf*****, I ain't playing with you. You either get your a** moving or I'm going to move you... I'm about to show you what I can do. You better walk away. Walk away."
He refuses to identify himself when asked by Deandre. "Are you an officer of the law?" Deandre asks him.
"I'm about to throw you out... you wanna bet? I can do a hell of a lot more than you think I can," the man responds.