Who is Jordan Craig? Tristan Thompson Seemingly Dumped Pregnant Ex-Girlfriend to Date Khloé Kardashian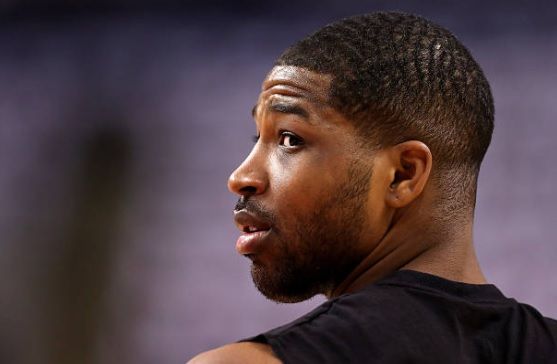 Much to the internet's excitement, Keeping Up With the Kardashians star Khloé Kardashian announced on Wednesday she and boyfriend Tristan Thompson were expecting. While it's Kardashian's first baby—it's baby No. 2 for Thompson, who welcomed son Prince Oliver with ex-girlfriend Jordan Craig last year. To some, it looks like Thompson split from his pregnant ex to date Kardashian.
It's not clear if Craig will appear on KUWTK since she's become sucked into the Kardashian vortex, but she does have a taste for fashion and beauty—just like the rest of the Kardashian-Jenner women. She owns a lifestyle blog, All Eyes on Jordy C, and runs a hair extension boutique and online clothing line, too.
Kardashian and the Cleveland Cavaliers player met on a blind date in September 2016. She "didn't want to go" out with Thompson, but was "ambushed" by friends.
While it's possible Thompson dumped his pregnant girlfriend to date a celebrity, it's unclear how the athlete and Craig ended their relationship—and she hasn't commented on Thompson dating Kardashian, or made a statement about them expecting a baby.
Craig didn't seem bothered by Kardashian's pregnancy, which was rumored for months.
Instead, she posted pictures of her son on social media, celebrating Prince's first birthday. She held him up in a photo and captioned the Instagram update with the haghtag, "#MemoriesWithYou."
As Bustle noted, Craig has a connection to the Kardashian's other than being Thompson's ex. That comes in the form of Tyga. Like Kylie Jenner and Blac Chyna, Craig once dated the "Rack City" rapper.
Adding to her prominence and further entwining herself in the celebrity world, Craig is reportedly related to of Kevin Heart's wife, Eniko Parrish.
Craig aside, Kardashian was elated to announce her pregnancy.
"My greatest dream realized! We are having a baby!" she captioned a black-and-white photo of Thompson cradling her baby bump. "I had been waiting and wondering but God had a plan all along. He knew what He was doing. I simply had to trust in Him and be patient. I still at times can't believe that our love created life!"
The post garnered more than 7.6 million likes from her 70.7 million followers.