Who Is Jules Actress Hunter Schafer? Transgender Model the Breakout Star of HBO Teen Drama 'Euphoria'
New HBO teen drama Euphoria has already received a great deal of attention since it premiered on Sunday night for the show's uncompromising and explicit depiction of sex, drugs and nudity among high school students.
Former Disney Channel star Zendaya grabbed most headlines for her lead role as recovering drug addict Rue, but it is her friend Jules, played by Hunter Schafer, who was the breakout star of the episode and who was also involved in the pilot's two most shocking scenes.
Who is Hunter Schafer?
If the name Hunter Schafer is familiar, it might be because the 20-year-old has already made waves as a fashion model and LGBT rights activist.
Born in 1999 in Raleigh, North Carolina, Schafer has modeled for numerous famous fashion houses including Dior, Tommy Hilfiger and Vera Wang. As a transgender woman, she's also prominently advocated for LGBT causes, including protesting the notorious "bathroom bill" in North Carolina that required people to use restrooms that corresponded to the gender on their birth certificate.
Her high-profile activism saw her listed in 2017 on Teen Vogue's "21 under 21" list, and she interviewed 2016 presidential candidate Hillary Clinton for the magazine.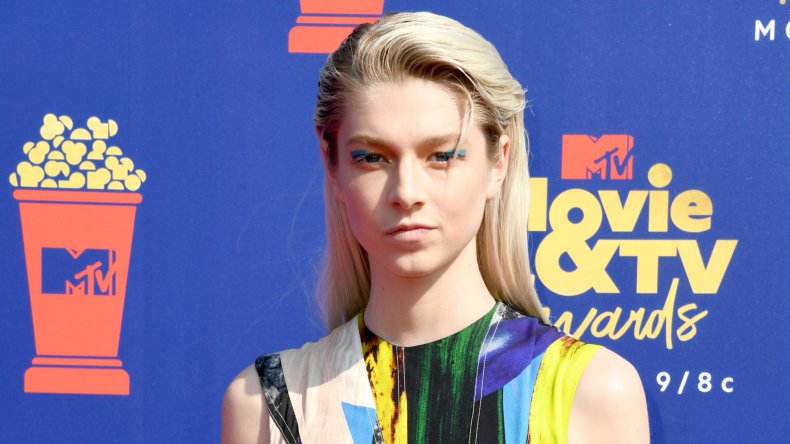 Euphoria is Schafer's first acting role, and is already garnering attention not just because transgender characters remain rare on TV, but because actually seeing the roles played by transgender actors is even rarer.
The show's creator, Sam Levison (son of Hollywood director Barry Levinson) previously spoke to the Hollywood Reporter about how Schafer was the perfect person to play the role.
"I had written the script and our casting directors were scouring all of America, they were in malls in Ohio and Florida just trying to find the right person for Jules," Levison said.
"Once we found Hunter and she came in and she read, I sat down with her at Factor's Deli in Los Angeles and we just talked for like six hours. We just talked about life and our experiences, there's a lot of personal stuff from my own life that's in not just Rue's character but Jules' character," he added.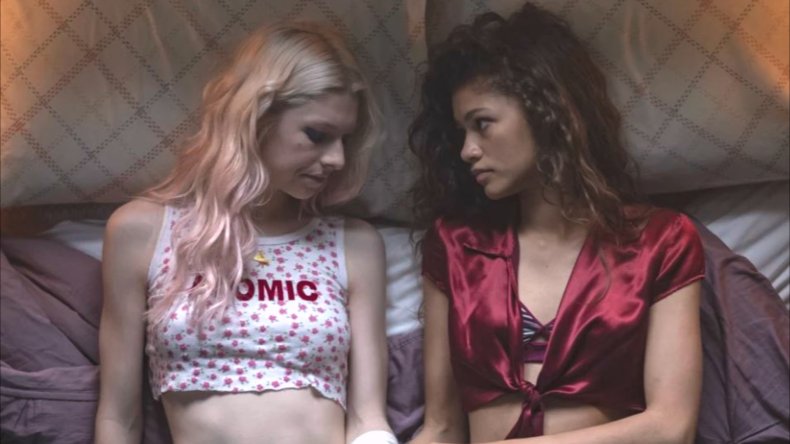 Warning—Spoilers for the first episode of Euphoria below
Schafer plays Jules Vaughn, a 17-year-old trans girl who uses LGBT hookup app Grindr to have sexual liaisons with older men. In the pilot episode, we see her cycle to a motel to meet a middle-aged man with the username DominantDaddy, who turns out to actually be Cal Jacobs, the father of high school jock Nate Jacobs. The scene shows us Eric's (prosthetic) penis as he commits statutory rape by having violent anal sex with Jules.
Later on, Jules attends a party where she is confronted by the homophobic Nate, who asks why she has attended the party and threatens to "f*** her up." In response, Jules picks up a kitchen knife from the counter before slicing her arm and declaring, "I'm f***ing invincible!"—an intensely disturbing moment that alludes to her history of self-harming.
But after these two shocking scenes, the episode ends on a more positive note as Rue befriends Jules after she cuts herself and the two go home together, sparking a new friendship.
Executive produced by Canadian rapper Drake, Euphoria also stars Maude Apatow, Algee Smith, Barbie Ferreira, Jacob Elordi and Sydney Sweeney.