Who Is Kyle Hippchen and Why Did He Pull Out of SpaceX First All-Civilian Flight?
A man who won a spot on SpaceX's first orbital tourist flight has revealed why he had to pull out of the mission.
The man in question is Kyle Hippchen—a 43-year-old Florida-based captain for Delta's regional airline Endeavor Air.
Last year, Hippchen bought $600 of entries to a raffle contest held to auction a seat on SpaceX's Inspiration4 mission—the world's first space mission manned solely by civilians.
Operated on behalf of Shift4 Payments CEO Jared Isaacman, it involved a four-person civilian crew orbiting the Earth for three days in a SpaceX Crew Dragon spacecraft.
The team, under the command of Isaacman, launched from Florida's Kennedy Space Center aboard a Falcon 9 rocket on September 16, 2021, and safely returned to Earth after a three-day adventure in low-Earth orbit.
The mission was part of a charitable effort to raise funds for St. Jude Children's Research Hospital in Memphis, Tennessee.
Isaacman, an experienced pilot with qualification in military jets, donated two of the seats on the trip to St. Jude. The hospital decided to give one of them to Hayley Arceneaux, a physician assistant at the hospital, while raffling off the second seat as part of a successful $200 million fundraising campaign.
The raffle contest for the second seat was held in February, 2021, in which around 72,000 people participated. Hippchen, who attended Embry-Riddle Aeronautical University in the late 1990s, ended up winning the random draw and a seat on the spaceflight.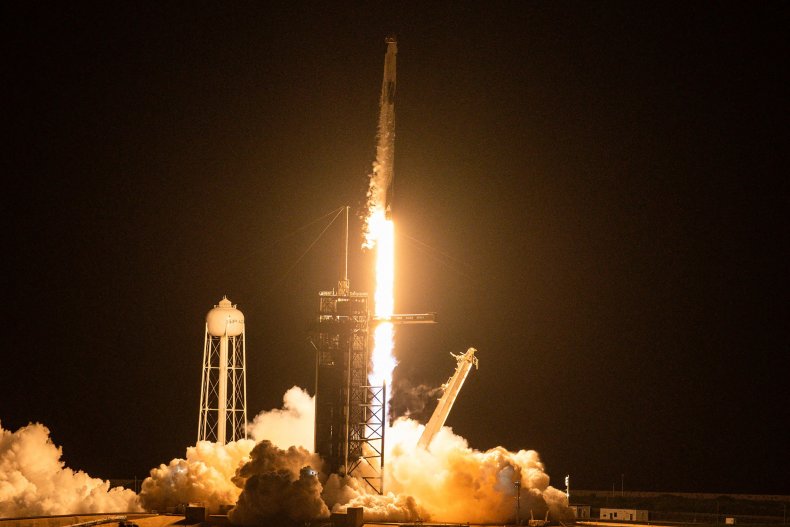 By early March, Hippchen started receiving vague emails from the organizers seeking details about himself. At this point, he noticed something in the small print of the contest—the winner had to be shorter than 6 feet and 6 inches in height and weigh less than 250 pounds to comply with the Crew Dragon's safety requirements, the Associated Press reported.
Unfortunately, while Hippchen was below the height requirement at 5 foot, 10 inches, he weighed 330 pounds—significantly more than what was allowed.
Believing that he was one of many finalists, he contacted the organizers to tell them that he was pulling out of the contest as a result of his weight. But when they replied, he was shocked to learn that he had actually won the raffle.
"I was trying to figure how I could drop 80 pounds in six months, which, I mean, it's possible, but it's not the most healthy thing in the world to do," Hippchen told AP.
Picking a Replacement
In the end, Isaacman—the flight's sponsor—allowed Hippchen to pick a stand-in. He chose his old college roommate from Embry-Riddle, Chris Sembroski—a 42-year-old data engineer living in Everett, Washington, who had also bought entries to the raffle.
The pair bonded at college over their shared interest in space and used to make the hour-long drive south to watch NASA's shuttle launches together. Despite now living on opposite coasts, the two continue to share space news with each other and promote commercial space travel.
Hippchen said he still hasn't watched the Netflix series that was made about the Inspiration4 mission.
"It hurts too much," he said. "I'm insanely disappointed. But it is what it is."