Who is Lucy Westlake? Young Woman Sets Record for Climbing Mount Everest
An 18-year-old from Naperville, Illinois, became the youngest American woman to reach the summit of Mount Everest this week.
Lucy Westlake reached the top of the Himalayan peak — the tallest in the world — early Thursday.
"May 12th at 5:30 am I became the youngest American woman to stand on top of the world," Westlake wrote on her Instagram account. She said that the expedition took 26 days, "but every single step was worth it."
In an interview with ABC7 before she started her climb, Westlake said that she began climbing "because my family is very adventurous."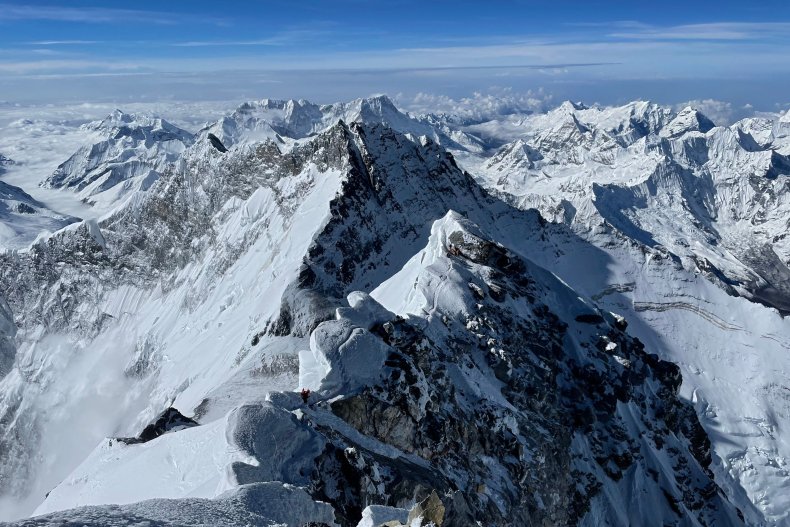 "My life's mantra is 'limits are perceived,' so I love pushing myself to my very limit and discovering what my body and mind can do. So what better way to do it than climb the highest mountain in the world," Westlake said.
According to the Daily Herald, Westlake hopes to be the youngest person to complete the Explorers Grand Slam, which involves summiting the highest mountains on all seven continents and reaching the North and South Poles.
The newspaper reported that Westlake has already climbed several of these peaks: Mount Kilimanjaro in Tanzania; Denali in Alaska; Aconcagua in Argentina, and Mount Elbrus in Russia. The remaining destinations are Mount Vinson in Antarctica, the Carstensz Pyramid in Indonesia and the North and South Poles.
Xtreme Climbers Treks and Expedition, the group with which Westlake climbed Mount Everest, also posted about her accomplishment.
"This an official announcement that Lucy Westlake "18" @lucy.westlake.22 who is currently on mission to becoming the youngest American female to summit on the highest point on The Planet have successfully stood on the summit of Mount Everest 8848.86m on 12.May.2022 at 5:36 am Nepali time along with Climbing SHERPA Guide Mingma Chhiring," the group wrote on Instagram.
"After spending couple of moments of SUMMIT Victory on the top of The World Lucy and Mingma both are descending back to lower camp which will takes them probably around 4-5," the group added.
Newsweek has reached out to Westlake for comment.
In May, a woman from Hong Kong carried out the fastest ascent of Mount Everest by a woman, beating the previous record by more than half a day. She reached the summit in 25 hours and 50 minutes. The previous record of 39 hours, 6 minutes had been set in 2017.
Late last year, a NASA astronaut captured images of Mount Everest from space.
The Nepalese mountain stands at more than 29,000 feet above sea level.