Who Is Mike Hernandez? Uvalde Schools Lieutenant Takes Arrendondo's Role
A Uvalde law enforcement veteran with deep roots in the community has temporarily replaced the school district's embattled police chief.
Lieutenant Mike Hernandez, a retired city police officer, was named by Uvalde school superintendent Hal Harrell in a statement as the replacement for district police chief Pete Arredondo, who has been placed on administrative leave while an investigation into last month's deadly school shooting is completed. The news comes as the Texas community continues to grapple with the aftermath of the high-profile massacre.
Arredondo, the police chief of the Uvalde Consolidated Independent School District, has faced criticism for the response to the shooting at Robb Elementary School that left 19 children and two teachers dead. There are currently multiple investigations into local law enforcement's handling of the shooting.
Miguel "Mike" Hernandez in 2020 ran for Uvalde County Sheriff as a Democrat, losing to his Republican opponent by 60 votes, according to the Uvalde News-Leader.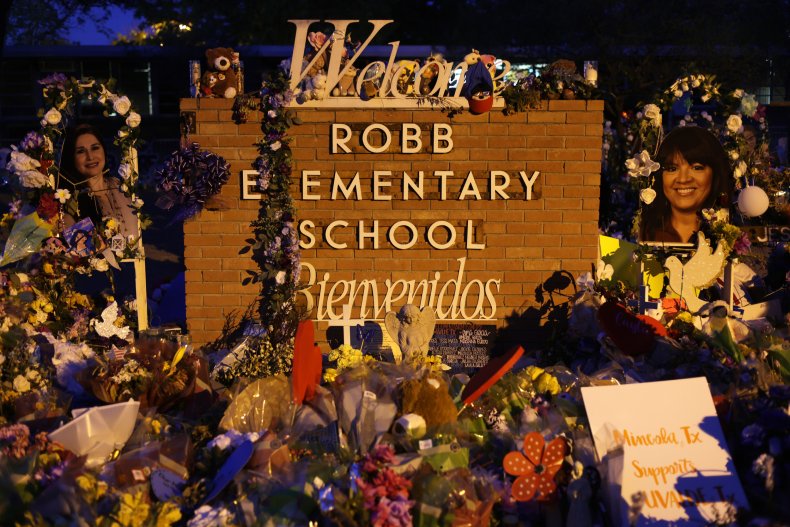 In campaign videos, Hernandez played up his roots in the small town of about 15,000, describing how he was born and raised in Uvalde, where his mother worked at a local pharmacy. In one video, Hernandez appeared in Sabinal, a small town about 22 miles east of Uvalde, where he said "everybody knows everybody."
"I have worked hard to have earned over 33 years of law enforcement experience and have grown through the ranks for patrolman, to detective, lieutenant, captain and have served as interim chief for the Uvalde Police Department," he said in one video. "I want to build a department that is beneficial to everyone."
Bob Price, a retired local law enforcement veteran, described Hernandez in one campaign video as being able to handle large budgets, make good personnel decisions and work well with the public.
In other videos, Hernandez described himself as a "public servant, not a cop," who still viewed people as human beings even if he had to take them to jail.
Hernandez was considered by the county commission in December 2020 to serve out the rest of the term of a justice of peace who resigned, according to the News-Leader. The paper reported that Hernandez withdrew his name from consideration.
"I am not through serving the public as a peace officer yet," Hernandez said in a Facebook post at the time. "I still have love for the job, for the people and my current position."
Hernandez's career trajectory isn't entirely clear from online sources. But a 2016 Facebook post by the Uvalde Police Department congratulated Hernandez, then a lieutenant, on his retirement from the department. Hernandez later took a job as a police officer with the school district's police force.
A Texas legislative panel has opened an investigation into law enforcement's response to the deadly shooting. State Representative Dustin Burrows, who is leading the probe, said last week that Uvalde Police have been reluctant to participate.
Harrell, in his statement Wednesday, said he was "still without details of the investigations being conducted by various agencies." He said he was placing Arredondo on leave "because of the lack of clarity that remains and the unknown timing of when I will receive the results of the investigations."
Burrows told San Antonio's KABB Fox 29 on Friday that Arredondo has not agreed to testify. However, the station reported that four other officials from the community agreed to testify, including Hernandez.
Newsweek reached out to the district for additional comment.