Who is Misan Harriman? Meghan Markle's Friend Behind Lilibet Birthday Photo
Meghan Markle and Prince Harry's daughter Lilibet was photographed on her first birthday by a friend who helped the duke and duchess find each other.
Misan Harriman took a portrait of the one-year-old as she celebrated with friends and family at Frogmore Cottage, Harry and Meghan's U.K. base.
It is the most traditional birthday picture they have released since quitting royal duties in 2020, and shows her with a full head of red hair, just like her father.
Harriman is known for photographing the Black Lives Matter movements and has also worked with stars including Angelina Jolie, Jay-Z, Tom Cruise, Julia Roberts, Giorgio Armani, Rhianna, Cate Blanchett and Olivia Colman.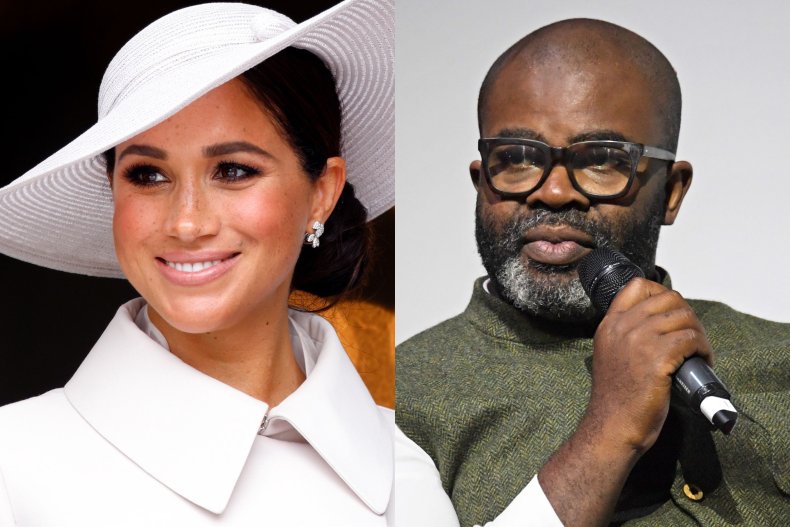 The Duke and Duchess of Sussex first worked with Harriman while Meghan was pregnant with Lili and used his pictures to announce that they were expecting.
At the time, Harriman wrote on Twitter: "Meg, I was there at your wedding to witness this love story begin, and my friend, I am honoured to capture it grow. Congratulations to The Duke and Duchess of Sussex on this joyous news!"
He also did an interview for Vogue in which he described the meaning behind the image—and revealed he played a special role in Harry and Meghan's relationship.
Harriman told the magazine: "Meg reminded me that had I not introduced her to a mutual friend then she wouldn't have met Harry. I'm grateful for whatever small part I played."
On the pregnancy photo itself, he added: "With the tree of life behind them and the garden representing fertility, life and moving forward, they didn't need any direction, because they are, and always have been, waltzing through life together as absolute soulmates."
It was never revealed who the friend was but Harry and Meghan were not the first royals he has photographed.
He took pictures of Princess Beatrice and her husband Edoardo Mapelli Mozzi to mark their engagement in 2019 and, quoted by Vanity Fair, said: "The shoot was incredibly intimate. I came by myself without any assistants or extra camera equipment."
He added: "You can't be nervous when the subjects are so comfortable. I call my lens the truth seeker, and that is exactly what was captured, two people who have found their safe harbor in each other."
Harriman is also known for his celebrity images, as he is also one of the prominent photographers of the Black Lives Matter movement.
His website stated: "Photographer, entrepreneur and social activist Misan Harriman is one of the most widely-shared photographers of the Black Lives Matter movement. He is also the first black person in the 104 year history of British Vogue to shoot the cover of its September issue."
It added: "His strong reportage style and unique eye for narrative has captured the attention of editors and celebrities around the world.
"From documenting historic moments in history to photographing high profile celebrities, including Meghan Markle & Prince Harry, Angelia Jolie, Jay-Z, Tom Cruise, Julia Roberts, Giorgio Armani, Rhianna, Cate Blanchett and Olivia Colman, Misan is a photographer of extraordinary range."
For more royal news and commentary check out Newsweek's The Royal Report podcast: