Muqtada al-Sadr: Firebrand Shiite Anti-U.S. Cleric May Hold Balance of Power in Iraq
An influential Shiite cleric who once referred to the U.S. as "the great serpent" has taken a shock lead in Iraq's first election since the defeat of the Islamic State militant group (ISIS) after a poor showing by incumbent prime minister Haider al-Abadi.
Muqtada al-Sadr, 44, joined forces with the Communist Party and ran on an anti-sectarian, anti-corruption platform, which struck a chord with voters sick of patronage and corruption within the Iraqi elite.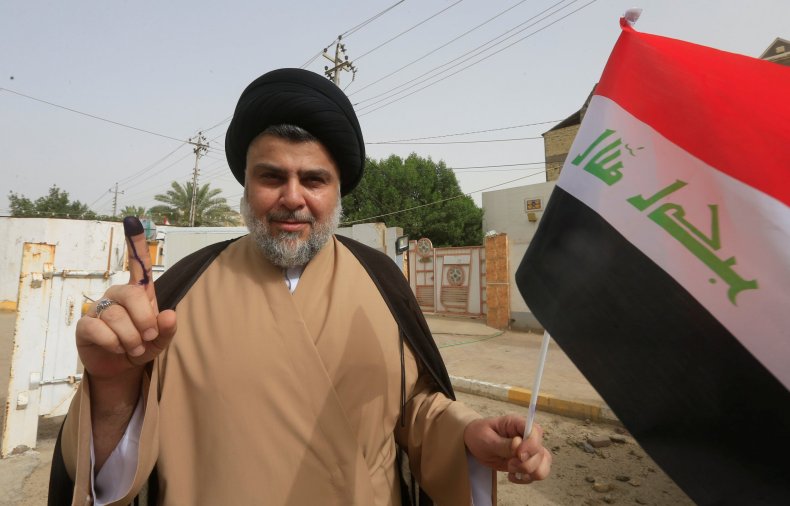 With turnout at only 44 percent, the lowest since 2003, full returns from 10 of the country's 18 provinces put Sadr's coalition in front of the Fatah alliance headed by Hadi al-Amiri, the former paramilitary and pro-Iranian, the Associated Press reported.
The current prime minister, Haider al-Abadi, performed poorly across Shia provinces he usually counted on for support.
Unverified results seen by Reuters showed Sadr had gained 1.3 million votes, which would hand him 54 of the parliament's 329 seats. He was followed by Amiri, whose 1.2 million votes translates as 47 seats, and Abadi, who would get 40 seats. The results have not been finalized by Iraq's electoral commission.
Sadr will not become prime minister as he did not run in the election, but he could pick someone for the job as part of the horse-trading required to form a majority.
Sadr hails from a family of Shiite scholars. His father was Mohammad Sadeq al-Sadr, Iraq's grand ayatollah who openly defied Saddam Hussein and was killed while leaving a mosque in the city of Najaf in 1999.
After Saddam was toppled in 2003, Sadr's Mahdi Army militia, armed mostly with AK-47 rifles and rocket-propelled grenades, fought U.S. forces and was described by Washington as the greatest threat to Iraq's security. The militia was renamed the Peace Brigades in 2014.
He is the one of the few Shiite leaders to keep Iran at arm's length and wants to counter Tehran's influence in Iraq, Al-Jazeera reported.
Sadr told CBS News's 60 Minutes after the U.S. invasion of Iraq: "The little serpent has left," referring to Saddam, "and the great serpent has come," referring to the United States. His fighters fought the U.S. military in Sadr City and Basra. In 2008, he called for a million-strong march against the U.S.
Although Sadr has not met with U.S. figures, the administration of President Donald Trump welcomed his visit to Saudi Arabia to meet Crown Prince Mohammed bin Salman last year as a move that could counter Iranian influence in the region.
Renad Mansour, a Middle East research fellow at the Chatham House think tank, said one reason for Sadr's success was his fielding of the most number of new unknown candidates while maintaining his base, which switched from having anti-American sentiment to opposing the country's elite.
"At the very least, this election was a rejection of the status quo. Sadr was the only candidate that was trying to present change in more than just words," Mansour told Newsweek.
He said that Sadr would not be seeking to be prime minister.
"He comes from this school of thought which thinks that clerics should not rule the country, so he is not in favor of the Iranian system. What he believes is that clerics should have influence on the system, and he will want to have an active role in the government formation process."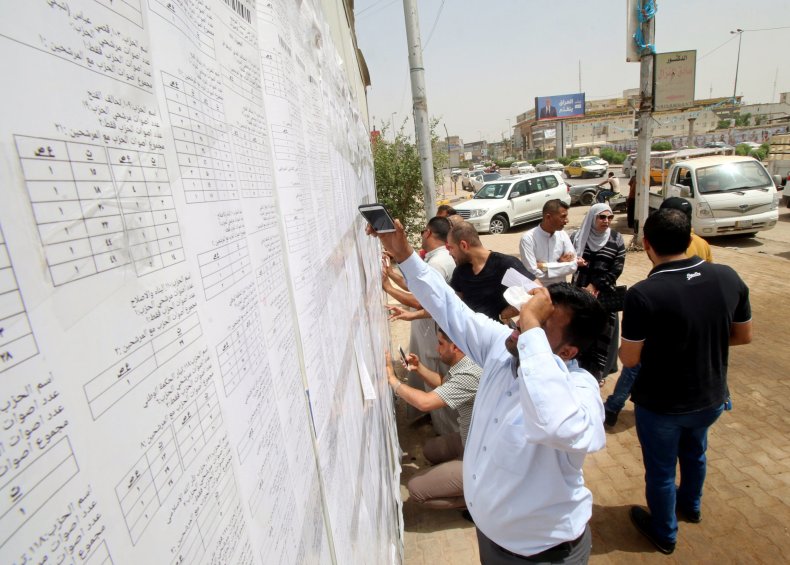 Thanassis Cambanis, senior fellow at the Century Foundation think tank, described Sadr as one of the few leaders in Iraq whose popularity has crossed sectarian lines.
"If Sadr follows through after the election and promotes the formation of a platform-based government with a legislative opposition, then we can expect Iraqi politics to enter a new phase, moving away from narrow sectarianism and patronage-only politics," he said.
Forming a government after previous elections has taken up to eight months. In 2005, vote-rigging claims delayed the ratification of election results for several weeks.