Who Are the New 'SNL' Cast Members? Season 48's Four Newcomers
Saturday Night Live will have four new faces joining the cast for the upcoming season on NBC.
Since Season 47 finished in May, and for various reasons, seven cast members won't be returning to SNL when Season 48 launches on October 1. Partially filling the gap left by the departing comedians, Lorne Michaels and the show's producers have recruited four new people.
Repertory players Kate McKinnon, Aidy Bryant, Pete Davidson, Alex Moffat, Kyle Mooney, Melissa Villaseñor, and featured player Aristotle Athari are all leaving the show. Here are the four people tasked with replacing them.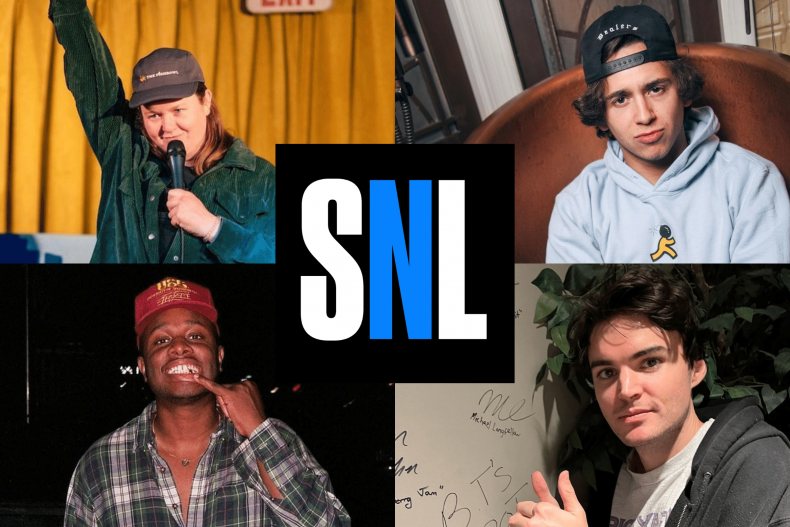 Molly Kearney
Hailing from Cleveland, Ohio, Molly Kearney is joining Saturday Night Live and will become the show's first ever nonbinary cast member. Kearney uses they/them pronouns, as listed on their Instagram page.
A standup comedian and actor, Kearney's recent screen credits include the Amazon TV show A League of Their Own (an adaptation of the 1992 movie), and Disney+'s The Mighty Ducks (also an adaptation of the 1992 movie).
Marcello Hernandez
Marcello Hernandez is of Latin descent with a Cuban mother and a Dominican father, he is a successful stand-up comedian and online content creator. Hernandez is the creative director for the news-comedy site Only in Dade. The brand has almost 1 million followers on Instagram and regularly posts funny or extreme real-world videos.
Devon Walker
Not the football player, Devon Walker is a comedian who was recently included in Vulture's list of "Comedians You Should and Will Know in 2022." That premonition has become a reality as millions of people are about to learn who Walker is as he takes up a role on SNL.
He's a stand-up comedian and actor whose credits include a small number of TV roles including Bite Size Halloween and Mini-Mocks. He was also a writer on the Hulu series Everything's Trash.
Michael Longfellow
Michael Longfellow lists himself as a comedian, actor, writer and stepson on his website and social media channels.
Longfellow has enjoyed success as a stand-up comedian, appearing on Conan O'Brien's stand-up show Conan, Laugh After Dark, and the stand-up competition series Bring the Funny.
He also recently took part in Netflix Is a Joke: The Festival, performing as part of the "Introducing..." shows.
Saturday Night Live is due to return to NBC on Saturday, October 1 at 11:30 p.m. ET. The second and third episodes are scheduled to air in the subsequent weeks, on October 8 and October 15.
Guest hosts and the official cast lineup for Season 48 of Saturday Night Live is expected to be confirmed in the coming weeks leading up to the season premiere.