Columbus, Ohio Interim Police Chief Michael Woods has identified officer Nicholas Reardon as the policeman who fired the shots that killed 16-year-old Ma'Khia Bryant. Bryant is a Black girl killed by police on Tuesday around 4:45 p.m. local time.
Wood identified Reardon as the shooter at a Wednesday afternoon press conference. Reardon has been a Columbus police officer since December 2019. He has been put on paid leave pending an investigation.
The police chief said that the Ohio Bureau of Criminal Investigation (BCI) will conduct an "independent and transparent investigation" of the shooting. The BCI will then share its investigatory findings with the Franklin County prosecutor's office.
The prosecutor's office will present the information to a grand jury to see if Reardon should face any legal consequences, Wood added. The Columbus division of police will also review the findings to determine if Reardon violated any departmental policies.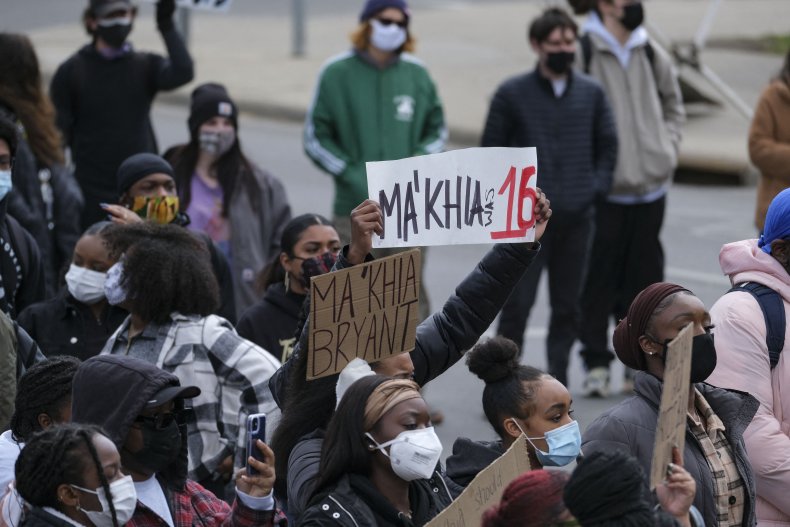 Reardon's body camera footage, played at the conference, showed him approaching the driveway of a residence, where a group of girls were fighting. The footage showed Bryant lunging at a female with a knife seconds after police arrived on the scene. Reardon then fired his weapon, sending Bryant to the ground near a car parked in the driveway.
Bodycam footage from a third officer at the scene showed police administering CPR to Bryant. Meanwhile, people in the background yelled about the police shooting a kid. Police called a medic to the scene. Bryant was eventually transported to Mount Carmel East hospital.
Wood told reporters that police training allows officers to use deadly force if they witness someone using deadly force against another person. Wood also said that officers are trained to continue to shoot their firearms until any deadly threat is eliminated.
"We don't train to shoot the leg, because that's a small target," Wood said. "We are trained to shoot center mass of what is available to stop that threat.... the largest part. When you try to start shooting legs or arms rounds, miss, and then [the bullets] continue on, and there are people behind that that could be in danger, that are not committing any [crimes]."
While officers are encouraged to announce that they're about to fire their weapon, Wood said, officers will only do so if the "time and opportunity" are available. However, departmental policy doesn't require an officer to announce their intent to shoot before firing, he added.
Bryant's mother, Paula Bryant, called her daughter was a "sweet child" and an honor roll student.
Paula Bryant told WBNS, "She was a very loving, peaceful little girl. Ma'Khia had a motherly nature about her. She promoted peace. That's something that I want to always want to be remembered."
Newsweek contacted Ohio's BCI for comment.