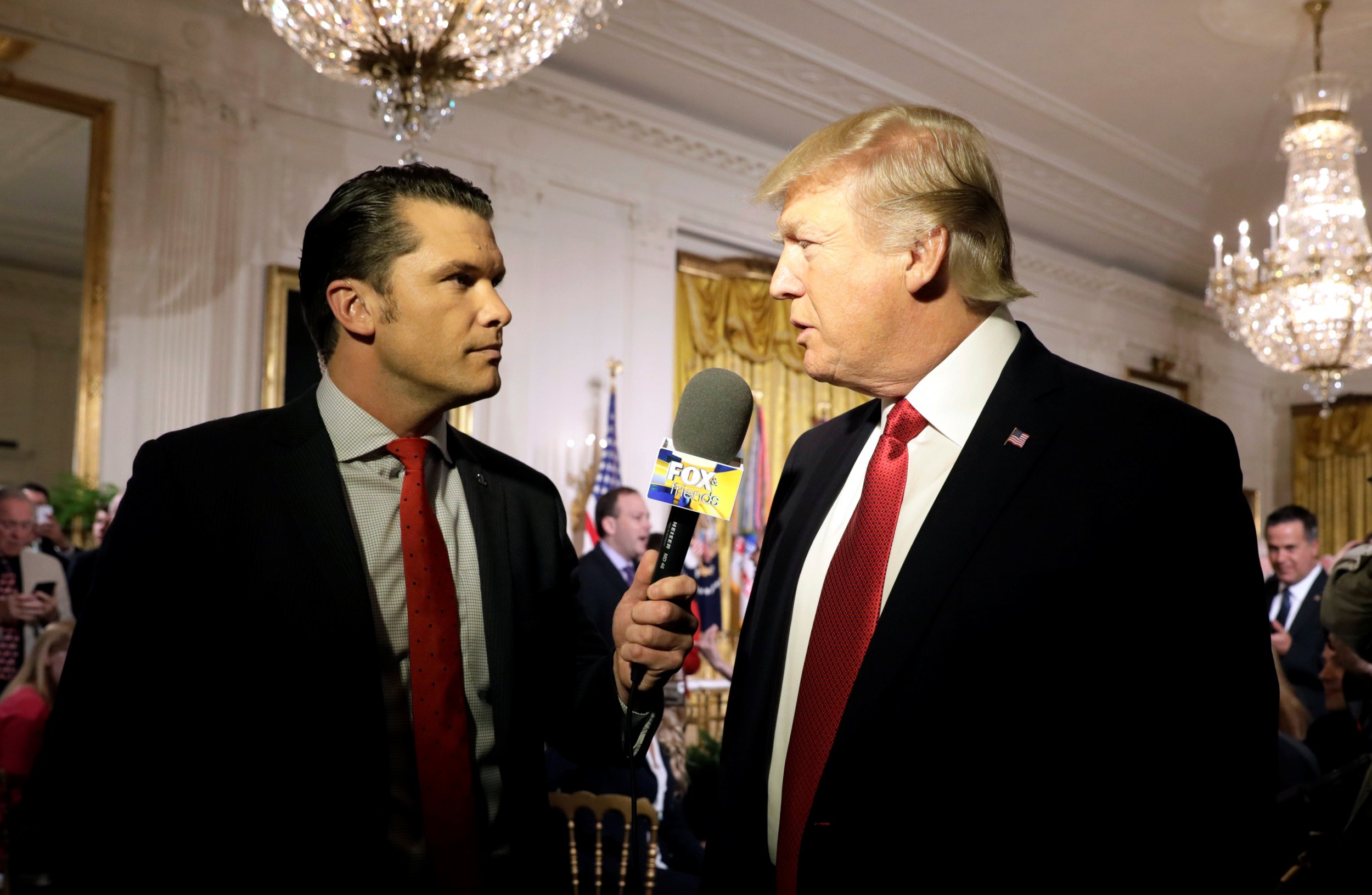 Iraq war veteran and Fox & Friends host Pete Hegseth is under consideration for the job of Secretary of Veterans affairs and may even be the president's top pick to replace embattled Secretary David Shulkin, according to a Fox News contributor.
"I've been told President Trump wants Pete Hegseth to replace Shulkin at the VA after he is fired," tweeted Katie Pavlich, who sometimes fills in for the regular hosts of Fox's The Five, a talk show panel. Pavlich cited three sources who spoke to her about the matter.
Earlier this week The Wall Street Journal reported that Energy Secretary Rick Perry is also under consideration to replace Shulkin. Secretary Shulkin was recently scolded by the White House after a watchdog investigation found he misspent taxpayer money and improperly accepted gifts.
The WSJ reported Trump is looking at several candidates to replace him. Shulkin told the paper there is a conspiracy against him in his own department and the administration to force him out.
Hegseth—who served as Army National Guard major—lead the neoconservative veterans group Concerned Veterans for America (CVA) from July 2012 until early 2016. CVA, which has lobbied against Shulkin, is connected to a network of conservative groups funded by billionaires Charles and David Koch.
In 2016 the American Legion condemned policies promoted by CVA that they said were intent on privatizing veterans healthcare. The CVA has proposed turning oversight of the Veterans Health Administration over to a government non-profit corporation that would allow veterans to seek private care.
Read more: Donald Trump Called Up Fox & Friends Host So He Could Weigh in on Veteran Healthcare: Report
"We think the provider system needs new governance, but nobody on Capitol Hill is talking about selling the VA health-care system off to a private company and just having them run it," Dan Caldwell, CVA's director of policy, told The Atlantic last year.
During a meeting between Trump and Shulkin last week, the president reportedly brought in Hegseth on speakerphone to debate the secretary on the proposal of new laws that would give veterans more access to private healthcare.
Citing two sources familiar with Trump's conversations with Hegseth, The Daily Beast reported last week that the president often calls him up to chat after he has appeared on air. Hegseth, they said, talks to the president about VA policies.
Hegseth was considered for Shulkin's job during the transition. Veterans groups, including Disabled American Veterans, American Legion, Vietnam Veterans of America, and Veterans of Foreign Wars, opposed the move.