Who Is Peter Neffenger? Biden Transition Team Member May Be Target of Trump Lawsuit
Peter Neffenger, a retired vice admiral of the U.S. Coast Guard and experienced national security official, was recently added to the roster of individuals tasked with supporting President-elect Joe Biden and Vice President-elect Kamala Harris as they transition into office. He served as the Transportation Security Administration (TSA) chief from 2015 until 2017 under former president Barack Obama. Neffenger received the Department of Homeland Security's Distinguished Service Medal twice during his time with the Coast Guard.
The Biden-Harris transition team member could become subject to a new lawsuit discussed by Donald Trump's legal representation over the weekend. In the aftermath of his general election loss to Biden, the sitting president has failed to concede and, instead, is continuing to pursue court actions that he hopes might "overturn" the election's results, as one lawyer said on Sunday.
Sidney Powell, an attorney representing Trump as he attempts to discount ballots that gave Biden his victory, explained Neffenger's involvement in a potential suit targeting ballot-scanning and tabulation machines during an interview Sunday with told Fox News' Maria Bartiromo.
Powell suggested that electronic tabulation software operated by Dominion Voting Systems manipulated votes originally cast for Trump to ultimately support Biden, an unsubstantiated accusation that Trump shared on Twitter last week. The social media platform flagged his tweet with a label notifying users that the claim is disputed, as it does whenever the president shares comments about election fraud that are not supported by evidence.
On Sunday, Powell cited Neffenger's name while discussing the legal team's accusations against Dominion Voting Systems because he is chairman on the board of directors at Smartmatic, another company that designs electronic voting systems. Smartmatic released a statement clarifying that it is not associated with Dominion Voting Systems, and that in fact "the two companies are competitors in the marketplace."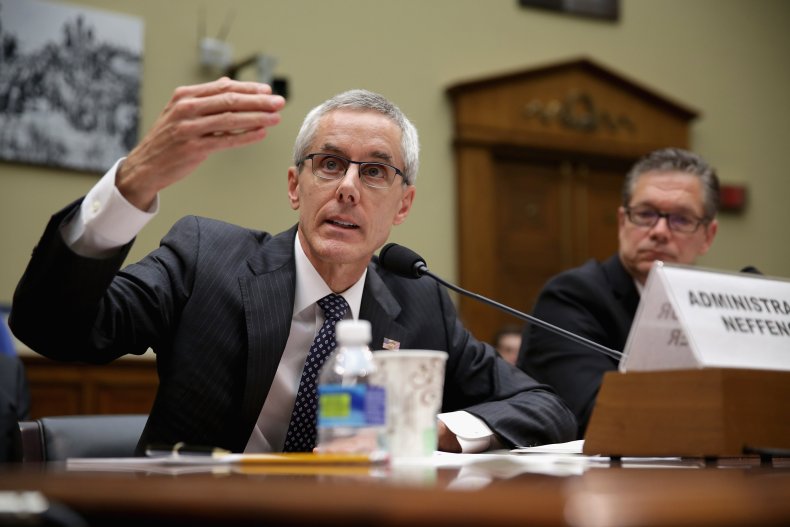 Neffenger joined the Biden-Harris transition effort as a volunteer. Alongside about two dozen others, he will support one of the incoming administration's agency review teams, specifically assigned to the Homeland Security Department. Review teams delve into their designated agency's current operations and relay information collected to the president-elect and vice president-elect. Teams are appointed to all major federal agencies. They are meant to prepare the next administration for its responsibilities upon assuming office and, more generally, help facilitate a smooth transfer between White House leadership.
The Biden-Harris transition team declined to comment to Newsweek on the matter.
Newsweek also reached out to Smartmatic and Dominion Voting Systems for comments but did not receive replies in time for publication.