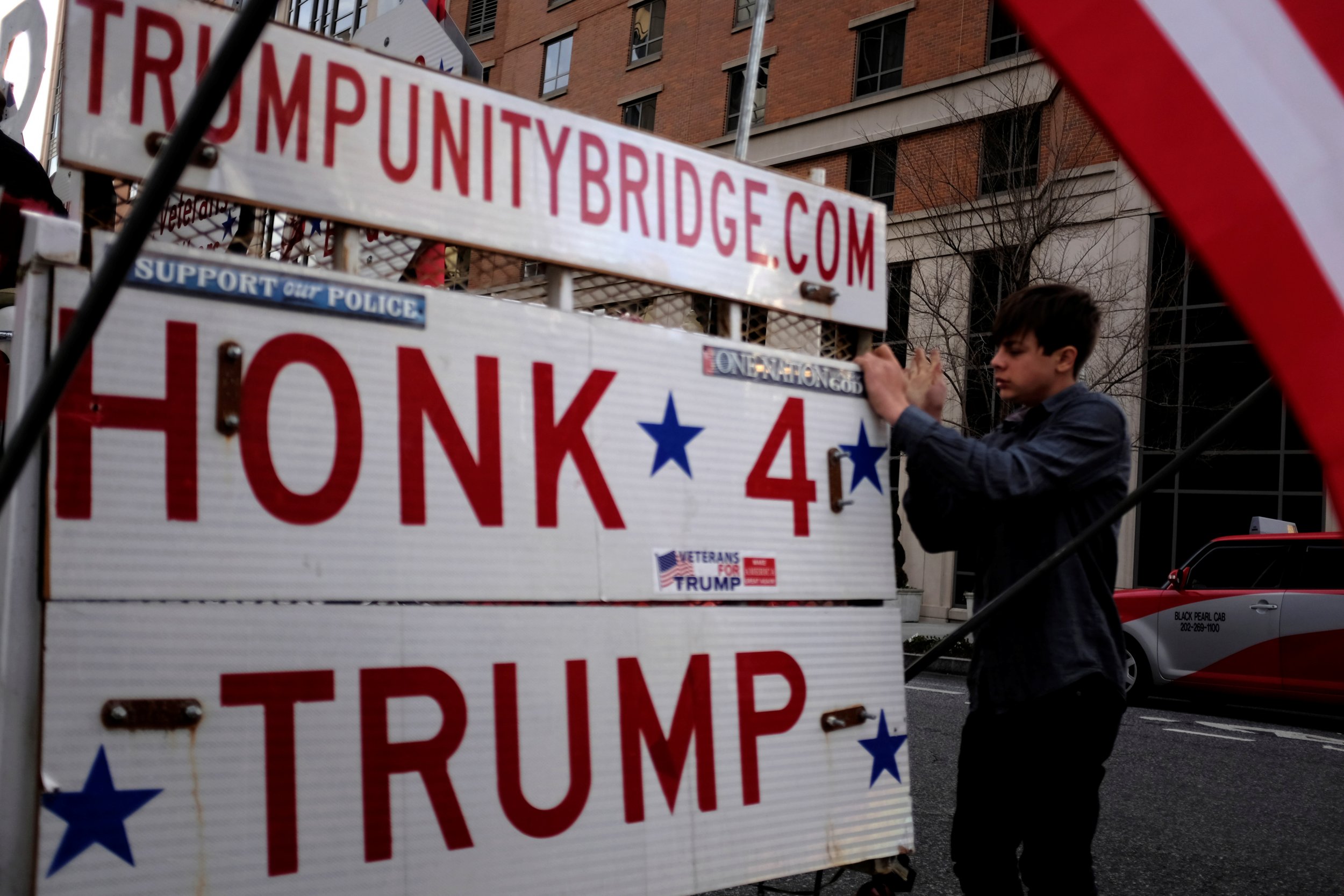 Tens of thousands of demonstrators are expected to take to the streets in Washington, D.C., on Friday, most of them protesting Donald Trump's inauguration as the 45th president of the United States. But beyond their antipathy for the next commander in chief, we know very little about the people pouring into the nation's capital to exercise their first amendment rights. Who are they, exactly, and what do they want? A lot of things, it turns out.
Related: 2017 Inauguration: How to watch Donald Trump take the oath of office
"We need to come out of our homes, we need to come out of our offices, we need to flood the streets and we need to prevent this regime from taking power!" Sunsara Taylor urged several dozen protesters, gathered at dusk in a downtown D.C. square on Tuesday. The left-wing writer and organizer is one of the founders of a group called Refuse Fascism that was formed after Trump's election, and also includes veteran activists like Bill Ayers, Carl Dix and Cornel West. The organization has staged a week of protests and marches in D.C. culminating in Inauguration Day road blockades and and a demonstration centered in McPherson Square Park, just blocks from the White House. DisruptJ20, a coalition led by self-described "glam anarchist" Legba Carrefour and other D.C.-based activists, also plans to block pedestrian and mass transit routes to the swearing-in and inaugural parade on Friday.
While much of the press coverage of the protests has swirled around organizers that are hoping to upend the inauguration or stop the president from taking office, many of the protesters have more practical aims. Twenty-year-old University of Massachusetts, Amherst student Brock Parent wants to send a message that Trump does not have popular support.
"I'm a student organizer on campus, I work with the fossil fuel divestment campaign who has been organizing around a lot of these issues," Parent explained outside St. Stephens, the Northwest D.C. church that has become a home base for DisruptJ20 protest planning. "I was really interested in coming here to meet folks from around the country, network and also show a popular display of resistance."
Most of the people milling about at St. Stephen's, in the up-and-coming Columbia Heights neighborhood, looked a lot like Parent—young, heavily pierced and flannel-clad. But there were also a fair share of middle-age and elderly participants sprinkled throughout the crowd. That included one gray-haired man who could be overheard asking if the organizers could use microphones when addressing trainees. His hearing aids, he explained, were still on order from the Veterans Affairs Department.
Lee Bridges, 57, drove from Montana to Washington, D.C., a road trip that took two days, to attend the inauguration protests. Like Parent, she was seeking solidarity as much as hoping to make a statement. "I came to meet people and find out what the fuck is going on. This isn't right," Bridges said of Trump's victory, fighting back tears. "The whole world has it's eyes on us and we have to show them, this is not about us, [Trump] does not represent us."
Bridges's sentiment more-or-less sums up the message protesters are trying to send on Inauguration Day. The National Park Service has issued or is processing 22 permits for demonstrations on federal park property over the course of inauguration week, with most scheduled for Friday, the day Trump is sworn in. They include permits for the ANSWER Coalition, a left-wing anti-war group, for a "Stop the Trump Agenda" rally and the Progressive Independent Party, an outgrowth of Vermont Senator Bernie Sanders's presidential campaign, which is co-hosting a march for equality. Other progressive groups are hosting similarly-themed rallies—promoting civil rights; defending women, immigrants and Muslims; and calling for an end to inequality.
More mainstream liberal groups like abortion rights advocacy group EMILY's List; Voto Latino, which represents Latino millennials, and the environmental group League of Conservation Voters are sponsoring the Women's March on Washington Saturday in the capital, which is expected to draw hundreds of thousands of people in the name of women's rights.
There are also groups using inauguration to advocate for more specific causes. A group called the Exodus Foundation is holding a vigil for commutations and pardons. And the anti-gay Westboro Baptist Church, which the Southern Poverty Law Center has labeled a hate group, has received a permit to hold an outdoor "religious service regarding the judgement of God with respect to the dangers of promoting homosexuality, same sex marriage and the filthy manner of life and idol-worshiping of the nation," according to the park service.
While most of the demonstrators are expected to be decidedly anti-Trump, there will be organized shows of support for the new president around Washington. The group Bikers for Trump will be cheering on the president along the inaugural parade route on Saturday. Another group called "Let America Hear Us, Roar for Trump!" plans to celebrate Trump's election in Dupont Circle, not far from downtown D.C. But their estimated numbers— 5,000 for the bikers, 500 for "Roar for Trump"—are dwarfed by the tens and even hundreds of thousands progressive groups are anticipating at their many anti-Trump events. Security officials, however, expect hundreds of thousands of revelers to crowd onto the National Mall to watch Trump's swearing in, or watch him walk the parade route to the White House later in the day.
The anti-Trump protesters Newsweek spoke to were more or less resigned to the fact that the divisive billionaire will, in fact, take office on Friday. But they hoped that by joining forces with other progressives during Trump's inauguration, they could build momentum against the policies he's seeking to carry out in office.
"Tomorrow morning, you have a queer blockade, you have a labor blockade, you have a feminist blockade, you have a [Black Lives Matter] blockade, you have an immigrant rights blockade" Parent noted, ticking off the various protest actions planned, associated with different identities within the progressive movement. "The long-term vision for me is…try to get folks to really come together and unite a left that's sort of fragmented right now."