Who Is Randy Voepel? Colorado Suspect's Grandfather Is MAGA Republican
California MAGA Republican Assemblyman Randy Voepel is the grandfather of Colorado Springs shooting suspect Anderson Lee Aldrich, according to media reports.
Colorado Springs police arrested Aldrich, 22, following a mass shooting at the LGBT venue Club Q on Saturday that left five people dead and 25 were injured.
Multiple media reports, including The San Diego Union-Tribune, showed Aldrich's mother is Laura Voepel, daughter of the 72-year-old California state assemblyman.
Newsweek found social media posts made by Laura Voepel where she praises her father's public service.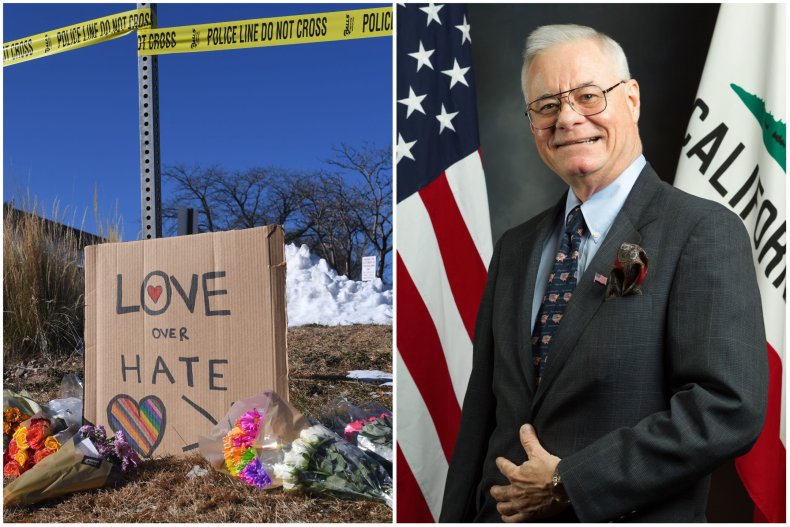 In an April 14, 2020, Facebook post, Laura Voepel said: "Keep up the work dad. You work hard to improve our lives and a lot of us take notice."
Randy Voepel was previously condemned over comments he made where he compared the January 6 riot at the Capitol in Washington, D.C., to the American Revolutionary War.
Just three days after the riot, Randy Voepel told the Union-Tribune: "This is Lexington and Concord. First shots fired against tyranny.
"Tyranny will follow in the aftermath of the [Joe] Biden swear-in on January 20."
Voepel also showed his support for former President Donald Trump in a January 20, 2017, Twitter post.
It read: "Let us not only #MAGA, but make California Great Again. Grateful to be representing my district in the State Assembly. #InaugurationDay."
According to a biography on his website, Voepel was elected to represent California's 71st Assembly District in 2016.
Prior to being a state assemblyman, Voepel served as Santee City mayor between 2000 and 2016 and was also on the city's council between 1996 and 2000.
In March 2022, Voepel was given the East Californian Silver Star Award for "Best Elected Official."
Before Voepel entered politics, he served two tours with the U.S. Navy during the Vietnam War.
Newsweek has contacted Voepel's office for comment.
In a news briefing on Sunday, Colorado Springs police said the motive for the shooting was not known and that investigations were being carried out to determine if it was a hate crime.
Despite a motive for the shooting having not been confirmed by police, New York Democrat Representative Alexandria Ocasio-Cortez called out Republican Colorado Representative Lauren Boebert for her anti-LGBT rhetoric.
On Sunday, Boebert said on Twitter: "The news out of Colorado Springs is absolutely awful. The morning the victims and the families are in my prayers. This lawless violence needs to end and end quickly."
But Ocasio-Cortez responded: "@laurenbobert you have played a major role in elevating anti-LGBT+ hate rhetoric and anti-trans lies while spending your time in Congress blocking even the most common sense gun safety laws.
"You don't get to 'thoughts and prayers' your way out of this. Look inward and change."