Incoming Representative Rashida Tlaib will make history on Thursday as the first Palestinian-American woman to be sworn in to Congress—and plans to do so on the Quran dressed in a traditional Palestinian gown.
The Michigan Democrat was one of the first two Muslim women to be elected to Congress. Ilhan Omar, the first-ever Somali-American to be elected to Congress, will be the first U.S. lawmaker to wear a headscarf, or hijab, while in office.
In Pictures: The Most Diverse Congress in U.S. History
Tlaib first announced her plan to wear a traditional Palestinian thobe for the swearing-in ceremony for the 116th Congress on social media last month, giving a "sneak peek" of the gown on Instagram.
Tlaib will also be sworn in on a Quran that once belonged to President Thomas Jefferson. Jefferson's Quran was also used by Representative Keith Ellison for his swearing in ceremony more than a decade ago.
"It's important to me because a lot of Americans have this kind of feeling that Islam is somehow foreign to American history," Tlaib told the Detroit Free Press. "Muslims were there at the beginning. Some of our Founding Fathers knew more about Islam than some members of Congress now."
The 42-year-old lawmaker is the daughter of two Palestinian immigrants and the oldest of 14 children. Before winning a seat in Congress, Tlaib served as a Michigan state representative for three terms, from 2008 to 2014.
Tlaib joins the ranks of a new group of progressive congresswomen, which includes Omar, Ayanna Pressley and Alexandria Ocasio-Cortez.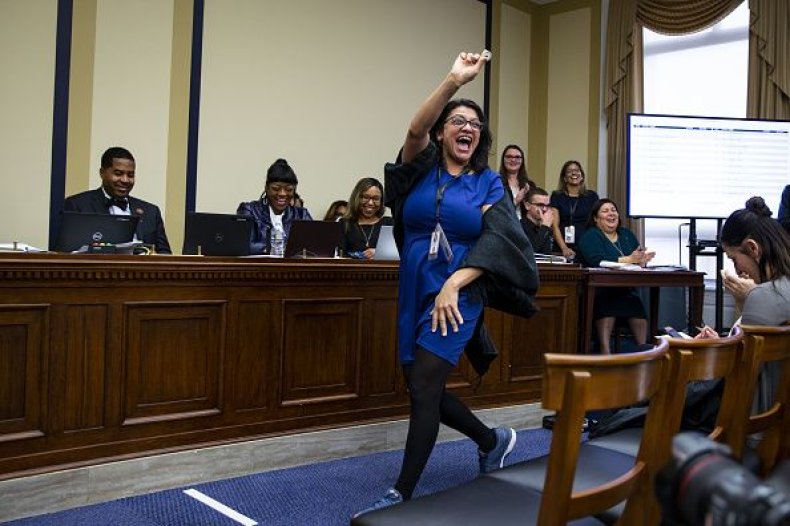 Even before launching her campaign for Congress, Tlaib emerged as a critic of President Donald Trump. The Democrat had a run-in with Trump, then a candidate for president, at a rally in August 2016 at the Detroit Economic Club.
Tlaib stood up during the event and asked Trump if he had "ever read the U.S Constitution," before yelling: "You need to read the U.S. Constitution." She later told CNN that she was detained after being thrown out of the rally, but that it was the "most American thing I could ever do."
Tlaib has also made impeachment proceedings a top priority as she enters Congress. Last month, when Trump said he would be "proud" to shut down the government over border security, Tlaib responded with: "Can we please start the impeachment process now?"
"Beyond the #Mueller investigation,@realDonaldTrump acts while in office violates the U.S. Constitution. He has used his position to profit off of the American people, to violate our civil rights...it goes on. Courage is needed," Tlaib wrote in a tweet.