Who Is Replacing Chris Christie? Obama-Backed Phil Murphy Eyes Marijuana and Gun Control in New Jersey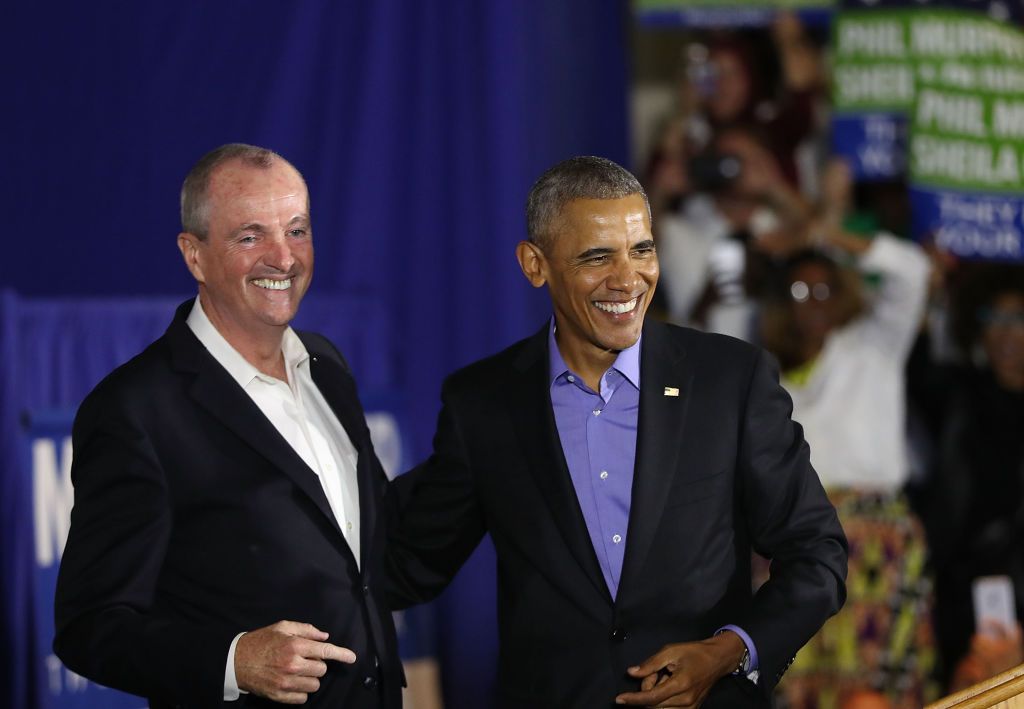 Phil Murphy is ready to remake New Jersey when he assumes the governor's office on Tuesday, leaving behind eight years of conservative policies from Republican Governor Chris Christie.
Murphy is the Democrat who beat Christie's chosen successor, Kim Guadagno, in New Jersey's gubernatorial race in November. His highlighted policies—including initiatives for recreational marijuana legalization and gun control—mark a sharp departure from the Republican, who will leave office with the state's lowest approval ratings in history after a final term marred by controversy and scandal.
Murphy distinguishes himself from his predecessor not only in party and policy, but also in his approach to President Donald Trump, who has long relied on Christie as a dependent political ally. Murphy has described Trump as "not my cup of tea," a subtle change for the state that chose Democrat nominee Hillary Clinton over Trump by 14 points in the 2016 presidential election.
Then there will be the policy changes. Where Christie shut down all opportunity for recreational marijuana—calling it "blood money"—Murphy campaigned on the exact opposite. The incoming governor promised to sign adult-use marijuana legislation within his first 100 days in office, pointing to it as an opportunity to correct the state's high record of marijuana possession arrests.
Related: Marijuana legalization 2018: Which states might consider cannabis laws
During the campaign, Murphy condemned Christie's administration for vetoing gun control legislation and promised to mandate gun safety training, tax gun sales to fund mental health services in the state and increase regulations on gun transfers. He also pledged support for women's rights, calling Christie "a lead surrogate for the most misogynistic campaign this country has seen," referring to Trump.
The gubernatorial race notably marked former President Barack Obama's return to the campaign trail, where he stumped in addition to former President Bill Clinton and former Vice President Joe Biden. The heavy Democratic lineup emerged successful when Murphy pulled a 13-point win over Guadagno—Christie's lieutenant governor.
As Murphy prepared to enter office, he told NJ.com that his administration does not face a "sunny picture of a state in good standing" but looks forward to turning "the page to a bright new day" as the state's highest official. New Jersey limits its governor's seat to two consecutive four-year terms.
"Together, we will build a stronger and fairer New Jersey for all," Murphy wrote on Twitter.
Christie's final years in office were marked by his unsuccessful 2016 bid for president and the so-called "Bridgegate scandal," in which the governor's team retaliated against a political rival by closing driving lanes on the George Washington Bridge to increase traffic. The move was reportedly punishment against a Democratic mayor who governed the area after he refused to endorse Christie. The top New Jersey lawmaker claimed no prior knowledge of the plot.
Christie dropped out of the 2016 race for the Republican Party's presidential nomination in February 2016 after a sixth-place finish in New Hampshire—the first primary in the nation. When Christie dropped out, he noted in a statement that "speaking your mind matters, that experience matters, that competence matters and that it will always matter in leading our nation." The same month, Christie endorsed Trump and campaigned for him—eventually leading a mock trial of Democrat rival Hillary Clinton on the stage of the Republican National Convention.
Christie would be appointed to lead Trump's transition team to the White House after his election, but eventually he was replaced as coverage of the Bridgegate scandal caught up to him.
Christie told The New York Times earlier this month that he continues to provide Trump with legal advice on how to not drag out special counsel Robert Mueller's investigation into Russia's interference in the 2016 election, telling him that "you can do lots of things to make [investigations] longer."
Nearing his final days in office, Christie signed legislation to ban firearm bump stocks, increase pensions for some government employees and pardoned 25 people in the New Jersey court system, according to the local news outlet NJ.com. In his final State of the State address, Christie ignored his record leaving office and focused on a high point in his career—his dedicated response to the 2012 Superstorm Sandy, where he worked alongside Democrats to restore power and fix storm damage.
It skyrocketed his approval ratings more than 20 points to 77 percent approval, though he will leave office closer to just 15 percent.
"Whenever I am asked what I am most proud of in these last eight years, I say it very simply: the days, weeks, months and years since Sandy, and the way our government handled it," Christie said in the address. "The results were not always perfect; they never are perfect. What was perfect was the effort, the compassion and the focus of all the people in our administration every day for over five years."