Who Is Representative Jackie Walorski? Congresswoman Killed in Car Crash
U.S. Representative Jackie Walorski was killed in a car crash on Wednesday afternoon, according to her office and House Minority Leader Kevin McCarthy.
McCarthy shared a statement from the congresswoman's office on Twitter that read: "Dean Swihart, Jackie's husband, was just informed by the Elkhart County Sheriff's office that Jackie was killed in a car accident this afternoon. She has returned home to be with her Lord and Savior, Jesus Christ. Please keep her family in your thoughts and prayers. We will have no further comment at this time."
The statement was later shared publicly on Walorski's Twitter page. In addition to Walorski, three others were killed in the crash, according to the Elkhart County Sheriff's Office in Indiana. Two of them, 27-year-old Zachery Potts and 28-year-old Emma Thomson, were members of her staff and in the same vehicle.
"A northbound passenger car traveled left of center and collided head on with a southbound sports utility vehicle," the Elkhart County Sheriff's Office said, identifying Walorski's vehicle as the one traveling southbound. "The sole occupant of the northbound vehicle, Edith Schmucker, 56, Nappanee, Indiana was pronounced deceased at the scene."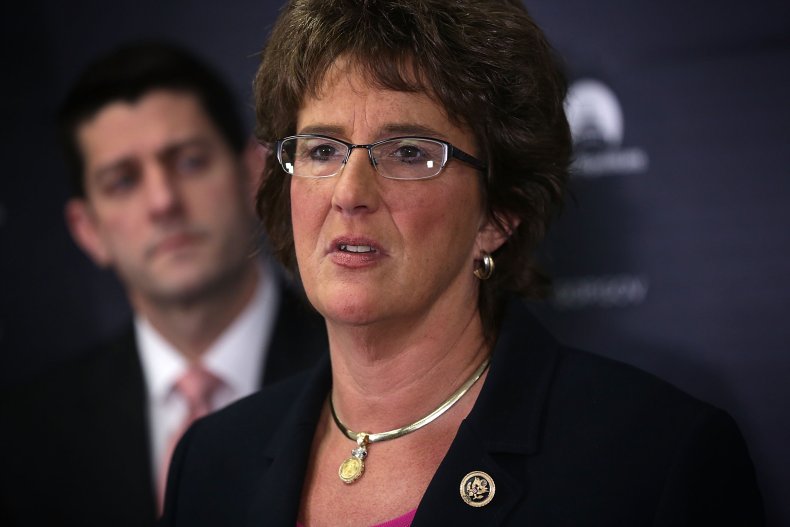 Walorski, 58, was a Republican who had represented Indiana's 2nd Congressional District. She first assumed the position in January 2013, and her current term was set to expire in January next year, according to Ballotpedia. In May, the incumbent congresswoman won her Republican primary and was set to face off against Pat Hackett, who secured the Democratic nomination in the race, for the Indiana House seat in November, ABC affiliate WBND-LD reported.
According to her website, the South Bend, Indiana, native's top issues as a congresswoman included agriculture, education, energy, and defense and national security. If Republicans were to take back the House in November, she was set to take on a leadership role on the House Ways and Means Committee, overseeing the subcommittee on worker and family support, Politico reported.
As the news of her death became public, many members of Congress and other U.S. officials took to Twitter to express grief at the loss of their colleague.
Former Vice President Mike Pence said that he and his wife, Karen Pence, "are heartbroken by the tragic passing of our dear friend Rep. Jackie Walorski."
"She served Indiana in the Statehouse and the Congress with integrity and principle for nearly two decades and will be deeply missed," he added. "Our prayers are with her husband Dean, her family, and the families of Zachery Potts and Emma Thomson who also perished in the crash. We're praying God's comfort over their families and to all who loved and admired this truly inspiring Indiana leader. God Bless Jackie Walorski."
Pence is a former governor of Indiana and a native of the state. His brother, Greg Pence, currently represents the state's 6th Congressional District.
House Minority Whip Steve Scalise said that he was "devastated" to hear the news of Walorski's passing, as well as the deaths of her two staffers.
"She was a dear friend who loved serving the people of Indiana in Congress," he tweeted.
Representative Adam Kinzinger of Illinois remembered her as a "good and honorable public servant."
"My heart is heavy, and i don't have the words. But all I can say is prayers for her family," his tweet read.
Transportation Secretary Pete Buttigieg said that he was "shocked and saddened" to hear of her passing.
"Though we came from very different places politically, she was always prepared to work together where there was common ground, always decent and straightforward, and she cared deeply about her work and her constituents," he added.
The Elkhart County Coroner's Office and the Elkhart County Sheriff's Office are investigating the crash. The Elkhart County Sheriff's Office said that no additional information would be released at this time.
Update 08/03/22, 5:10 p.m. ET: This article was updated with additional information and background.