Who Is Samantha In 'Euphoria'? Meet the 'Friday Night Lights' Star
Euphoria Season 2, Episode 6 was the episode fans had really been waiting for. Not only were audiences waiting to see if Rue (played by Zendaya) made it home in one piece, there was also the drama just waiting to unfold between Maddy (Alexa Demie), Nate (Jacob Elordi), and Cassie (Sydney Sweeney) after Rue outed Nate and Cassie's secret love affair in Episode 5.
In the most recent episode of Euphoria, Maddy was still trying to process the betrayal at the hands of the two people she cared about the most. Surprisingly, she had not yet lashed out in anger, despite her threats of wanting to "murder" Cassie. For some advice, she turned to Samantha, the mother of the family she babysits for. Fans are desperate for more information about Samantha, and Newsweek has everything you need to know.
Who Is Samantha In Euphoria?
Samantha is the mother of Theo, the young boy Maddy babysits in Euphoria Season 2.
Throughout the new season, Maddy has been spotted making herself right at home, trying on all of Samantha's expensive dresses, jewelry, lounging around her pool, and drinking her wine.
In Episode 6 of Euphoria, audiences finally got to know Samantha a little bit more. After returning home from a night out, she invited Maddy to share a bottle of wine in her pool where they talked about love, heartbreak, friendship, and sex.
Maddy opened up to Samantha about Nate and Cassie being together and her feelings of hurt, only to learn Samantha was once the Cassie in a friendship of her own.
Samantha confessed to Maddy in her "very messy" 20s she had slept with her best friend's ex-boyfriend at college. She reflected: "He gave me just the right amount of attention at the wrong time" which mirrors exactly Cassie's situation with Nate, but whether Maddy will recognize Cassie as simply being vulnerable to a manipulative man like Nate, is a whole other story.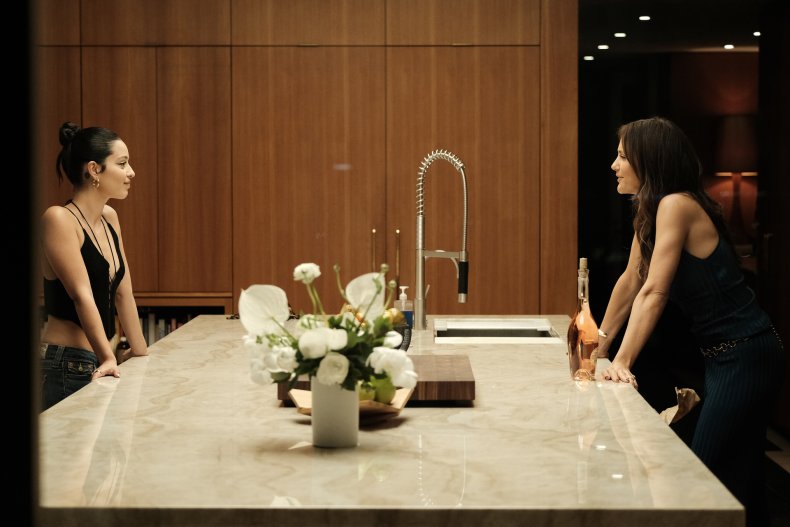 Samantha also hints to Maddy not to give up hope on finding love. She revealed the idea her now-husband Sebastian would want to marry her came as a "complete shock" because she was "messy" and "loves to fight," just like Maddy.
Their deep conversation came to an end when Maddy asked Samantha if she and her friend from college ever made up, to which Maddy admitted they never spoke again.
From their first encounter in Episode 1, when Maddy unzipped Samantha's dress, and now their deep chats in the pool, fans are starting to suspect their interactions may be leading to something much bigger, or even darker.
For some fans, they suspect Samantha could be grooming Maddy, for others Samantha has a romantic interest in Maddy and for some, Samantha suspects Maddy of stealing from her.
Many fans were quick to spot the camera on Samantha's clock, potentially filming Maddy
One fan tweeted: "Samantha is filming Maddy? Cam spotted"
A second fan added: "Why do I feel like Samantha is flirting with Maddy a little bit? #Euphoria"
A third fan chimed in: "The good part of my brain wants me to believe it is just a nanny cam they barely look at but the Euphoria part of me believes Samantha and her husband want to have a 3some w Maddy, or even one of them alone w Maddy"
Who Plays Samantha in Euphoria?
Samantha is played by Friday Night Lights star Minka Kelly.
In the award-winning sports drama, Kelly played the role of Lyla Garrity, starring alongside Kyle Chandler and Connie Britton.
Kelly is also well known for starring in Parenthood as Gaby, Eve in Charlie's Angels and Valerie Stahl in Almost Human.
Since 2018, Kelly has played the role of Dawn Granger/Dove in the DC Universe and HBO Max series, Titans.
Euphoria airs Sundays at 9 p.m. ET on HBO Max.